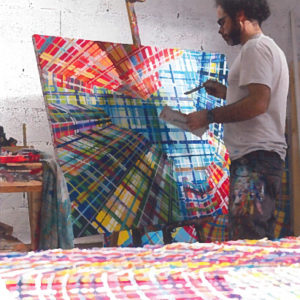 Born on March 5th 1983 in Soyaux (16), France
2008 : Master of Arts at the University of Rennes
Lives and works in Rennes
Jérémi Ca is a young artist living and working in Brittany (France). After a Master's degree in Art at the University of Rennes, he decided to entirely devote himself to painting. According to him, art is the medium enabling a better understanding of the world.
His work is divided between the intimate space of the studio where his series, which he calls « research axes », are developed, and the public space of the street where various installations are created in connection with his questioning. These installations have been realised in several countries (France, Belgium, Portugal, Morocco, India, Peru).
Context is fundamental in Jérémi Ca's artistic practice. According to him, it determines a technical and stylistic approach in relation to a subject. Famous artists have strongly influenced Jérémi Ca's work. We can mention Jean Dubuffet, Fiona Rae, Vasarely, or Glenn Brown. His work reveals a strength of expression where the line is the result of an instinctive and automatic approach.
Giving great importance to research and experimentation, he refuses to lock himself up into a linear and repetitive pictorial production. His series of works bring him closer to artists such as Gerhard Richter and Sigmar Polke, where the act of creating is a confrontation of techniques and styles that constantly pushes the limits of creation.
His research interrogates the relationship between man and art, on the perception that we have of an artwork.This explains his attachment to the effects created by the technique and the making of tools that foster the creation of different stylistic renderings. As a subject or spectator, the human being holds an important place in his work. Through his various involvements, Jérémi Ca questions the existence of painting through the active interpretation of the gaze.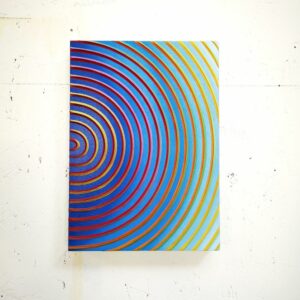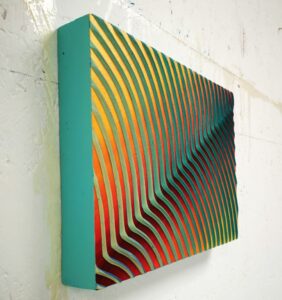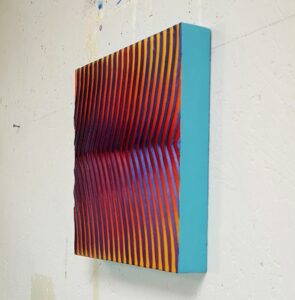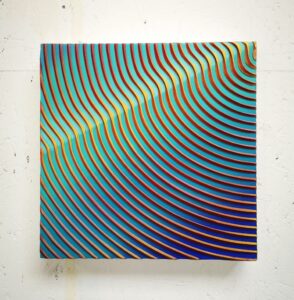 Wall and project
Mural, 100m2, at school La Farandole in Lanvallay, 2022
« Symbiose » Sculpture monumentale, 2021 – 3,5 x 1 x 1 m – Commande d'entreprise Groupe Charier, France
Projet « De la couleur dans ma ville », fresque de 50 m² , 2021 – Réalisée pour la municipalité de Lanvallay, Côtes d'Armor, France
Residency :
2022 : Project Maro Loko, mural and interventions at Antananarivo, Sainte-Mary Island, Island of Mats, Madagascar
2014 : Residence of the artist « Les murs-murs de la selva », Sachaqa Center, San Roque de Cumbaza, Peru
Solo exhibitions
2021 : Lignes passées et à venir, 9-21 août, Galerie Grégoie Courtois, Dinard
Ondes bleues, 21 juillet-16 août, 4e lieu, La Grande Passerelle, Saint-Malo
Rainbows, Mars, Galerie Sabrina Lucas, Nantes
2019 : Rainbows, 1-25 Août, Galerie Grégoire Courtois, Dinard, France
2017 : Finaltis, 63 av. des Champs Elysées, Paris, France
Galerie Marimòn, Can Picafort, Majorque, Espagne
Galerie Grégoire Courtois, Dinard, France
Group exhibitions (selection)
2022 : La couleur en mouvement, Galerie Wagner, Paris 
Duo Exhibition, "Combination" at Abbaye de Léhon 
« Rencontre des infinis », Institut Henri Poincaré, en partenariat avec la Galerie Wagner, Paris, France
2021 : Exposition collective, « Mesures/Démesures #2 », Galerie Wagner, Paris, France
Exposition collective, « Carrés », Galerie Wagner, Paris, France
Exposition collective, « Trésors de papier #2 », Galerie Wagner, Paris, France

2020 : Exposition collective, Art Fair : Art paris, Galerie Wagner, Septembre, Grand Palais, Paris, France
Exposition collective, « IN/OFF », Galerie Wagner, Paris, France
Exposition collective, « Cercles », Galerie Wagner, Paris, France

2019 : Exposition collective, Art Fair : Art paris, Galerie Wagner, Grand Palais, Paris, France
Exposition collective, « Conquêtes Spatiales », Galerie Wagner, Le Touquet/Paris, France.  
Exposition collective, Art Fair : Art Expo Malaysia Plus 2019, représenté par la Galerie des artistes, Kuala Lampur, Malaisie
2018 : Exposition collective, Art Fair : Art Expo Malaysia Plus 2018, représenté par la Galerie des artistes, Kuala Lampur, Malaisie
Exposition collective, Galerie Partage, Bruxelles, Belgique
Exposition collective, Galerie Grégoire Courtois, Dinard, France
Exposition collective, Galerie des Artistes, Tropicana Golf & Country Resort, Kuala Lampur, Malaisie
 Exposition collective, ACAF Bruxelles, Nonciature Sablon, Bruxelles, Belgique
Exposition collective, Galerie des Poissons Volants, Dolus, Oléron, France
Exposition collective, Ecléctica 2018, Galerie Pep Llabres, Palma, Majorque, Espagne
2017 : Exposition collective, Art Fair : Art Expo Malaysia Plus 2017, représenté par la Galerie des artistes, Kuala Lampur, Malaisie
 Exposition collective, Galerie Pep Labres, Palma, Majorque, Espagne
Exposition collective, Le Qu4tre, Argenteuil, Paris, France
2016 : Exposition collective, ART3F Bruxelles, Brussels, Belgique
Strokar, Exposition collective, Curator Fred Atax, Bruxelles, Belgique
2015 : Exposition collective, ART3F Mulhouse, Mulhouse, France
 Exposition collective, Le Qu4tre, Argenteuil, Paris, France
2014 : Exposition collective, « Murs ouverts », Galerie Arts Urbains « le Lavomatik », Paris, France
Marseille street art Show, exposition collective, Galerie Saint Laurent, Marseille, France
2013 : « Vitry ville street art », exposition collective, Nunc Galerie, Paris, France
2011 : Exposition collective d'art contemporain, Les Nouvelles Métamorphoses, Niort, France
2010 : Exposition collective, Chapelle Saint-Sauveur, Saint-Malo, France
Exposition collective d'art contemporain, Les Nouvelles Métamorphoses, Niort, France
2009 : Exposition collective, Centre d'art Albert Chanot, Clamart, France