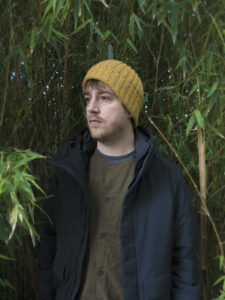 Born in 1991, Thomas Garnier is a French contemporary and visual artist initially trained in architecture.

He graduated from Le Fresnoy, Studio National des Arts Contemporains where he received the special prize "Révélations Art Numériques" from the ADAGP, the French artists' society, for his installation "Cénotaphe".

His work has since been presented at international events, festivals and biennials such as the Nuit Blanche (Belgium), the WRO biennial (Poland), the Nemo biennial and the Chroniques biennial (France), or in foundations such as the Fosun Foundation (Shanghai) and the Fiminco Foundation (Paris).

 
His practice is that of an artist but also of a researcher or heterotopologist, as defined by Foucault in his text "les espaces autres". This search for and construction of meaning in the "liminal" or "in-between" leads him to produce collapsing automated sculptures, infinite animated images that loop on themselves, chimeras and linguistic accumulations of non-existent artistic movements.
In this way, he searches for singular and distant places, material and immaterial motifs that influence the structure of space, of our anthropocenic landscapes. The critical nature of the works is developed through wandering, and the observation of real spaces. In Thomas Garnier's work, we seem to witness the archaeology of a world modelled on our own, derived and adrift, caught between and obsessed by the congregation of multiple temporalities and techniques, derived from a non-existent futuro-primitivism, a feverish supra-romanticism, an overwhelming multi-brutalism
Artist residences :
2022, Villa Belleville, Paris, France
2022, iMAL – Art Center for digital cultures & technology, Brussels
2021-2022 , Cité Internationale des Arts, Site du Marais, Paris, France
2021, Le Silo de Méreville, Arts and Science, Essone, France
2020-2021  Komunuma, Fiminco foundation, Romainville , France
2019, Research residency with gallery Fernand Léger, Ivry sur Seine, France
2019, Cité Internationale des Arts, Site du Marais, Paris, France
Group exhibitions :
2022 : Biennale Chroniques ''La Nuit'', Office du tourisme, Aix en Provence, France, Mathieu Vabre
Exposition ''éco (…..) éco (…..) éco (…….)'', Galerie Dohyang Lee, Paris, France
Exposition ''Homard des arbres'', Villa Belleville, Paris, France, Léna Peyrard
Exposition ''Fluide Moteur'', Garage Mu, Paris, France, Nadiejda Rousseau, Theo Diers
Festival Criatech, Aveiro, Portugal, Sergio Costa, Miguel Craveiro
Exposition ''Fenêtre sur ville'', Institut Français, Wuhan, Chine
Exposition ''Les heures sauvages'', Centre Wallonie Bruxelles, Paris, France, Stephanie Pécourt
2021 : Exposition personnelle Exfutur N01, Galerie Fernand Leger, Ivry sur Seine, Hedi Saidi
Exposition "Memento", Zeto Art, Paris, France
Festival ''Pléiades'', St Etienne, France, Jérome Villeneuve
Exposition ''Paysages européens'', Dalian City Art Museum, Dalian, Chine
Exposition ''I scream Ice cream'', Espace Niemeyer Paris, Jeune Création, Noam & Nadiejda
Salon MAD, Multiple Art Days, Fondation Fiminco, Paris, Edouard Wolton & Baptiste Caccia
Exposition ''Chimera'', Baiyun Art Museum, Shanghai, Chine
Festival LA SCIENCE DE L'ART, Le Silo, Méreville Collectif Culture Essonne
Exposition Pleins feux! , Fondation Fiminco, Paris, Joachim pflieger
Exposition Printtemps, Fondation Fiminco, Paris, Edouard Wolton & Baptiste Caccia
2020 : Fosun Foundation, , Shanghai China, Commissaire: Dominique Perrault, Zeng Ye, Opline Prize
Biennale Nemo, ''Jusqu'içi tout va bien'' , 104 Paris, Commissaire: Gilles Alvarez et José Manuel Gonçalvèz
2019 : Nuit Blanche Bruxelles, Human v Climate, Commissaire: Nancy Gallant, David Elchardus
Territoire à l'oeuvre N02, Paris / Ivry sur Seine, Commissaire: Hedi Saidi
Festival Scopitone, Nantes, Commissaire: Cédric Huchet, STEREOLUX
Open Studio at Cité Internationale des Arts
Correspondance N3, Villa Radet, Cité des Arts Paris, Commissaire: Bénédicte Alliot & Corinne Loisel
WRO media art Biennale, Wroclaw «The Human aspect», Commissaire: Piotr Krajewski et Dominika Kluszczyk
Mirage Digital arts Festival, Lyon «Turbulences», Commissaire: Jean-Emmanuel Rosnet, Simon Parlange
Wyld Festival, Toulouse, Wyld team
Fake festival photography exhibit, Galerie Paris Horizon Paris, Commissaire: Mei Shina
Travelling film festival, Rennes «Villes-mondes», Commissaire: Fabrice Bassemon
2018 : Panorama 20, Le Fresnoy studio National, José Manuel Gonçalvèz & Alain Fleischer
Coté Court film Festival, new media competition «Transgressions», Eric Garandeau & Sylvie Pialat
2017 : Panorama 19, «Roman» Le Fresnoy studio National, Commissaire: Jean de Loisy, Yannick Haenel & Alain Fleischer
Prices  : 
2022 Fond SCAN, Fonds de soutien à la création artistique numérique Rhône-Alpes
2021  DICRéAM development fund, CNC centre national du cinema , Franc2
2020 Finalist Numeric Creator, Lagardère Foundation Paris
2019  Finalist Villa Kujoyama with Hideyuki Ishibashi, French cultural institut Japan
2019 Numeric Art Revelation, Mention ADAGP, Society of French Artists and auteurs for ''Cenotaph 0''