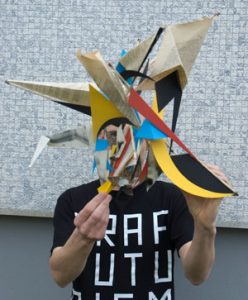 Born in Epinal in 1980
Self-taught – artist of street art 
2008-2012 : Realized « The Hidden Project », open-air muséum, with 2500 m2 for the facade on the site of the disused school Normale Sup of Nancy
2014 : Joined the M.U.R. movement (Association Modulable, Urbain, Réactif) for which he created a work in March 2014
Lives and works in Nancy
« Remarkable self-taught and multidisciplinary artist, it is by mastering all the tools and techniques that he has found material to surpass a reality that affects him, a society that is beyond him. His delicate works portray its tortures, his raw materials betray its violence. But his vivid colours embody hope.
If everything seems to be chaos, Gilbert1 meticulously reconstructs, repaints and fixes materials. He re-invents, uses the objects that are found in his quest, colours them, installs them, arranges them. He turns them into delicate sculptures, monumental paintings or explicit installations (such as the one produced at the Bains Douche artistic residency in Paris in 2012).
He says that he is in love with Mathieu's gestures, influenced by the work of Miro, Tapies and Picasso. He is a child of the Art Brut movement, attached to « graffuturism « , to Gaudi's architecture and to the works of Georges Rousse. But Gilbert1 is above all inspired by the places where he travels to (and in which he still paints and takes up artistic residence) by the history that marks Man and his era. By the architectures he stares at and the streets he considers. He makes a tool of his colours. He does not fulfil, does not hide, but reveals. Strongly attached to the experience of his discoveries, he extracts their essence, redirects their meaning and gives them a new life.  »
Valériane MONDOT – 2016
Personal exhibitions
2021 : Château de Montaigu, Laneuvevile-devant-Nancy, France
2020 : Center Pompidou / Emmaus Solidarité – Floor painting, Paris, France
Le MUR Nancy, Nancy, France
« Variables Geometries », Corner Galerie, Epinal, France
2018 : Le MUR, Auber, Paris, France
Musée Lorrain, Nancy, France
« Never ending fall », Mirus Gallery, San Francisco, USA
2017 : « World of illusion », Artistik Rezo Gallery, Paris, France
Musée des Beaux-Arts, Nancy, France
2016 : « Out of control », GCA Gallery, Nice, France
2015 : « Falling to pieces », Punto618 Art Gallery, Turin, Italie
« Fragile », Artsuggest.com
2014 : Le MUR, Paris, France
« Extracted from Chaos », Helene Bailly Gallery, Paris, France
In Situ, Bora Baden Gallery, Nancy, France
2013 : « Stroke Art Fair », Helene Bailly Gallery, Berlin, Allemagne
2012 : No Borders, La Friche Gallery, Paris, France
Group exhibitions
2022: «Why White ?», Galerie Wagner, Paris 
2020 : 20th Anniversary group exhibition, Anno Domini gallery, San Jose, USA
Quai 36 – Ancienne Poste, Réenchanter la ville, Versailles, France
Art Paris Art Fair, avec la Galerie Wagner, Paris, France


« IN/OFF »

, Galerie Wagner, Paris, France


« Cercles »

, Galerie Wagner, Paris, France
2019 :

« Faisons le mur »,

Galerie Wagner, Paris, France
Gand Artfair, Orlinda Lavergne Gallery, Ghent, Belgique
« Trésors de papier », Galerie Wagner, Le Touquet-Paris-Plage, France
Urban Art Biennale, Völklinger Hütte, Völklingen, Allemagne
Urban Art Fair, Carreau du Temple, Paris, France, Artistik Rezo
Art Paris Art Fair, Galerie Wagner, Grand Palais, Paris, France
Art Up, Happy Gallery, Grand Palais, Lille, France
« Hello my name is (V. Mondot) », Galerie Albert Bourgeois, Fougeres, France
2018 : Salon Art Elysée 2018, Paris, avec la Galerie Wagner Le Touquet-Paris-Plage, France
« Orlinda Lavergne Gallery », Scope Art Fair, Basel, Suisse
Mirus Gallery, Denver, Etats-Unis
Happy Gallery / Kolly Gallery – Espace Oppidum, Swiss watches, Paris, France
« Urban Art auction », Artcurial, Paris, France
2017 : Art Elysées Art Fair, avec la Galerie Wagner, Paris, France
Mirus gallery 5 Year Anniversary, Mirus Gallery, San Francisco, USA
Orlinda Lavergne Gallery, Antwerp Art Fair, Antwerp, Belgique
« Intersections », Galerie Wagner, le Touquet, France
Abstract World, Popartiserie, Stasbourg, France
« Couleurs plurielles », Galerie Wagner, le Touquet, France
« Manifeste Urbain », La Lune en Parachute, Epinal, France
Urban Art auction, Artcurial, Paris, France
« Artistik Rezo », Urban Art Fair, Carreau du Temple, Paris, France
« Kromacity », La Compagnie, Paris, France
2016 : Orlinda Lavergne Gallery, Luxembourg Art Fair, Luxembourg
Art42 Urban Art Museum, Paris, France
Street Art, a global view, Magda Danysz Gallery, CAFA Beijing Museum, Beijing, China
« Ô Gravity », Orlinda Lavergne Gallery, Mulhouse, France
Performance Le M.U.R. Mulhouse, Mulhouse, France
Performance LAB/Salon, Ballet de Lorraine, Nancy, France
« Residence », LED, Thionville, France
2015 : Residence/collective exhibition, Home Two project, Charlevilles-Mézières, France
« Big Jam event », Nancy, France
« Metamorphoses », Helene Bailly gallery, Paris, France
Urban Art to the profit of Emmaus, Villette Street festival, Paris, France
« Graffuturism 5 years », 886 Geary Gallery, San Francisco, USA
Urban Art auction, Artcurial, Paris, France
2014 : Collection Si particulère, ST.ART – Art Fair, Strasbourg, France
« (De)Construction », Helene Bailly Gallery, Paris, France
« Expressions Urbaines », Institut Culturel Bernard Magrez, Bordeaux, France
« Arts Urbains Collection Nicolas Laugero Lassere », Maison des Arts de Créteil, Créteil, France
« Contemporary Art biennale », La Plomberie, Epinal, France
« Made in France », GCA gallery, Nice, France
« Shifting perspectives », Walls Gallery, Amsterdam, Netherlands
« Magda Danysz Gallery », Molitor hotel, Paris, France
Residence/collective exhibition, Home project, Toul, France
Collective, Helene Bailly gallery, Paris, France
« A Major Minority », 1AM Gallery, San Francisco, USA
Urban Art auction, Artcurial, Paris, France
2013 : « Si Particulière Collection », Street Boulevard, Metz, France
« Dièse Project » Neuf Gallery, Nancy, France
« Geometry of chance », Mirus gallery, San Francisco, Etats-Unis
« Graffuturism Paris », Galerie Openspace, Paris, France
Les Bains artistic residency exhibition, Magda Danysz Gallery, Paris, France
« Performance Speed Painting », Magda Danysz Gallery ENSBA, Paris, France
Helene Bailly Gallery, Paris, France
Art Paris Art Fair, Grand Palais, Helene Bailly Gallery, Paris, France
Résidence artistique aux Bains, Galerie Magda Danysz, Paris, France
2012 : Graffuturism, Soze Gallery, Los Angeles, USA
Musée à ciel ouvert, « The broken project », Nancy, France
2011 : « Fresh Produce exhibit », Anno Domini Gallery, Sans Jose, USA
« Give me a wall festival » – Inside film, Espace Confluences, Paris, France
« Inside film », Chappe Gallery, Paris, France
2010 : Fresh Produce exhibit, Anno Domini Gallery, San Jose, USA
Urban Art auction , Parc Chanot, Marseille, France
2009 : « La Lune en Parachute », Epinal, France
« Maison des Metallos », Paris, France
« Urban Art auction » Parc Chanot, Marseille, France
2008 : « Habits de Lumière festival », Collective performance, Epernay, France
Exhibition / performance – Zikametz festival, Trinitaires, Metz, France
2007 : « Lemza / Gilbert1 Products 100% organic fibers », Société des Arts du Forez, St Etienne, France
« The spirit of the wall », Artwist gallery, Paris, France