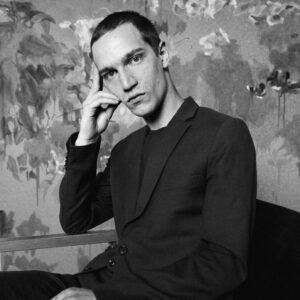 Born in 1992, in Paris
In 2016 he studied at CyDRe, Cycle Design Recherche, Cité du design, Saint-Étienne (FR).
From 2010 to 2015, Master 2 Graphic Design, École nationale supérieure des Arts Décoratifs, EnsAD, Paris.
Lives and works in Paris
Initiated in 2015, Internet of Nothings is a body of projects that questions our physical and digital existences.
In the context of the probable extinction of the human species and the growing number of connected objects, it imagines the narratives that take place at the very moment when certain things emerge and others disappear. It is at this civilisational crossroads that funeral rites, religions, artificial intelligence and new technologies meet.
Group Exhibitions :
2023 : La vie là, Exposition collective, Galerie Wagner, avec Villa Belleville, Paris, France 
Décembre 2022 : Entre les deux, le homard des arbres, Commissariat: Léna Peyrard
Villa Belleville, Paris
Mars 2017: Bog Data (installation vidéo), 10è Biennale internationale du design de Saint-Étienne.
Mars 2016: Digital Labor (installation vidéo), XXIè Triennale de Milan, scénographie Éric Jourdan.
Juin 2015: O.P.A.L., Operating and production of Avatar Life (Design fiction), EnsAD, Paris.