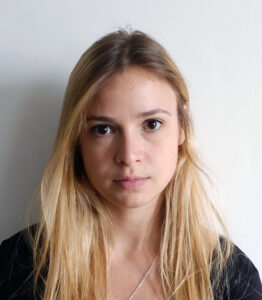 Born in 1993 in France.
She lives and works in Paris.
She graduated from the Ecole nationale supérieure des Arts Décoratifs.
Having discovered the facets of the image through different means (engraving, drawing, publishing), she now takes advantage of the dichotomy of drawing: playing with the frame and the limits that the medium imposes, but also with its appropriation by the viewer. Interrogating intrinsic questions linked to the image, its representation and its perception, her work tends to highlight this moment of fracture, where the eye observes what continues to exist outside what we think we know.
Price and artist residence : 
2020 – 2021. Résidence à l'Apostroff', Plateau Urbain, Malakoff
2020. Nominée lors du Prix du dessin Pierre David – Weill
2020 Résidence au Shakirail, Curry Vavart, Paris
2019. Nominée lors du Prix du dessin Pierre David – Weill
2018. Résidence aux Ateliers du Plessix-Madeux, Dinan
2015. Nominée lors du prix de dessin FID Prize
Exhibitions :
2023 : "La Vie là", Galerie Wagner, avec Villa Belleville, Paris France
Les Champs Libres, Galerie du Crous, Paris,
Design Parade 5th, Toulon

2020 Sélection Prix Pierre David – Weill
Exposition en ligne (covid-19)
2019 Sélection Prix Pierre David  Weill 2019, Cité internationale des arts, Paris

2018 Lieu Dit, Abbaye de Léhon, Dinan
La singularité des parties, EnsAD, Paris
Art Nouveau Revival, Curieuse Nocturne au Musée d'Orsay, Paris

2016 Strabisme, Le merle moqueur, Paris

2015 FID Prize 2015, ESA, Tourcoing