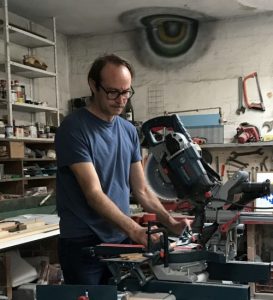 Born in 1974.
1993-1998 : Studied philosophy at the University of Nantes, France
2009-2010 : Artist Residency at the Lycée Jean Zay/CAC Le Creux de l'Enfer, Thiers, France
2014 : Received individual support for creation from the DRAC Pays de la Loire, France
2015 : National Superior Diploma of Plastic Expression (DNSEP) at the Ecole supérieure d'Art de Bretagne, Lorient, France
2018 : 1% artistic work at the Jean Mermoz secondary school in Nozay, France
2019 : Entry into the collections of the Cholet Museum, France
Lives and works in Cholet, France
Olivier Petiteau « grew up » in the repetitive sound of the machine tools of a factory. The factory closed. He then discovered emptiness and absence. Since then, he has been trying to  "express  » reality, with works that are in relation with their time.
Cultivating doubt and dissatisfaction, only experimentation keeps him going. Like François Morellet – his neighbour in Cholet – he deploys almost mechanical systems. Like Carlos Cruz-Diez, he follows a repetitive approach to formalism. Like Bertrand Lavier, he stages the world and a form of language…
In his works, lines, then lines, and then more lines. Added, side by side, repeated, all the same, and all different, like a signage in which contrasts bring light, rhythm, movement, depth of space, illusion.
The optical consequences, the vibration are to be considered as a musical setting of reality, with « ordinary » materials, of industrial manufacture, and colours from bombs, artificial and defined, as simple information placed side by side. Everything is an illusion, » explains Olivier Petiteau. "And my painting is a kind of mise en scène of this mirage, a kind of pictorial irony exaggerating the false to invite the true ».
Exhibitions ( selection )
2022 : Liberalitas – group exihibition – Galerie Wagner en collaboration avec le Centre d'Art Contemporain Frank Popper, Paris
«Matérialiser », Personal exhibition, Galerie Wagner, Paris, France
« Rencontre des infinis », Institut Henri Poincaré, Paris, France
2021 : Exposition collective « Mesures/Démesures » à la Galerie par Graf Notaire, en partenariat avec  la Galerie Wagner, Paris, France
2020 : « Capture d'écran », Exposition personnelle au Musée d'Art et d'Histoire de Cholet, France
« Entre les lignes », Galerie Wagner, Paris, France
2018 : « Espaces en réflexion », Galerie Wagner, Paris, France
Art Elysée, Paris, avec la Galerie Wagner, France
« Les artistes de la galerie : sélection d'oeuvres », Galerie Oniris, Rennes, France
2016 : « Petits formats », exposition collective, Galerie Oniris, Rennes, France
« Art Paris Art Fair », Grand Palais, Paris, avec la Galerie Oniris, Rennes, France
2015 : « Invitation #1 », Galerie Oniris, Rennes, France
2014 : « MULT », exposition collective, Galerie Tinbox, Bordeaux, France
« Mauvaises impressions », Galerie A, Denée, France
2013 : « Raccourcis », Galerie de l'EAC, Cholet, France
2012 : exposition collective, Galerie A, Denée, France
« Tunnel », Mortagne, France
Biennale Armoricaine d'art contemporain, Musée de Saint-Brieux, France
2010 : Macparis, Espace Champerret, Paris, France
2008 : « Inlays », 9 agencements sur papier, La Très Petite Librairie, Clisson, France
2007 : « Move your art », espace des Blancs Manteaux, Paris, France
2006 : « Première », Galerie Pascal Vanhoecke, Paris, France
Galerie de l'hôpital Saint Alexandre, Mortagne, France
2005 : « Primavera », Cholet, France
2004 : « Devenez compositeur de musique mécanique », performance, in « Transformeurs », Nantes, France
« Les oiseaux jouent de l'accordéon », Théâtre 71, Malakoff, France
« Installation et sonorisation délicate », La Meilleraie, Cholet, France