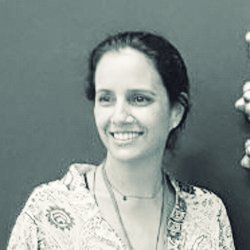 Born in 1972 in Lima, Peru
Graduated in painting at the Pontifical Catholic University of Peru
From 1993 to 1995 : director of the Signos Gallery in Lima.
Finalist in the 10th National Competition of Young Artists and participant in the VIII International Biennial of Engraving and Drawing
Works for the Forum Gallery (Peru) in the O-Art Project.
Lives and works in Lima, Peru
With a philosophical approach, Gianna Pollarolo's work views both the macro and micro worlds by showcasing the energy that exists within dimensions that have been proven to exist and those that man believes to exist. Painted canvases, punctuated with galactical orbs, geometric patterns and three-dimensional elements, tell of the boundaries continuously broadened by scientific exploration.
A vigorous palette of blacks, blues and greys pulls the observer into a seemingly limitless space that could belong to our own self just as well as an otherworldly atmosphere. Each form seems to bring different experiences and perspectives, enforcing the sense of mutability on the transient nature of the universe and everything that exists within it. Even if the constant motion and expansion of the cosmos are imperceptible, an unavoidable effect is sensed in the inherent state of our lives.
Motivated by the rapid growth of scientific and technological innovattion, Pollarolo and her work enter a deep, and often conscientious, philosophical dimension. In this revealing space, spherical shapes repeat, intertwine, and connect, forming a molecular community and place of unity; one that acknowledges our place and relationship with the vast universe and that would otherwise be invisible to the naked eye.
Though the mediums used by the artist speak in differing dialects, her work is connected through the eternal search: the search within ourselves, and that which extends beyond our capacity to imagine – and perhaps even accept – as real
"From new knowledge generated by de consciousness and energy, came the evolution of thought, changing he human paradigms."
Gianna Pollarolo
Public collections : 
Museo de San Marcos, Lima
Taipei Fine Arts Museums, Taiwan
Private collections:
Manuel Santa Cruz Lopez collection 
Hochschild collections 
Personal Exhibitions :
2018 : "Love Community", Galería Forum, Lima, Pérou
2013 : Zoom, Galeria CEDE, Lima, Pérou
2011 :  Al dios que le competa, Galería Cecilia González, Lima, Pérou
2003 :
Ideas Flotantes, Galería Forum , Lima – Perú
2002 : Bioludica, Galería 39, Caracas – Venezuela.
Ideas Flotantes, Galería Sala de Espera, Bogotá – Colombia.
2000 : S/T, Galería Forum, Lima, Pérou
1999 : 3/4, Galería Obsidiana, Lima, Pérou
1998 : Mis Rulos, Mis Nubes, Galería Forum, Lima, Pérou
Group Exhibitions :
2022 : Pinta Parc Lima, Perou Volta, Basel Suisse
2021 : Art Lima online LiMza, Pérou
2020 : Kuns Festival Berlin, Allemagne
2019 : The Others Art fair Turin, Italie
2018 : PArC, Lima Perou
Scope, Basel
Confluencia Histórica. Visualidad Contemporánea en San Isidro, Casa de la Cultura de San Isidro, Lima, Perou
2017 :  Swab, Barcelone España,
CarreLatin, Paris, France Odeon, Bogota, Colombie Scope, Miami, Etats-Unis
2016 : Open Studios Barranco Lima,  Perou
2015-2017 :  ArtLima, Perou
2014-2015 : PArC,Cecilia González, Lima, Perou
De 2008 à 2000 :  FIA Feria Iberoamericana de Arte, Venezuela.
2006 : FIAK Feria de Arte Contemporáneo de Korea
De 2005 à 2002 :  ART MIAMI Galería Forum, EEUU.
2004 : ARCO Feria de Arte Contemporáneo, Madrid, Espagne.
2003 : Memoria Fragmentada y su Marginalidad. Art Studio INSIGHT, Aruba.
2002 : Pequeño formato. Galería Sala de Espera, Bogotá. Colombe.
2000 : La Fiesta. Galería Cecilia González, Lima – Perou.
1999 : Divertimento. Galería Trapecio, Lima – Perou.
1998 : Objeto Vertical. Galería Cecilia González, Lima, Perou.
1997 : 8e BIENAL INTERNACIONAL, Print and Drawing. Taipei Fine Arts Museums, Taiwán.
1996 : V Concurso Coca-Cola de Pintura. (Finalista). Lima, Perou
1995 :  X Concurso Nacional de Artistas Jóvenes (Finalista). Southern Perú & ICPNA. Lima, Perou