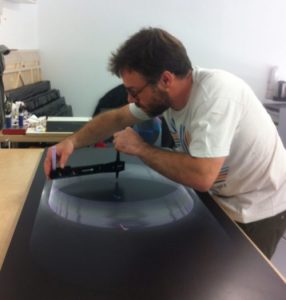 Born in 1974 in Chartres, France
Self-taught
Lives and works in Paris
Watching Sébastien Preschoux work is accepting to oscillate between the serenity of a work that can be built without hurry and the tension of an infinitely precise gesture, gracefully measured, drastically governed by a process of measuring and counting.
The work is stretched out over time, punctuated by the repeated gesture of handling the ruler and then the compass. Without impatience, Sébastien Preschoux develops the movement of the drawing in time, letting the material spread out in space. This way of drawing the line, forming the curve or stretching the line, which could be considered laborious, is experienced by the spectator who is attentive to the work in progress, as a moment of peace. Repetition of delicate gestures, without sudden jerks, the time of creation here is similar to a litany of gestures that are gentle to the eye.
We might find surprising the choice of this artist to return to the fundamentals: the hand, the body, the physical commitment. It is even more surprising that he maintains the ambiguity of his practice through the motives he invokes, which could easily pass for digital images or photomontages. For the artist, this means running the risk of being accused of being a maker because of a lack of attention to the material on the part of the spectator, or of being outdated because of the machine's influence.
In two dimensions, Sébastien Preschoux's drawings seem to be full of vibrations, perhaps due to the imperfections inherent in the fallibility of the hand. Yet the quality of the supports, the lines of the ink carved by the tubular points, the marks left by the compass are the physical markers that create the motif, so far from the planarity of a digital print.
Three-dimensional, the installations difract the light and find an obvious setting in the natural framework of their implementation. Photographed by Ludovic Le Couster, these pieces of wire acquire an almost surreal aspect that tends to blend the prints with photomontages. The boundary between art and craft is fluid and the homology with the digital rendering too disturbing. An uncritical approach will be misleading. The endurance of the work of creation is the sine qua non of a gentle approach to the visit, so that the meeting of the eye and the object is real, allowing what Sébastien Preschoux calls « the reward of the curious ».
Valérie NAM
Personal Exhibitions:
2019 : Synthèse – 9 Mai 2019 – 21 Juin 2019 – Cedart Gallery, Genève, Suisse
2018 : Straight To The Curve, David Bloch Gallery, Marrakech, Maroc
2017 : Tropisme, David Bloch Gallery, Marrakech, Maroc
2015 : Obsessions Géométriques, Backside Gallery, Marseille, France
2014 : La Résilience du Centaure – Septembre 2014 – David Bloch Gallery, Marrakech, Maroc
2012 : Optical Disorder, David Bloch Gallery, Marrakech, Maroc
2010 : Mecanical Sensivity, David Bloch Gallery, Marrakech, Maroc
Serie – Z, Imprimerie Gallery, Paris, France
Group Exhibitions:
2022 : La couleur en mouvement, Galerie Wagner, Paris 
 « Rencontre des infinis », Institut Henri Poincaré, en partenariat avec la Galerie Wagner, Paris, France
Les Adventices, La Manufacture, Aix-en-provences, France
Hivernale, Galerie Nicolas Xavier, Montpellier, France
Enter The Circle, Pretty Portal, Düsseldorf, Allemagne
2021 : Mesures / Démesures #2, Galerie Wagner, Paris, France
2020 : Cercles, Galerie Wagner, Paris, France
In/Off, Galerie Wagner, Paris, France
L'art Chemin Faisant, Artazoy, Pont-Scorff, France
Réenchanter La Ville, QUAI36, Versailles, France
Curves and Corners, Pretty Portal, Düsseldorf, Allemagne
2019 : XYZ, GO Gallery, Amsterdam, Hollande
Vibrations, Danysz Gallery, Paris, France
Trio, Downstairs Gallery, Bâle – Suisse
La Main qui dessinait toute seule, Danysz Gallery, Shanghai, Chine
Conquêtes Spatiales #2, Galerie Wagner, Paris, France
Watch the wall, Lazinc Gallery, Magda Danysz, Londres, Angleterre
2018 : Tricolore, Galerie Wagner, Le Touquet-Paris-Plage, France
2017 : Construction, Gilbert Dufois Gallery, Senlis, France
Intersections, Galerie Wagner, Le Touquet-Paris-Plage, France
Couleurs Plurielles, Galerie Wagner, Le Touquet-Paris-Plage, France
La Mécanique des Rêves, Galerie Nicolas Xavier, Montpellier, France
2016 : French Connection, Speerstra Gallery, Paris, France
Sarai, David Bloch Gallery, Fes, Maroc
French Connection, Slika Gallery, Lyon, France
Sensitive Eye, David Bloch Gallery, Marrakech, Maroc
En-Vie, The French Art Dealer, Paris, France
2015 : Prolegomenes, MMART Gallery, Paris, France
Wall Paper, MMART Gallery, Paris, France
Mister Freeze, Toulouse, France
Sensitive Eye, David Bloch Gallery, Marrakech, Maroc
2014 : Sensitive Eye, David Bloch Gallery, Marrakech, Maroc
Street Art, Nantes, France
2013 : FIL, Centre d'Art Contemporain, Reims, France
Opening, David Bloch Gallery, Casablanca, Maroc
2012 : Urban Brains, Celal Gallery, Paris, France
2011 : Street Art Paris, Celal Gallery, Paris, France
Hall of Fame (part 3), David Bloch Gallery, Marrakech, Maroc
Hall of Fame (part 4), David Bloch Gallery, Marrakech, Maroc
Art Fairs:
2020 : Art Paris Galerie Wagner, Paris, France
2019 : Urban Art Fair, Under the Radar, Paris, France
Art Paris Galerie Wagner, Paris, France
2018 : Urban Art Fair, Solo Show, Art In The Game, Paris, France
Art Elysees, Galerie Wagner, Paris, France
2017 : Urban Art Fair, Paris, France
Urban Art Fair, David Bloch Gallery, New-York, Etats-Unis
Art Elysees, Galerie Wagner, Paris, France
2016 : Urban Art Fair, Paris, France
2015 : Yia Art Fair, Paris, France
2011 : Marrakech Art Fair, David Bloch Gallery, Marrakech, Maroc
2010 : Marrakech Art Fair, David Bloch Gallery, Marrakech, Maroc
Installations and cultural events
2022 : Sens dessous dessous, installation immersive, Artistikrezo, Paris, France
Salle des machines, installation immersive, Galerie Danysz, Eure, France
Mixo, installation immersive, Quai 36, Reims, France
Desequilibrium, installation pérenne, Prazowski Gallery, Lyon, France

2021 : Whi, installation immersive, Trajectoire Studio, Paris, France
L'essentiel, installation immersive, Artazoy, Paris, France
Skylight, installation immersive, exposition Metamorphosis – Q36 – Fondation Fiminco, Romainville, France
Plan b, installation immersive, Fondation Agnes b, Paris, France
Beam, installation immersive, Ecole Brassart, Prazowski Gallery, Grenoble, France
2020 : L20, installation immersive, Trajectoire studio, Paris, France
2019 : Urban Ghost Players, installation immersive, Trajectoire studio, Paris, France
Alcôve, installation pour l'inauguration du musée national du Quatar, Doha, Qatar
2018 : Solar, installation monumentale, rue Béranger, Paris, France
2017 : PJJ, installation, Palais de Tokyo, Paris, France
2016 : 14 Arts, installation, Paris, France
Java, installatio, Renklame, Oslo – Norvège
Nuit Blanche Paris, Installation, Paris, France
2015 : Klash, installation, Paris, France
Wool, installation, Palais de Tokyo, Paris, France
R8, installation monumentale, Londres, Angleterre
2014 : Drawing Now, installation, Paris, France
40 jours LX1, installations, Biarritz, France
Gemmes Volantes, installation, Paris, France
Poulpe Fiction, installation, Sète, France
Cinetismons, installation, Mons, Belgique
2013 : Tour Paris #13, installation, Paris, France
Athen's Beam, installation, Art center OCC, Athènes, Grèce
Terrains Vagues, installation, Palais de Tokyo, Paris, France
Installations pour Londres le film musical de Grammar « Hey Now ! » Londres, Angleterre
2012 : Pluie, installation, Musée du quai Branly, Paris, France
Nuit Blanche, installation, Paris, France
2011 : ROJO ® NOVA Contemporary culture, installation, Rio de Janeiro, Bresil
ROJO ® NOVA Contemporary culture, installation, São Paulo, Bresil
2010 : Nuit Blanche, installation, Paris, France
Mural Paintings
2022 : Shades of blue, fresque murale 15m x 5m, Quai36, Reims, France
Positivonegatif, fresques murales 2,50m x 2,50m, Westlotto, Münster, Allemagne.
Sweetness, fresques murales 18m x 2,30m, Quai36, Argenteuil, France

2020 : Aqua2, fresques murales (5x) 7 x 2,70 m / 4 x 2,70 m Lille, France
Ripple, fresque murale 25 X2 x 2,30 m, Prazowski Gallery, Lyon, France
2019 : Big Wave, fresque murale 38 x 2,70 m, Avenue Kléber, Paris, France
Aqua, fresques murales, (5 x)12 x 2,70 m / 7 x 2,70 m / 4 x 2,70 m, Lille, France
Icart, fresque murale 24 x 2,70 m, Prazowski Gallery, Lille, France
Slinky, fresque murale 16 x 4,20 m, Quai 36, Paris La défense, France