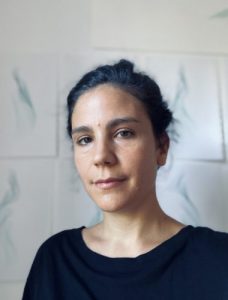 Born on the 14th of June 1980 in Faro, Portugal.
1998 – 2004 : Bachelor of Fine Arts-Sculpture, Faculty of Fine Arts, University of Lisbon, Portugal.
Lives and works in Montreal, Canada.
Preferring wire to pencil or brush, Catarina Rosa draws while weaving. Intuitively, she sews basic shapes that intertwine in an imperceptible movement, starting from a square or a triangle that becomes a circle. Despite their fixation by the stitching, the threads seem to unfold and the form seems to detach itself from the support. The paper becomes the support for a choreography of geometric forms that the wire releases from its rigidity. Catarina Rosa's drawings are discovered as the eye shifts. The viewer is invited to take as much time as he or she wishes to be carried away by the sensation of a possible unfolding of the forms. And these seem to be able to emerge from the sheet… A sensitive and very poetic work!
« With these forms she has found a fluidity in geometric structures. She deconstructs the geometric solid, liberating it from its structure to create an incomplete form free of its rigidity. She has developed an alphabet of curves. From this alphabet of forms, she combines them and creates compositions. The curves split in space, which causes a continuity of the trajectory of the wire.  »
Pauline Lisowski, Exhibition organiser and art critic.
Foires d'art :
2021 : Bienvenue Art Fair, avec la Galerie Eko Sato, Hôtel La Louisiane, Paris, France
2020 : Art Paris Art Fair, représentée par la Galerie Wagner, Paris
2019 : Art Paris Art Fair, représentée par la Galerie Eko Sato, Paris
2017 : YIA Art Fair Paris, représentée par la Galerie Eko Sato, Paris
2011 : PINTA, représentée par la Galerie Cecilia de Torres, New York, Etats-Unis
ARTEBA, représentée par la Galerie G3, Buenos Aires, Argentine
Prix et Bourses / Awards and Grants :
2012 : Finaliste de « Celeste Prize 2012 » 2eme prix en peinture et graphisme, Rome, Italie.
2005 – 2006 : Leonardo, Théâtre des Marionnettes "La Estrella", Valence, Espagne
2003 – 2004 : Erasmus, Faculté des Beaux- Arts de Valence, Espagne
Expositions personnelles : 
2022 : Poiesis, Galerie Gama Rama, Faro, Portugal ( vernissage le 5 Août, et va durer jusqu'au 1 octobre)
Dans la Spirale, Galerie Eko Sato, Paris France
2018 : "Orbita" Galerie Eko Sato, Paris, France
2015 : "Trajectoire d'un Volume" Consulat du Portugal, Paris, France
2014 : "Mouves" One Contemporary Art Verbier, Suisse
2008 : "Plumas" La Caravane, Paris, France
2007 : "Acardumeados" Galerie Evelyne Lepage, Bruxelles, Belgique
"Plateforme" Recyclart, Bruxelles, Belgique
2005 : "Esgarabatos" Galerie Kitsch International – art divers, Valence, Espagne
Expositions Collectives :
2022 : Respire I, Galerie Eko Sato, Paris France
« Rencontre des infinis », Institut Henri Poincaré, en partenariat avec la Galerie Wagner, Paris, France
2021 : « Trésors de papier #2 », Galerie Wagner, Paris, France
2020 : "Entre les lignes", Galerie Wagner, Paris, France
"Group Show" Galerie Eko Sato, Paris, France
2019 : "Le Silence du Mouvement" Pavillon Carré de Baudouin, Paris, France
2018 : "De fils ou de fibres" Centre d'Art Contemporain de Meymac, Meymac, France
"Variations Portugaises" Centre d'Art Contemporain de Meymac, Meymac, France
2017 : "Group Show Vol. 2" Galerie Eko Sato, Paris, France
"Group Show Vol. 1" Galerie Eko Sato, Paris, France
2015 : "Bleu Blanc Noir" Art Construit International, Paris, France
2012 / 2013 : "Réel, Virtuel, Réel" avec l'artiste Elias Crespin, Musée en Herbe, Paris, France
2012 : " Celeste Prize ", Centrale Montemartini, Rome, Italie
2009 : "Prólogo" Collectif de Dessins, Archives Historiques Municipales, Vila Real de Sto. António, Portugal
2008 : "Exposition Collectif" Galerie Trem, Faro, Portugal
"Soirée Ars Gallo", avec install-action, Bruxelles, Belgique
2005 : "Tractor" A Fabrica, Faro, Portugal
2004 : "¿Guiri, o quê?" Salle Joseph Renau, Faculté des Beaux-Arts, Valence, Espagne
2003 : "Finalistes de Sculpture – Faculté des Beaux-Arts", Jardin de Caxias, Portugal
2001 : "New Ideas in Medallic Sculpture" Medialia…Rack and Hamper Gallery, New-York, Etats-Unis
The University Of The Arts, Philadelphie, Etats-Unis
Faculté des Beaux-Arts, Lisbonne, Portugal
2001 : "Médaille Contemporaine" Projet Volte Face, Galerie Municipal Gymnásio Lisbonne, Portugal
"Prix Médaille Contemporaine Dorita Castel-Branco", Sintra, Portugal
2000 : "Exposition des élèves de FBAUL" Rectorat de l'Université, Lisbonne, Portugal
1997 : "Exposition Finale du Workshop de Sculpture en Pierre", Faro, Portugal