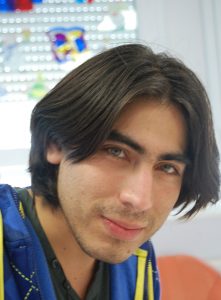 Born in Paris in 1986, of Venezuelan origin
2000 : first exhibition at the Yellow-Galerie, Venezuela.
Artist programmer
Lives and works in Paris 
Attracted and influenced by video games, Santiago Torres creates geometric and often interactive works. An admirer of Malevitch, and a former assistant to Nicolas Schöffer and Julio Le Parc, he uses his programming and electronic skills in his artistic research. His research is based on an in-depth analysis of numerology and geometry, sometimes influenced by the rotary works of Marcel Duchamp. The dimension of movement inspires and nourishes him. By creating playful and immersive spaces where the viewer is invited to become an actor, he breaks with the barriers of the fixed image.
Personal Exhibitions :
2022 : Santiago Torres, Galerie Denise René
Group Exhibitions :
2022 : Group show été 2022, Galerie Denise René, Paris
2022 : Latin American Week 2022, Galerie Wagner, Paris, France
2022 : Ivan CONTRERAS-BRUNET, L'Hommage, Galerie Wagner, Paris, France
2022 : art et programmation, Galerie Denise René, Paris
2021 : Retour à la ligne, Galerie Denise René, Paris
2021 : dynamique du bleu, Galerie Denise René, Paris
2021 : small is beautiful !, Galerie Denise René, Paris
2021 : Petits formats, Galerie Denise René
2021 : Structure du silence, Galerie Denise René, Paris