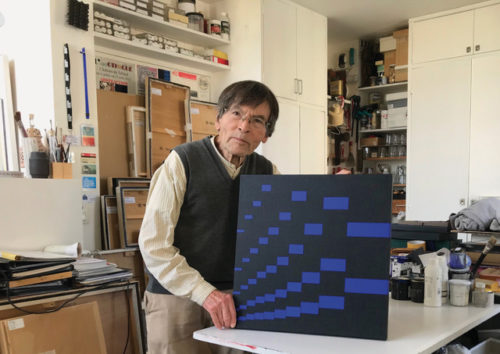 Born in 1934, in Varades (Loire-Atlantique)
1951 à 1955 : Courses at the art school of St Nazaire
1957/58 : Jullian Academy, Paris
1958/59 : Beaux-Arts of Reims
1974 : First solo exhibition at the Simone Heller Gallery in Paris
 Lives and works in Paris since 1960
Since 1974, Charles Bézie has been using straight lines in his work: horizontals, verticals and the two diagonals.
At first, he wanted to oppose his work to that of our great elders: Malevitch and Mondrian, by trying to « erase » the geometry by a connection of thin lines, this is what he calls his graphic period.
During the following years, his work went through several periods where the line became thicker and thicker until it became a stripe, leading to the sign that he calls « Quadrille ».
In 1995, he abandoned the obliques.
Since then, his work has been a research on rhythms, obtained from numbers (for instance even or odd, or from 1 to 10); irregular rhythms with « gradations » where the squares have their surface divided by lines, and regular rhythms with « cadences » where the rows of squares are underlined only at the top and bottom.
The year 2003 saw the beginning of the « Fibonacci Suite ». This Italian mathematician of the 13th century, whose series of numbers in progression is simply constituted by the addition of the 2 preceding digits or numbers and also because of the quotients between two adjacent numbers all approach the number 1.618, the famous « golden number ».
His current project is to continue to work with numbers for as long as it makes sense for his pictorial approach.
The art of geometry, which spanned the entire 20th century, should remain important because it preceded and accompanied the digital age in which we live.
Public collection
France : Nantes / Cholet / Macon / Montbéliard
Germany : Museum Ludwig, Saarlouis / Museum im Kulturspeichern, Wurzburg / Arithmeum, Bonn / Museum Ritter, Waldenbuch / Bauhaus Museum, Dessau
Belgium : Fondation Jenny et Luc Peire, Knokke
Japan : Satoru Sato Art Museum, Tomé
Hungary : International Mobile Madi Museum Foundation, Budapest.
Switzerland : Musée d'Art et d'Histoire, donation Jeunet, Neuchâtel.
International contemporary art fairs 
Nombreuses participations depuis 1987
Galerie Lahumière, Paris : Foires de Bâle, Cologne, Frankfurt, Chicago, New York, Honk-Kong, Fiac et Art Paris.
Galerie Convergence, Paris : Foire de Stockholm.
Galerie De Vierde Dimensie (NL) : Foires d'Amsterdam, Frankfurt, Gand.
Galerie Amaryllis, Bruxelles : Foire de Gand.
Galerie Wagner, Le Touquet / Paris : Art Paris
Solo exhibitions (selection)
2020 : Galerie Wagner, « Chiffres à l'appui », Paris, France
2019 : Centre pour le constructivisme et l'art concret, Bornem, Belgique
1987/1991/1995/2000/2006/2011/2016 : Galerie Lahumière, Paris, France
1994/1999/2003/2006/2009/2012 : Galerie De Vierde Dimensie, Plasmolen, Hollande
2013 : Galerie Leonhard, Graz, Autriche
2001/2004/2007 : Art Dune Gallery, Hamamatsu, Japon
2002 : International Art Gallery, Lasne, Belgique
1992 : Treffpunk Kunst, Saarlouis, Allemagne
1987/1990 : Galerie Nouvellet, Paris, France
1985 : Galerie 3O, Paris, France
1974 : Galerie Simone Heller, Paris, France
Group exhibitions (selection) 
2023 : Salon Art Karlsruhe, avec la Galerie Wagner, Allemagne
2022 : Liberalitas – Galerie Wagner, en partenariat avec le centre Frank Popper, Paris
« Rencontre des infinis », Institut Henri Poincaré, en partenariat avec la Galerie Wagner, Paris, France
« Why White ? », Galerie Wagner, Paris 
2021 : « Trésors de papier #2 », Galerie Wagner, Paris, France
2020 : Art Paris Art Fair, Galerie Wagner, Paris, France
« IN/OFF », Galerie Wagner Paris, France
2019 : Sens caché/sciences cachées – Galerie Wagner, Le Touquet Paris Plage, France
Art et mathématiques 2 (David Apikian) – Galerie Abstract Project, Paris, France
2018/2019 : Cinétique (Dr Milija Belic) Abstract Project, Paris – Budapest, Hongrie – Kranj, Slovénie – Vienne, Autriche – Stoffen, Allemagne
2018 : Carrément 5 / Commissaire : Milija Belic – Espace Christiane Peugeot, Paris, France
Couleurs Primaires : C.Bézie / G.Claisse / U.Gantner – Galerie Wagner, Le Touquet Paris Plage, France
Art et mathématiques – Galerie Abstract Project, Paris, France
2017 : A géométie variable /1. – Bureaux de « Oasys » Consultants, Paris, France
L'art – Sens de la vie. Donation Renate Trettin – Centre d'Art Contemporain Frank Popper, Marcigny, France
70 ans Réalités Nouvelles + Cinétique – Abstract project, Paris, France
2016 : Espaces et Variations (Bensasson / Besse / Bézie), Maison des Arts, Chatillon, France
Treffpunk Kunst, Museum Hans Ludwig, Saarlouis, Allemagne
Rythme et Géométrie, commissaire Bernard Fauchille, Couvent des cordeliers, Chateauroux, France
Présence de l'Art Construit, Arteva à Rezé près Nantes, France
Abstract project (galerie de Réalités Nouvelles), Paris, France
M.Y.Foundation  » Séoul Olympic Museum « , Séoul, Corée du Sud
2015 : Et que l'aventure continue (Collection Philippe Delaunay) Musée Bernard Boesh, La Baule, France
2014/2015/2016/2017 : Carrément / Commissaire : Milija Belic, Espace Christiane Peugeot, Paris, France
2014 : Ligne dans l'art / Organisateur : Gérard Xuriguera, Galerie 89, Viaduc des arts, Paris, France
Et que l'aventure continue (Collection Philippe Delaunay), Musée des Beaux-Arts, Bernay, France
GrizyCode – Circuit d'art actuel, Grizy-les-platres, France
Treffpunk Kunst – Museum Haus Ludwig, Saarlouis, Allemagne
« Terugblik » – Galerie De Vierde Dimensie, Plasmolen, Hollande
Réalités Nouvelles, hors les murs – Galerie Nationale des Beaux-Arts de Pékin, Chine
2013 : Farben-Colours, 25 Artists From 7 Nations, Art Museum Wilhelm-Morgner-Haus and The Früheren Marienschule, The Home Of Sammlung Schroth, Allemagne
Collection Grauwinkel, Berlin, Vasarely Museum, Budapest, Hongrie
La galerie fête ses 50 ans, Galerie Lahumière, Paris, France
2012 : Abstraction(s), 4 artistes au château de Tallard, Hautes-Alpes, France
2011/2012 : « Intégration Géométrique 20011 », Musée d'art, histoire et archéologie, Evreux, France
2011 : Centre d'art contemporain Frank Poper, Marcigny, France
2010 : « Couleur et Géométrie » Actualité de l'art construit européen, Musée de Sens, France Halle et Nuremberg, Allemagne et Kielce, Pologne
2009 : Paris konkret – 7 positionen, Galerie konkret Martin Wörn Sulzburg, Allemagne
2006 : Reliures construites, Musée Matisse, Le Cateau-Cambrésis, France
2006/2007 : Horizontales, verticales seules / art concret, Musée de Pontoise, France
« Autour du blanc », Galerie Lahumière, Paris puis Angers, France
2004 : Parcours parallèles : Prosi / Bézie, Espace culturel, Bonneval, France
Espace Fanal, Bâle, Suisse
2001 : Frankreich Konstruktiv-Konkret, Galerie Emilia Suciu, Ettlingen, Allemagne
2000 : Vasarely / Sugai / Bézie, Art Dune Gallery, Hamamatsu, Japon
1998 : Vasarely, "Hommages" Fondation Vasarely, Aix-en-Provence, France
1997 : Donation Repères, Musée des Ursulines, Macon, France
1993 : Aspects actuels de la mouvance construite internationale : Musée de Verviers / La Louvière / Antwerpen, Belgique
1989/1990/1992/1993 : Du construit au signe, Galerie Lahumière et FIAC Paris + itinérante en Allemagne, Finlande, Suisse
1987 et 2003 : Le noir est une couleur 1 et 2, Galerie Lahumière, Paris, France
1987 : Autour de Luc Peire, Galerie Convergence, Paris, France
Dix années d'activités 1975/85 Galerie 3O, Paris, France