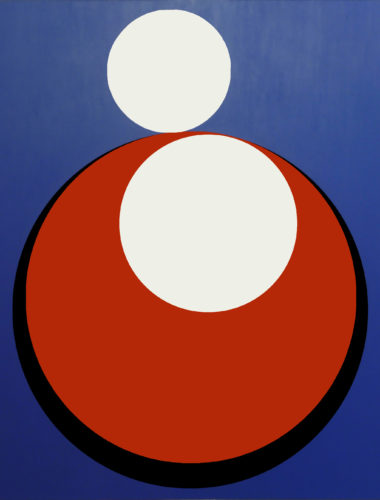 Blue Variations by Geneviève CLAISSE
16 May ➜ 5 July 2015
Intuitively, Geneviève Claisse has always used an elementary formal vocabulary: the circle, the square, the triangle, the line. Considering that it is perfectly useless to laboriously copy reality, she explores through this rigorous geometric abstraction, the multiple properties of colours, shapes, planes that are inscribed in physical, scientific and sensory space. Sometimes the lines trace contradictory perspectives. Sometimes the forms – solid or transparent – take on orientations that introduce movement and imbalance. Each time, the colour relationships offer a visual and sensory intensity. His painted figures affirm the freedom of painting and the freedom to create a space within which the elements that compose it are as if in navigation.
Born in Quiévy in the Cambrésis region in 1935, Geneviève CLAISSE has become a key figure in geometric abstract art.  Exhibited in Paris in the 1960s, she has since enjoyed an international career. She is present in many public collections. In France: Museum of Cambrai, Matisse Museum of Cateau-Cambrésis, Museum of Fine Arts of La Chaux-de-Fonds, Museum of Art and History of Cholet, Museum of Contemporary Art of Dunkerque, LaM of Villeneuve d'Ascq, Museum of Le Touquet Paris-Plage, Camille Foundation, (Paris), France Liberté Foundation (Paris), National Fund of Contemporary Art (Paris), Regional Fund of Contemporary Art (Paris)
Internationally : Museum of Fine Arts, Aarau (Switzerland), Museum of Contemporary Art, Chicago (USA), Louisiana's collection, Rikis Mac Crory Corp donation, Humlebaek (Denmark), Marcian Art Museum, Kurusawa (Japan), Musée des Beaux-Arts de Lausanne (Switzerland), IBM Corp Foundation, New York (USA), Guggenheim Museum, New York (USA), Mac Crory Corp Foundation, New York (USA), Sikkens Foundation, Rotterdam (The Netherlands), Tel Aviv museum, Rikis Mac Crory Corp donation (Israel), Ritter Museum, Waldenbuch (Germany), Hirschhorn Foundation, Washington (USA), Das Klein Museum in Weissenstadt (Germany) – UNESCO Collection…
The exhibition brings together works dating from 1955 to the present day.
"My writing," she says, "is drawing.  For Geneviève Claisse, drawing, colour and composition form an organic and living whole that is the painting.  And everyone, through their own eyes, can find the necessary space to project and invent their own sensitive space!"