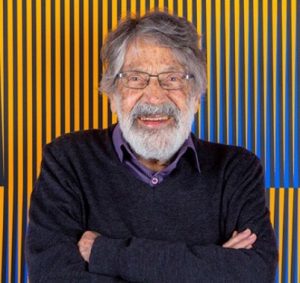 • Born in Caracas, Venezuela in 1923 – Died in Paris in 2019
• 1940 :  Studies at the School of Fine Arts in Caracas
• 1944 : Graphic designer at the Creole Petrolium Corporation
• 1946 :  Creative director of the advertising agency « McCann-Erickson » in Venezuela
• 1957 : Founds the « Estudio de Artes Visuales » dedicated to graphic and industrial design
• 1959 :  Produces his first work « Additive Colour and Physiochromy
• 1972-1973 : Teaches « Kinetic Techniques » at the Ecole Supérieure des Beaux-Arts in Paris
• 2005 : His family creates the « Cruz-Diez Foundation » dedicated to the preservation, development, diffusion and investigation of the artist's artistic and conceptual legacy
• 2008 :Exhibits at the Museum of Fine Arts in Houston, USA
• 2012 : Receives the mention of Official of the National Order of the Legion of Honour
Carlos CRUZ DIEZ was one of the major figures of kinetic art. His plastic approach makes him one of the last theorists of colour. His research, based on three chromatic conditions: subtractive, additive and reflective colour, has contributed to a new approach to the phenomenon of colour by extending its perceptual universe.
Carlos Cruz-Diez has based his approach on colour as an independent reality, devoid of anecdotes, evolving in time and space without the need for shape or even of a support. Eight axes of research reveal the different behaviours of colour: Additive Colour, Physichromy, Chromatic Induction, Chromointerference, Transchromy, Chromosaturation, Chromoscope and Colour in Space
Interférence chromatique à double fréquence Marcigny 2, 2008
40 x 40 cm
60 x 60 cm encadré
sérigraphie éd. n°68/90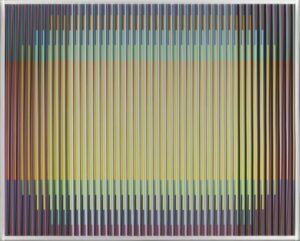 Physichromie n°1798, 2012
Chromographie sur aluminium, lamelles de plastiques
40 x 50 cm  
Œuvre originale en 8 exemplaire
éd. n°7/8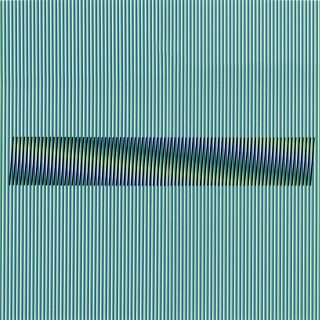 Interférence chromatique à double fréquence Marcigny 3, 2008
40x 40 cm
60 x 60 cm encadré
Sérigraphie  éd. n°76/90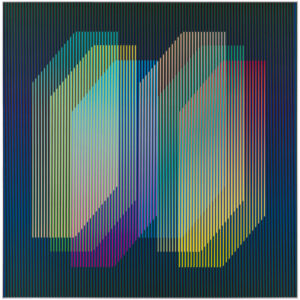 Couleur Additive – Série Darien, 2010
Chromographie sur aluminium
100 x 100 cm
œuvre originale en 3 exemplaire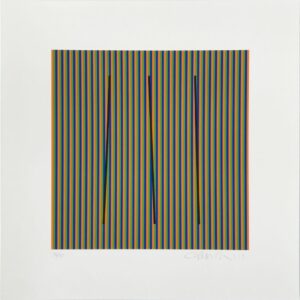 Couleur à l'espace Marcigny, 2014
Chromographie sur papier Hahnemühle Fine Arts 308 gr (Atelier CD)
20 x 20 cm
30 x 30 cm encadré
Sérigraphie éd. 31/50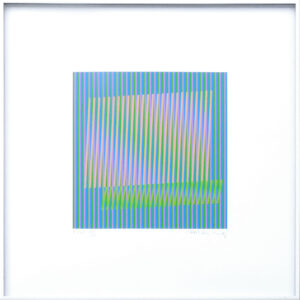 Induction chromatique à double fréquence – C9, 1998
48 x 48 cm encadré
Sérigraphie éd. 59/65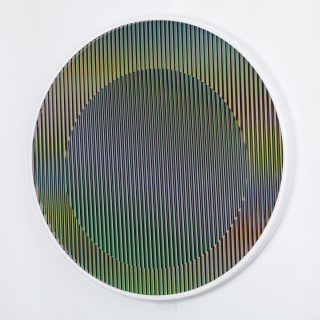 Chromointerférence manipulable circulaire, 2013
chromographie sur plexiglas
diamètre 50 cm
éd. n° 1/75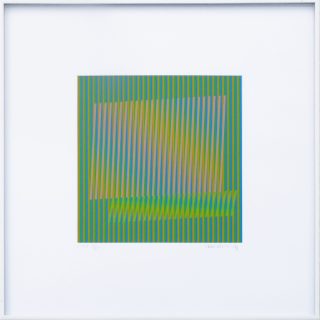 Induction chromatique à double fréquence – C6, 1998
48 x 48 cm
Sérigraphie éd. n° 59/65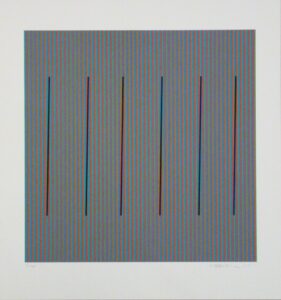 Color el espacio, 2014
67 x 62 cm
Sérigraphie éd. 17/54
Latest exhibitions
2023 : "Mouvement et lumière", exposition collective à la Fondation Villa Datris de l'Isle-sur-la-Sorgue avec la Galerie Wagner
Salon Art Karlsruhe, avec la Galerie Wagner, Allemagne 
2022 : Liberalitas – Galerie Wagner en collaboration avec le Centre d'Art Contemporain Frank Popper, Paris
La couleur en mouvement, Galerie Wagner, Paris
2021 : Exposition collective « Mesures/Démesures #2 », Galerie Wagner, Paris, France
Exposition collective « Mesures/Démesures » à la Galerie par Graf Notaire, en partenariat avec la Galerie Wagner, Paris, France
« Latinos », Galerie Wagner, Paris, France
« Trésors de papier #2 », Galerie Wagner, Paris, France
2020 : « Seven Stations : Selections from MOCA's Collection », The Museum of Contemporary Art (MOCA), Etats-Unis
« Entre les lignes », Galerie Wagner, Paris, France
Art Paris Art Fair, Galerie Wagner, Paris, France
« Vertigo. Op Art and a History of Deception 1520-1970 », Kunstmuseum Stuttgart, Allemagne
« Tools for Utopia. Works from the Daros Latinamerica Collection », Zentrum Paul Klee, Suisse
« ReVisión: Art in the Americas », Denver Art Museum, Etats-Unis
« A Graphic Revolution: Prints and Drawings in Latin America », The Cleveland Museum of Art, Etats-Unis
« Sur Moderno: Journeys of Abstraction – The Patricia Phelps de Cisneros Gift », Museum of Modern Art (MoMA), Etats-Unis
« IN/OFF », Galerie Wagner, Paris, France
« Cercles », Galerie Wagner, Paris, France
2018-2019 : « Obres oberstes. L'art en moviment, 1955-1975 », Fundacio Catalunya, Barcelone, Espagne
« Carlos Cruz Diez : Spatial Chromointerference », Buffalo Bayou Park Cistem, Houston, Etats-Unis
« Action <> Reaction. 100 Years of Kinetic Art », Kunsthl Rotterdam, Rotterdam, Pays-Bas
Publics collections: 
Wallraf-Richartz Museum, Cologne, Allemagne
Musée du Touquet, Donation André Le Bozec, France