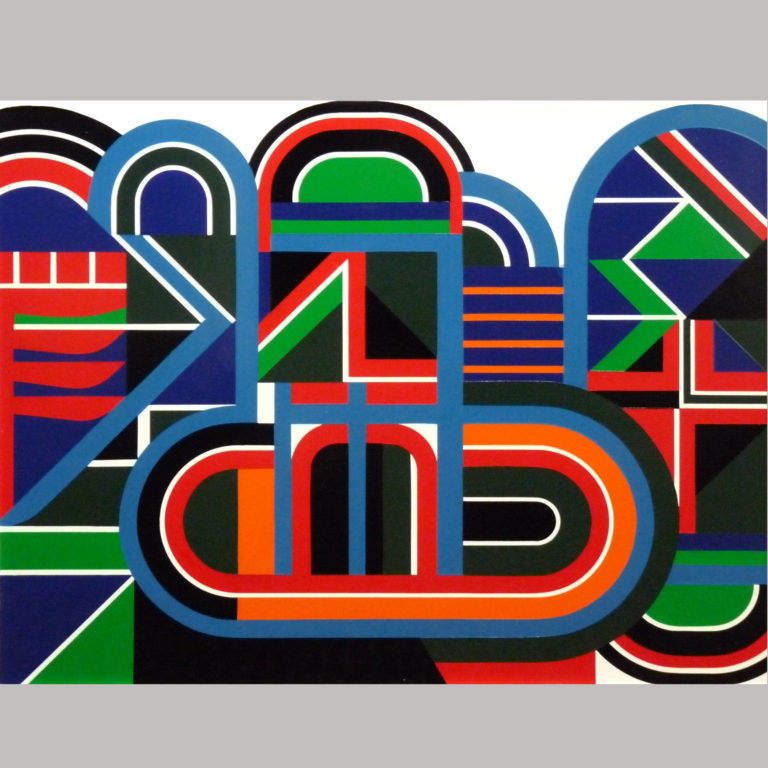 Dewasne: for an architecture of colour
Exhibition from 15 April to 6 June 2017
"Art opens up psychic horizons because thought can also move.
Jean Dewasne (1921 -1999)
Member of the Académie des Beaux-Arts
With this solo exhibition "Jean Dewasne – For an architecture of colour", the Wagner Gallery proposes to (re)discover the talent of this abstract artist born in Hellemmes (59). Through a selection of works from the 1970s, a universe of bright colours, pure forms and complex rhythms is on display. His geometric compositions with intense greens, reds and blues explore various techniques and industrial supports and sometimes take on monumental dimensions…
Monumental works :
– 1967: Grenoble ice stadium (60 m long and 3 m high), the Longue Marche (100 m long and 2 m high), Europe-Match (18 m long painting) and Grenoble 70 (1,200 m2) in 1970.
– 1971: Environnement Mythia (1971).
– 1972: Habitacle Rouge (three-dimensional work measuring 10 × 5 × 4 m).
– 1973: Entrance hall of Danish television. Stella in Ciudad Bolivar (Venezuela)
– 1975: 4 murals, 10 m long, for Renault. 2 works 110 m long for the Hanover Light Railway (Germany).
– 1977: Mural of 580 m2 for the Lycée de Millau (Aveyron)
– 1979-1980: Three-dimensional painting in a factory in Denmark (7 km of tubes and 20 tanks, two of which are 30 m high)
– 1989: Murals of the Grande Arche de la Défense.
Main public collections in France: Centre Pompidou, Musée d'Art Moderne de la Ville de Paris, MAC/VAL, Musée de Grenoble, Grande Arche de la Défense, Musée des Beax-Arts de Caen…, and in particular in the museums of the Hauts de France region, where the artist was originally from: Musée Matisse in Cateau-Cambrésis, Musée des Beaux-arts de Cambrai, LAAC in Dunkerque, LAM in Villeneuve d'Ascq.
Main international public collections: MOMA (New York), Stedelijk (Amsterdam), Glyptoteket (Copenhagen), etc.
Please note: the LAM in Villeneuve d'Ascq will exhibit some of its acquisitions from February to June 2017.
 Click on this link to view our Dewasne Catalogue