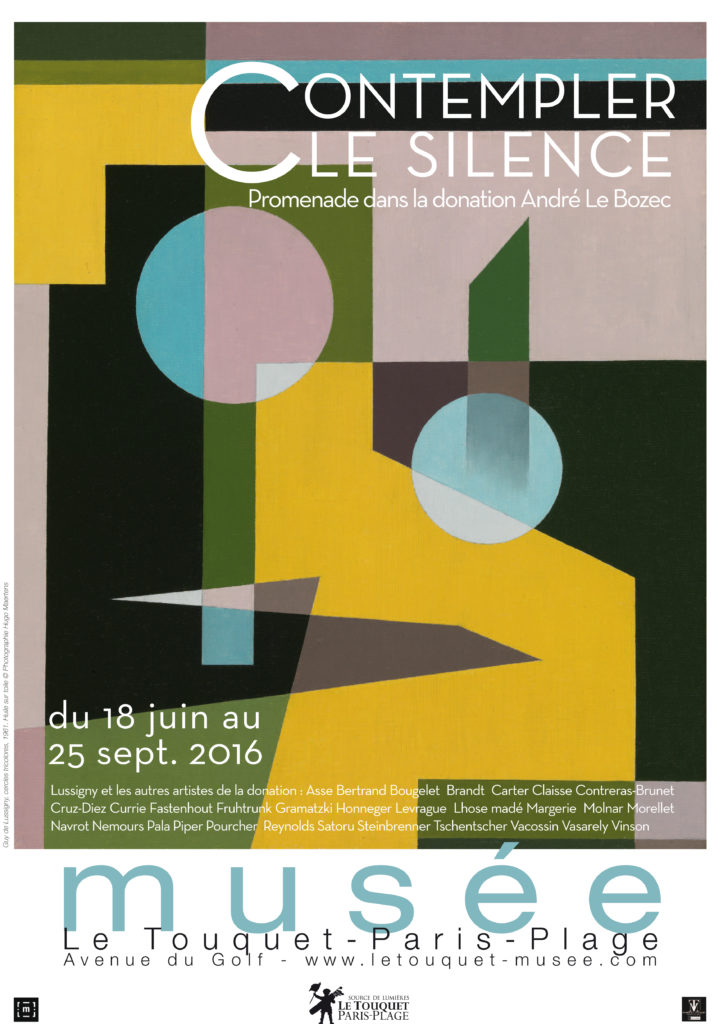 Donation to the Musée du Touquet
"Contemplating silence"
A walk through the André Le Bozec donation
From 18 June to 25 September
André Le Bozec, patron and collector from Cambrai, will donate to the Musée du Touquet more than a hundred works from his collection of geometric abstract art.
Among the artists represented, a dozen artists are exhibited at the Wagner Gallery: Ode Bertrand, John Carter, Geneviève Claisse, Carlos Cruz-Diez, Gofffried Honegger, Aurelie Nemours, Satoru, Hans Steinbrenner, Marie-Thérèse Vacossin and Thomas Vionson.
Exhibition to be seen at the Musée du Touquet from 18 June to 25 September 2016.
The exhibition plunges the visitor into a universe of formal and colourful subtleties inviting contemplation, through a hundred works from the collection of André Le Bozec. Reflecting the trends in geometric abstraction since the 1950s, the collection reflects a personal quest for purity associated with a search for serenity. Built up through meetings and friendships, it confronts several generations of artists around this trend that is concrete art. The first generation includes the pillars of the geometric abstract approach, such as Victor Vasarely, Aurélie Nemours, François Morellet, Alan Reynolds and Geneviève Claisse, as well as the emblematic figures of the concrete art movement, such as the artist Guy de Lussigny, of whom the collector is the legatee, but also Günter Fruhtrunk, Hans Steinbrenner and Véra Molnar. The collection also explores other younger artists inspired by and faithful to the same reflections, such as Antoine de Margerie, Jacques Pourcher or Thomas Vinson…
The result of the collector's sensitive and intimate choices, the ensemble is accompanied by some of the museum's strongest works, which reflect on colour, space and perspective, contrasts and nuances, and the notion of suites…