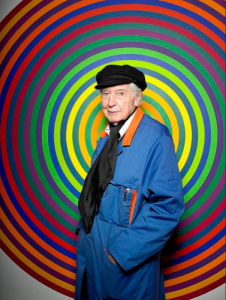 Born in Mendoza (Argentina) in 1928
1943-1946 : Trained at the Fine Arts School in Buenos Aires
1958 : Moves to Paris
1960 : Founds the G.R.A.V. (Visual Art Research Group)
1966 : First solo exhibition at the Howard Wise Gallery in New York and First Prize at the Venice Biennale
1972 :  Major retrospective solo exhibition at the Kunsthalle Düsseldorf
1987 : First Prize at the International Biennial of Cuenca in Ecuador
 Lives and works in the Paris region
Pioneer of kinetic art and Op Art, founding member of G.R.A.V. (Groupe de Recherche d'Art Visuel) and winner of the international grand prize for painting at the Venice Biennale in 1966, Julio Le Parc is known for his work on the visual field, movement, light and perceptual instability and the relationship between the artwork and the observer.
In a career that spans more than 60 years, he has participated in countless group and solo exhibitions and has been the subject of numerous retrospectives. His work can be found in the most important public collections throughout the world.
Volume virtuel 17, 1974
Acrylic on canvas,
80 x 80 cm
Unique piece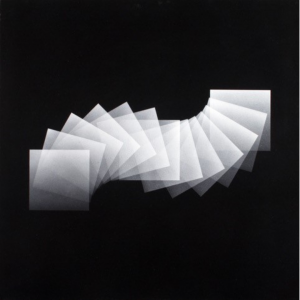 Modulation, 2008
Acrylic on canvas
100 x 100 cm
Unique piece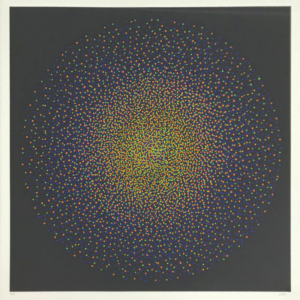 Serigraphy 3,
Silkscreen noted E.A. (artist proof) and signed lower right
70 x 70 cm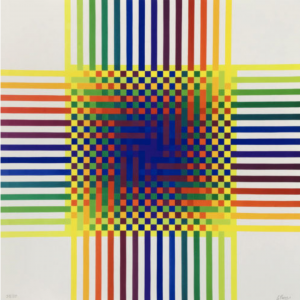 Surface Couleur, 2014
Digital print on Hahnemüle Fine Arts 308g paper
30 x 30cm 
Serigraphy N°34/50
 20 E.A. I-XX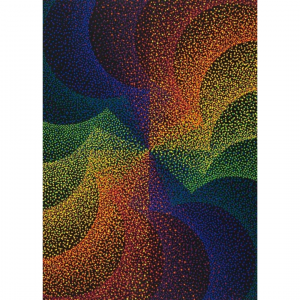 Alchimie 473, 2020
Acrylic on canvas
100 x 73 cm
Unique piece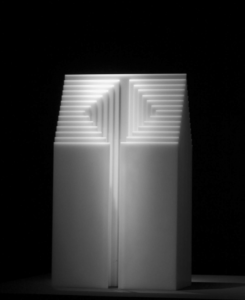 Losange en progression, 1971/2017
White acrylic
60 x 36 x 13,5 cm
Unique piece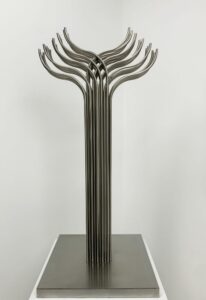 Torsion 6, 2004
Edition 1/3
90 x 45 x 40 cm
3 pieces
Works by Julio Le Parc in public collections :
Argentine / Argentina
Museo de Bellas Artes, Buenos Aires
Musée d'Art Moderne de Buenos-Aires
Instituto Di Tella, Buenos Aires
Faena Art Center, Buenos Aires
Centre Culturel Le Parc, Mendoza
MACBA, Buenos Aires
Allemagne / Germany
Kunsthalle, Nürnberg
Walraf-Richartz- Museum, Cologne.
Belgique / Belgium
Collection Etat Belge, Bruxelles.
Brésil / Brazil
Fondation Banco Itaú, São Paulo
Musé d'Art Moderne de Rio
Canada / Canada
Musée d'Art Contemporain, Montréal
Croatie / Croatia
Muzej Suvremene Umjetnosti / Museum of Contemporary Art, Zagreb
Danemark / Denmark
Louisiana Museum of Modern Art, Humlebaek
Espagne / Spain
Museo Extremeño e Iberoamericano de Arte Contemporáneo, Badajoz
Museo Nacional Centro de Arte Reina Sofia, Madrid
Etats-Unis / United States
Albright-Knox Art Gallery, Buffalo, NY
Cisneros Fontanals Art Foundation, Miami, FL
New Orleans Museum of Art, New Orleans, LA
The Museum of Modern Art, New York, NY
The Museum of Fine Arts, Houston, TX
Walker Art Center, Minneapolis, MN
Delgado Museum, New Orleans.
Finlande / Finland

Fondation Sara-Hilden- Tampere
France
Musée d'Art Moderne de la Ville de Paris, Paris
Musée National d'Art Moderne Georges Pompidou, Paris
MACVAL, Collection du Conseil Général du Val-de-Marne, Créteil
Italie / Italy
Galleria Nazionale d'Arte Moderna, Roma, Italie
Islande / Iceland
Athenaeum Art Museum, Helsinki
Israel
The Museum of Drawers.
Norvège / Norway
Centre d'art Henie-Onstad, Hovikodden, Oslo
Fondation Sonja Henie, Blomenhom.Norvège
Pays-Bas / The Netherlands
Fondation Peter Stuyvesant, Amsterdam
Museum Boijmans Van Beuningen, Rotterdam
Royaume-Uni / United Kingdom
Tate Gallery, Londres, Royaume-Uni
Suisse / Switzerland
Daros Latinamerica, Zurich
Venezuela
Museo de Bellas Artes, Caracas, Venezuela
Awards:
Prix SpeciaI International Di Tella, Buenos Aires. 1964 – Argentine / SpeciaI International Di Tella Prize, Buenos Aires. 1964 – Argentina
Grand Prix international de Peinture, Biennale de Venise. 1966 – Italie / International Grand Prize for Painting, Venice Biennale. 1966 – Italy
Prix Graphique Ibizagrafic 78, musée d'art contemporain, lbiza. 1978 – Espagne / Graphic Prize Ibizagrafic 78, Museum of Contemporary Art, Ibiza. 1978 – Spain
Premier Prix, 1e Biennale Internationale de Peinture, Cuenca. 1987 – Equateur / First Prize, 1st International Painting Biennial, Cuenca. 1987 – Ecuador
Prix obtenu au nom du G.R.A.V., Groupe de Recherche d'Art Visuel :
Médaille d'or, Biennale de Saint Marin. 1963 – Italie
Premier Prix travail d'équipe, Biennale de Paris. 1963 – France