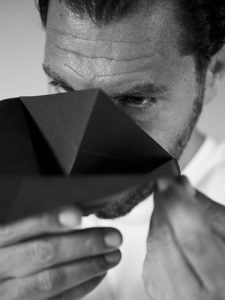 Born in 1972 in Belvedere Marittimo, Italy
Studied in Imperia at the Istituto Statale d'Arte, then at the Accademia delle Belle Arti of Brera in Milan where he obtained his Master's degree in Painting
Exhibits since the mid 90's, participates in numerous exhibitions in galleries, fairs and museums, in Italy and abroad
Lives and works in Italy
The artworks of Vincenzo Marsiglia are characterised by their development from a four-pointed star. With time, this sign became his distinctive mark, a kind of « logo ».
The construction of his works becomes, so to speak, an obsessional operation that generates components in which this symbol unites with fabric, markers, sequins and ceramics, in a game where rhythm and form, rigorous and balanced, refer to the lesson of the masters of abstract and minimalist art.
However, in his most recent creations, the artist employs technological instruments and combines them with the pictoriality of the sign, that defined his previous phase of research. In these works we find both a contemporary aspect linked to the new communication instruments and the desire to not create a concrete, finished and determined object, but an evolutive and transitory artwork.
With the interaction of the observer, the artwork finds its realization in the process of connection and mutation, which also leads to a decrease in the distance between the artistic object and the user.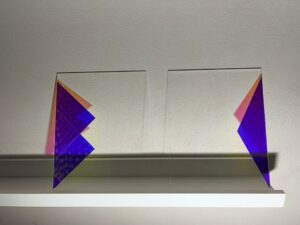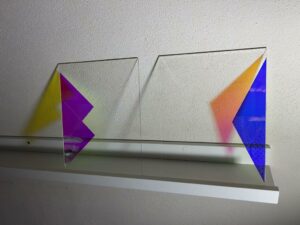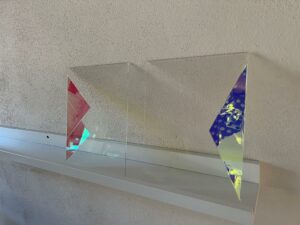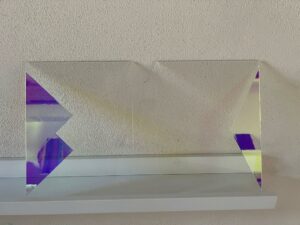 Public collections:
Affresco murale, Musée d'art contemporain M.A.C.A.M., Maglione, Italie
Casa del console, Musée d'art contemporain, Calice Ligure, Italie
Collezione vaf, mart, Musée d'art moderne et contemporain de Trente et Rovereto, Italie
Castello di rivara, Centre d'art contemporain, Rivara, Italie
Fiu, frost art Museum, miami, Etats-Unis
Immago mundi – Luciano Bennetton collection, Italie
Fondation Pablo Atchugarry, Maldonado, Uruguay
Awards:
Arteam cup 2019, Prix de la meilleure Performance Digitale, Villa Nobel Sanremo
Arteam Cup 2019, Sélectionné pour une installation Interactive à l'occasion du Festival PARMA 360° FESTIVAL 2020
2018 : Arteam Cup 2018, Fondation Dino Zoli Forlì
2017 : Arteam Cup 2017, Bonelli Arte, Canneto sull'Oglio
2015 : arteam cup 2015, Officina delle Zattere, Venise
2013 : 58° Premio Termoli, Galleria Civica d'Arte Contemporanea, Termoli, curateur Francesco Gallo Mazzeo
2012 : Premio Mad, Luoghi vari, Vieste, finaliste
LVI Premio Marina Di Ravenna, Marina di Ravenna, finaliste
2011 : Premio Combat li Edizione, Bottini dell'Olio, Livourne, curateur di Paolo Batoni
2010 : Premio limen 2010, Palais Comunale Enrico Gagliardi, Vibo Valentia, curateur Giorgio Di Genova
2007 : Profilo d'Arte 2007, Progetto Banca Profilo Museo della Permanente, Milan
2005 : 56ᵃ Edizione del premio michetti. In & out opera e ambiente nella dimensione glocal, Museo di Palazzo San Domenico Francavilla al mare, curateur Luciano Caramel
1999 : XXXIX Premio suzzara 1999. Luoghi del corpo. Luoghi dele mente, Galleria del Premio Suzzara, curateurs Claudio Olivieri, Walter Guadagnini, Davide Benati
1997 : Prix national Fabio Bertoni per l'incisione 1997, Académie des Beaux-Arts d'Urbino, Fermgniano
Main exhibitions in galleries and public spaces :
2021 : « Wrap #9 », Loggia dei Cavalieri Treviso curaté par Cartacarbone Festival
« Star In Motion Nft », Palariccione Palazzo dei Congressi Riccione curaté par VarGroup
« Propect, NM » Principauté Comporaine de Monaco curaté par Beatrice Audrito et Davide Sarchioni
« Mapping the stars », Parma Station curated par Chiara Canali
« Trésors de papier #2 », Galerie Wagner, Paris, France
2020 : « Autour du Plan », exposition collective, Galerie Wagner, Paris, France
Art Paris Art Fair, Grand Palais, avec la Galerie Wagner, Paris, FranceWrap et Vanities, Diptyc Ginevra, une idée de Sophie Jacquemoud et Julie Fazio
Face On Face On Star Holo, Maker Faire Rome – Fondation Luca & Katia Tomassini curatée par Davide Sarchioni et Davide Silvioli
« IN/OFF », exposition collective, Galerie Wagner, Paris, France
« Cercles », exposition collective, Galerie Wagner, Paris, France
2019 : « Digital Antica », curateur Mario Nardo, Abbaye Sant'Eustachio, Nervesa della Battaglia, Italie
Salle d'exposition MODULNOVA Paris, France
La nuit des musées, Projet de l'Association Cartavetrata, musée Umbro Apollonio – San Martino di Lupari, Italie
"Wrap #2", Il Salotto di Milano an idea of Makersfactory, Italie
"Wrap", Maurizio Caldirola Arte Contemporanea Monza, Italie
2018 : « Clopen », curateur Roberto Lacarbonara à l'Ex Chiesetta Polignano a Mare, Italie
"Be The First, D10 Art Space" Geneva curaté par Janine Sarbu et Julie Fazio
"Ierie Oggi, Un Ricordo", Leo Galleries Monza curaté par Matteo Galbiati
"Optical Room", Aurum Largo Gardone Riviera Pescara Pescara curaté par Marcella Russo
2017 : « Casa Sponge 10 » – Art et expérimentation sous le signe de la collectivité, Pergola de Casa Sponge, curaté par Serena Ribaudo
2016 : « Dopo-Logica/o, curateur Matteo Galbiati au Palais Ducale et Théâtre all'Antica Sabbioneta et Arte Forte, La Babele dei linguaggi e dei simboli legati al conflitto, Vincenzo Marsiglia : simboli spezzati, curatrice Mariella Rossi, Forte Strino, Vermiglio Trento, Italie
2015 : "Beyond the Stage, Galleria Arteatro" – Teatro San Domenico, Crema curated by Ilaria Bignotti
"Theatre(Home) Interactive", Casa Sponge, Pergola curated by Federica Mariani
2014: « Vincenzo Marsiglia Riflessione Interattiva », curatrice Chiara Canali à l'Ex Chiesa di S. Pietro à Atrio Como ; Vincenzo Marsiglia Room Op, curateurs Italo Bergantini et Matteo Galbiati auprès de Romberg Arte Contemporanea Latina et Vincenzo Marsiglia Interaction Shapes, curateurs Ilaria Bignotti et Walter Bonomi à la Iaga – International Art Gallery Angels Cluj Napoca, Roumanie
2013 : « Plus Ultra. Éclectisme de l'art contemporain », Galerie d'art moderne, Termoli ; commissaire : Francesco Gallo Mazzeo
2012 : « Expirience », curateur Gianluca Marziani à la Galerie Emmeotto à Rome et Art numérique à la Galerie Charlot de Paris ; en 2013 Stars in the darkness auprès de la Galerie Guidi&Schoen de Gènes
2011 : « Stars », curateur Nicola Davide Angerame auprès de Whitelabs à Milan et Stars in my mind, curatrice Giorgia Cassini auprès de Boesso Art Gallery, Italie
2010 : « Star mood », curateurs Tonino Sicoli et Giovanni Viceconte au Musée del Presente di Rende, Italie
2009 : « Star interactive », curatrice Livia Savorelli auprès de Alexander Alvarez Contemporary Art de Alessandria ; Stargate, curatrice Alessandra Landi, Galerie ModenArte à Venise, Italie
2008 : « Art&Design » Leaving the Sign, Galerie Loft, Corigliano Calabro, Italie
2007 : « Laggioni pour le 21ème siècle » Festival international Maiolica, Sala Agenore Fabbri, Albisola, Italie
2006 : « Des artistes aux énigmes passionnantes Strictement logiques, Barchessa de la Villa Donà delle Rose, Mirano, curaté par Maria Luisa Trevisan
« Abstraction synchronisée », Fondation Zappettini, Chiavari,  commissaire : Riccardo Zelatore ; texte critique : Giorgio Bonomi et Marco Meneguzzo.
« Nouvelle génération abstraite », Forteresse Castelfranco Finale Ligure, commissaire : Riccardo Zelatore ; texte critique : Chiara Argenteri.
2005 : « Figures et abstractions », Bonioni Arte, Reggio Emilia, Italie
« Au-delà du monochrome », Fondation, Zappettini Chiavari, sous le commissariat de Giorgio Bonomi.
2004 : « Gente di Liguria. Il sogno oltre il concreto. L'acqua, Lavera, Marsiglia, Palladini »Chiostri di Santa Caterina Oratorio de' Disciplinanti, Finale Ligure (SV)
« Il Marchesato ritrovato. Aleramo, Un Albero, Venti Autori », Teatro Aycardi, Finale Ligure (SV)
« Il finale collezioni », Chiostri di Santa Caterina Oratorio de' Disciplinanti, Finale Ligure (SV)
Arte doc. Opere dalle ceramiche San Giorgio.Centro per la Cultura e l'Arte Luigi Bosca Canelli (AT) e Palazzo della Provincia, Savona curated by Simona Poggi e Andrea Zavattaro
2003 : « Ceramica contemporanea, una manifattura storica », Centro Culturale Santa Chiara Casalmaggiore (CR) curated by Germano Beringheli
« Aria di primavera », ex Chiesa di San Gregorio, Sacile (PD)
« Albissola futurista », Galleria Civica d'Arte Moderna, Gallarate (VA) E Palazzo de Commissario, Fortezza Monumentale de Priamar, Savona curated by Fabrizia Buzio Negri e Riccardo Zelatore
« Terzo fuoco. La nuova maniera ceramica: Laveri, Lodola, Marsiglia, Lodola » (Ceramiche eseguite presso le fornaci San Giorgio Albisola), Valente Artecontemporanea Finale Ligure (SV), mostra itinerante curated by Riccardo Zelatore and critical text Francesco Tedeschi.
2001 : « Purezza Contaminata », curateur Marco Meneguzzo, auprès de Valente Artecontemporanea à Finale Ligure, Italie