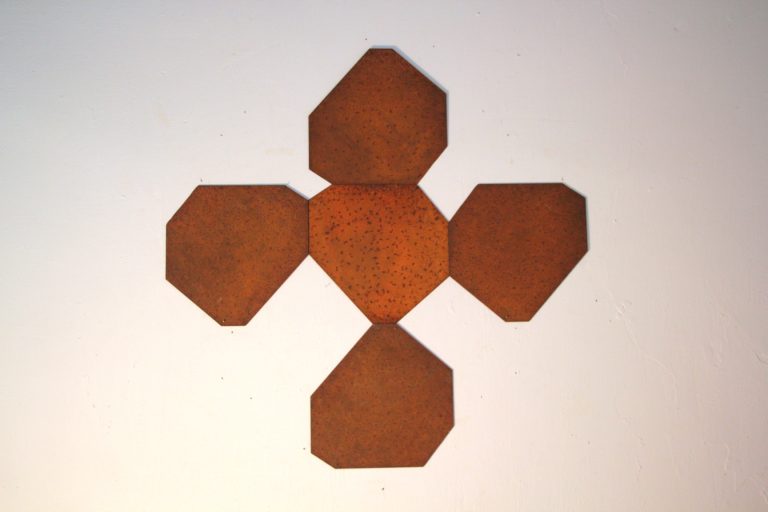 "Organic Creativity"
Opening of the exhibition "Créativité organique" on Saturday 4 October 2014 at 6pm, 96 rue de Paris 62520 Le Touquet Paris-Plage.
"My working method is based on play and experimentation.  I assemble elements in a sequential order, or elements that already have a sequential relationship. Using primitive means and simple systems, I create structures that express growth in a principle of natural development. I allow each piece to evolve according to its nature within a system that I have pre-established.
Norman DILWORTH
Born in 1931 in Orrell (UK). Lives and works in the North of France.
Repetition, permutation and the use of geometric formulas are at the heart of his creative process.
His works are present in prestigious European public collections: Agricultural University, Wageningen (NL), Allianz, Berlin (D), City of Amsterdam (NL ), Arts Council of Great Britain, Arts Council of Wales (GB), The British Council (GB), Camden Council, London (GB), Doncaster City Art Gallery (GB), Dresdener Bank, Dessau (D), The City of Dordrecht (NL) Fond National d'Art Contemporain (F), Institut Collectie Nederland, Amsterdam (NL), Rijksmuseum Kröller-¬Müller, Otterlo (NL), Mancherster City Art Gallery (GB), Museum of Modern Art, Lodz (PL), Museum voor Hedendaagse Kunst, S'Hertogenbosh (NL), Musée de Grenoble (F), Musée de Montbéliard (F), Musée Matisse Le Cateau Cambrésis (F) Musée de Calais (F) Museum im Kulturspeicher Würzburg (D), National Collection, Warsaw (PL), Reading University (GB), Rijksgebuwendienst, Rotterdam (NL), Städtische Kunstsammlung, Gelsenkirchen (D), Städtische Kunstsammlung, Mönchengladbach Neu-¬Ulm (D), Stedelijk Museum, Schiedam (NL), Stedelijk Museum, Amsterdam (NL) Stichting Beeldenpark Dordwijk, Dordrecht (NL), Tate Gallery, London (GB), University College, London (GB), University of East Anglia (GB), Ville de Valenciennes (F), Ville de Vitry (F), CNED,Villeneuve d'Ascq (F).
To be discovered until 17 November 2014.