Born in 1964
1983-1986: ENS degree in Applied Arts and Crafts, Plastic Artist Surface of the Architectural Environment (Paris)
1986-1988: ENSAD, Scenography (Paris)
Independent artist since 1989
Lives and works in Paris
A stretched thread, multiple directions drew an abstract space, and proposed unusual circulations; it was in 1989, "forecasts by zones and evolutions" one of my scenography projects at Arts Décos.
Later, beyond its technical use in my profession, I appropriate the line for what it is: an abstract sign, trace of a moving point, a simple gesture, the departure of a writing. It fascinates me.
First repeated tirelessly freehand, like a challenge to the Opalka. The solitary horizontal is fragile and silent. In multitude, it rustles with its minute differences, builds motionless totemic forms, evokes a suspended time.
From this relative stability, arises the desire for an acceleration that propels the straight line into different trajectories. Broken in its momentum, it becomes a multitude of segments that cross the page, intersect, and meet according to a mathematical protocol. Plans burst or implode, play together. More or less dense blacks made of infinite lines simulate depths. Snapshot of movement in a space without perspective.
This dynamic takes the line out of the plane, it materializes, becomes a wire. Does it advance towards us or does it enter the drawing? Freed from the plane, the line offers the eye the diversity of its inclinations and the trace of its shadows. The dialogue between the lines is transformed, the crossing is no longer necessarily encountered, the plans are guessed, often open. Drawings suspended in our space, the lines in balance, fragile and wobbling invite us to dialogue…
Carole Picavet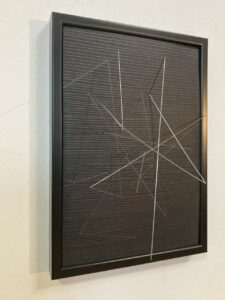 C : 1N1R3CP, 2022
Graphite pencil on 165g black paper and piano strings
14 x 19 x 15 cm
Unique piece 
SOLD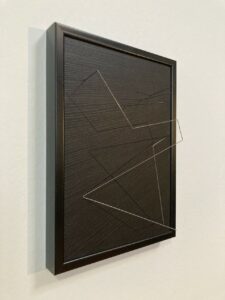 C : 1N4CP, 2022
Graphite pencil on paper and piano strings
19 x 14 x 8
Unique piece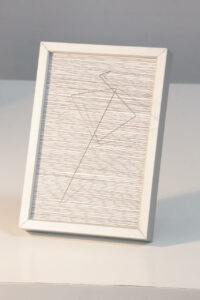 C : 1B1CP, 2022
Graphite on paper and piano strings 
19 x 14 x 8 cm
Unique piece
SOLD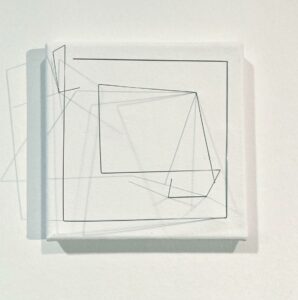 CC 1B2CP, 2022
Piano strings on Canvas and acrylic
15,5 x 15,5 x 7,5 cm
Unique piece