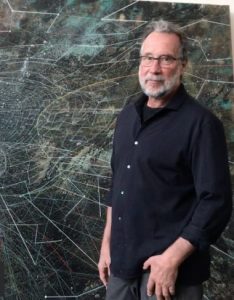 Born in 1954 in Caracas, Venezuela
1978 : Graduated from the Institute of Design in Caracas.
1981 : The Minotauro gallery devotes a solo exhibition to him at the Fiac.
Participates to the Paris Biennial at the Musée d'Art Moderne de la Ville de Paris, as well as in the Caracas Biennial of Drawing and Engraving, where he is awarded first prize.
1984 : Grand Prize at the XVIIIth International Contemporary Art Prize of Monte Carlo and first Prize at the Biennial of Visual Arts of the Fine Arts Museum of Caracas.
1991 : Solo exhibition at the Caracas Fine Arts Museum and acquisition of a monumental work (3x9m)
1994 : Personal exhibition at the Vieux Colombier theatre.
1995 : Creates the sets for La double inconstance by Marivaux.
Wins the first prize at the International Painting Festival in Cagnes-sur-Mer. Art Hong Kong with the Minotauro Gallery.
Guest of honour at the Barro de America International Biennial at the Museo de Arte Contemporaneo Sofia Imbert in Caracas.
1999-2004 : participates in numerous exhibitions, biennials and fairs with the Thessa Herold Gallery and creates theatre sets.
2005 : Exhibition Trans-cursos with the Fundación Corp Group Centro Cultural de Caracas. Exhibition for the Galeria de Arte Nacional.
Invited to the Exon Mobil exhibition at the Caracas Museum of Fine Arts.
2006 : Acquisition of an « installation » by the Museo de Arte Contemporaneo of Caracas.
Exhibits at Centro Bolivar Hall in London.
Important commissions, both from individuals and institutions, including 2 works for the nuclear medicine department of the Mondor Hospital in Créteil.
2009-2016 : Solo exhibition Just passing by at the Maya Polsky Gallery in Chicago.
Participates to Art Paris with Thessa Herold Gallery, Art Miami Art Fair with Meyer Zafra Gallery and with Maya Polsky Gallery.
Exhibits at the Biwako Biennale in Japan.
Lives and works in the Paris region.
« Pancho Quilici is the painter-poet of our world. From the smallest atom to the largest expansion, he mapped the invisible. The tiny which is only the immense. A microscopy of the imperceptible. Perhaps he is also evoking the dark matter that escapes scientific knowledge and which makes up 70% of the galaxy. The infinitely small on a 2 x 4 meter canvas, or the infinitely large in 21 x 29.7 cm format. These journeys are not without humans. They are in their very heart, in their wandering matter, in their shapeless pains and intense creations. Each line is a vacillating soul or a wave in trance, each form a mass of elementary particles and fertilised cells, each movement, an energy in fusion. The atom may be composed of the universal being; they both sit, side by side or in each other, in the totality of his work.  »
Estelle Ditta, 2018.
« Pancho Quilici constructs visionary and timeless « landscapes », both tangible (water, earth, fire and sky) and dehumanised, which are protected, enclosed or crossed by the grid of a powerful geometry and drawing.  »
Christine Frérot, extract from "Pas de mur pour l'art", 2017.
Many solo and group exhibitions in France, the United States and Latin America.
Public collections:
Commande d'une fresque murale (mosaïque) par la commune d'Arcueil, France
Galeria de Arte Nacional, Caracas, Venezuela (3 œuvres)
Museo de Bellas Artes, Caracas, Venezuela (2 œuvres)
Museo de Arte Contemporaneo (2 œuvres)
Museo Lia Bermudes, Maracaibo, Venezuela.
Banco Mercantil, Caracas et New York.
Fondation CAF (Corporation Andina de Fomento) Caracas, Venezuela.
Collection Procter and Gamble, Caracas, Venezuela.
Universidad Simon Bolivar, Caracas, Venezuela.
Mairie d'Arcueil, France (2 fresques dont une en cour).
Fondation Colas, France.
Institut du Tout-Monde, France (Autour d'Edouard Glissant).
Michigan University, Chicago.
Personal Exhibitions:
2023 : Solo Show Pancho Quilici – Galerie Wagner, Paris
2018 : Pancho Quilici « Régions d'incertitude », Galerie Thessa Herold, Paris, France
2014 : avec la parution du livre Pancho Quilici, D'un œil inquiet, Galerie Thessa Herold, Paris, France
2013 : Galerie D'Museo Caracas, Venezuela
2010 : « Pancho Quilici et l'Orénoque selon Jules Verne », Galerie Thessa Herold, Paris, France
Association Mouvement d'Art Contemporain, Chamalières œuvres récentes, France
2009 : « Trascaracas » Fondation Previsora, Caracas, Venezuela
2008 : « En Suites Continues », Foire Art Elysées et FIAC, Paris, France
2006 : Universidad Simon Bolivar, Mundos en si, Caracas, Venezuela
LatinArt Gallery, Art Miami 2006, Miami, USA
Miami signature Gallery, Miami, USA
2005 : Centro cultural « Bolivar Hall », Londres, Angleterre
2004 : « Implexes », catalogue préfacé par Dominique De Villepin, Galerie Thessa Herold , Paris, France
Pancho Quilici, « recent works », Galerie Maya Polsky, Chicago, USA
« Trans-cursos », catalogue préface de Antonio Lopez et Maria Elena Ramos, Centro Cultural, Fondation Corp.Group, Paris, France
2002 : Galerie Maya Polsky Chicago, USA
2001 : Galerie Thessa Herold, Paris, France
Foire internationale d'art de Madrid Arco, Madrid, Espagne
2000 : Foire internationale d'art de Bruxelles, avec la Galerie Thessa Herold, Bruxelles, Belgique
1998 : « Errances », Salle Romulo Gallegos, Caracas, Venezuela
1996 : Galerie du Vieux Colombier, Paris Galerie Maya Polsky, Chicago, USA
1995 : Foire d'Art contemporain latino-americain, Galerie Art et Partimoine, Paris, France
Bruxelles Foire d'Art contemporain, Galerie Minotauro, Caracas, Venezuela, Bruxelles, Belgique
1994 : Théâtre du Vieux Colombier, Paris Art Chicago 1994, avec Irving Petlin et Seymour Rosofsky, Chicago, USA
Galerie Minotauro, Chicago, USA
1993 : Salon de Mars, Galerie Minotauro, Paris Art Chicago 1993 (avec Seymour Rosofsky). Galerie Minotauro, Chicago, USA
1992 : Art Chicago Avec Velicovic, Galerie Minotauro, Chicago Art Miami 1992. Galerie Minotauro, Miami, USA
1991 : Musée des Beaux-Arts, Caracas, Venezuela
1990 : International Air Fair, Galerie Minotauro, Los Angeles, USA
1989 : Caracas Exposition Internationale d'Art. Galerie du Dragon, France et Minotauro, Chicago, USA
1988 : Exposition Internationale d'Art, Galerie du Dragon et Minotauro, Chicago, USA
1987 : « Architectures des songes », avec Criton et Leproust, Galerie du Dragon, Paris, Maison de la Culture, Gauchy, France
1986 : FIAC, Grand Palais, Paris Exposition Internationale d'Art, avec la Galerie Minotauro, Chicago, Paris France
1985 : FIAC, Grand Palais, Paris avec la Galerie Minotauro, Caracas, Venezuela, Paris, France
1984 : FIAC, Grand Palais, Paris, France
1983 : FIAC, Grand Palais, Paris, avec la Galerie Minotauro, Caracas, Venezuela, Paris, France
1982 : FIAC, Grand Palais, Paris, France
1981 : FIAC, Grand Palais, Paris, France
1979 : Galerie Minotauro, Caracas, Venezuela
Group Exhibitions:
2020 : Art Paris Art Fair, avec la Galerie Wagner, Paris, France


« IN/OFF »,

exposition collective, Galerie Wagner, Paris, France


« Cercles 

», exposition collective, Galerie Wagner, Paris, France
2013 : Galerie Simoncini Luxembourg, Luxembourg
2012 : Salon PAD Tuileries Paris, France
Biwako biennale, Japon
2011 : « Convergences » con Jose Gamarra, Ramon Alejandro, Atelier Morales, Pancho Quilici, Miami Biennale, USA
Salon PAD Tuileries Paris, France
2010 : « Art en réseau » Reseau ferré de France
Salon PAD Tuileries Paris, France
Biwako biennale, Japon
2009 : « Regards de peintres sur la nature » Chapelle Saint Liberal, Ville de Brive La Gaillarde, France
Art Paris, Le grand Palais, Galerie Tessa Herold, Paris, France
2008 : « Andamiaje: Gustavo Acosta, Luis Cruz, Azaceta, Carlos Estevez, Jaime Franco, Pancho Quilici », Galerie Allegro, Panama
Art Paris, Le grand Palais, Galerie Tessa Herold, Paris, France
2007 : Arte Feria, Galerie Tessa Herold, Bologne, Italie
Art Paris, Le grand Palais, Galerie Tessa Herold, Paris, France
2006 : Museo De Arte Contemporaneo, Dernières acquisitions, Caracas, Venezuela
LatinArt Gallery, Art Miami 2006, Miami, Etats-Unis
Art Paris, Le grand Palais, avec la Galerie Tessa Herold, Paris, France
2005 : « 30 años de arte venezolano », Galeria de Arte Nacional, Caracas, Venezuela
Arte Fiera, Italy, Galerie Tessa Herold, Bologne, Italie
FIAC, avec la Galerie Thessa Herold, Paris, France
Salon Exon Mobil, « Special guest at Museo de Bellas Artes », Salon Exon Mobil, Caracas, Venezuela
Art Paris,Paris, Galerie Tessa Herold, Paris, France
2004 : ARCO, Madrid, avec la Galerie Thessa Herold, Paris, Madrid, Espagne
FIAC, avec la Galerie Thessa Herold, Paris, France
Biennale de Biwako, Japon
Art Paris Art Fair, avec la Galerie Thessa Herold, Paris, France
2003 : FIAC, avec la Galerie Thessa Herold, Paris, France
ARCO, Madrid, avec la Galerie Thessa Herold, Paris, Madrid, Espagne
Art Paris Art Fair, avec la Galerie Thessa Herold, Paris, France
2002 : Galerie Maya Polsky Chicago, Etats-Unis
ARCO, « Les Amériques Baroques Dix artistes hispano-américains autour d'Edouard Glissant », Galerie Thessa Herold, Madrid, Espagne
FIAC, Paris, avec la Galerie Thessa Herold, Madrid, Espagne
2001 : FIAC, Paris, avec la Galerie Thessa Herold, Chicago, Paris France
International Art Fair, Galerie Maya Posky, Chicago, USA
2000 : « Jules Vernes, les mondes inventés, Pancho Quilici », catalogue, ouvrage collectif, Bibliothèque Municipale de Nantes, France
1999 : « Hors des doctes ténèbres (Hommage à Octavio Paz) », Matta, Ferrer, Camacho, Cuevas, Kaminer, Quilici, Galerie Thessa Herold, Paris, France
FIAC Paris, avec la Galerie Thessa Herold, Paris, France
Foire internationale d'art contemporain Cologne, avec la Galerie Minotauro et la Galerie Thessa Herold, Cologne, Allemagne
1998 : « De la Amistad como arte », Chicago Art Fair, avec la Galerie Maya Polsky, USA
Autour de Jhon III, Galerie Felix, Caracas, Venezuela
Feria International FIA, Invitado special, Galerie Minotauro, Caracas, Venezuela
Salon Michelema Antema de Venecia Quatre artistes vénézuéliens, Cologne, Berlins, Allemagne
Foire internationale d'art Contemporain de Cologne avec la Galerie Felix Caracas, Venezuela, Cologne, Allemagne
1997 : Chicago Art Faire Paysages, avec la Galerie Koralewski, Paris, France
Biennale Mercosur, Brésil
1996 : Biennale de Ponteverda, Espagne
« Cinq artistes vénézuéliens à Paris », mois du Venezuela à Paris, Cloître des Billettes, Paris (Installation avec Gabriela Morawetz), France
1995 : Vénézuéla à Paris, Sept artistes contemporains à Boulogne, Centre Culturel Boulogne-Billancourt, France
Biennale del Barro de America,Biennale Internationale, Invité spécial, Musée d'Art Contemporain Sofia, Caracas, Venezuela
1993 : Première Biennale Camille Pissaro, Centro Consolidado, Caracas, Venezuela
1992 : « Nouvelles Cosmogonies », Galerie d'Art National, Caracas, Venezuela
« Expressions Actuelles », 62 artistes d'Amérique Latine, Espace Chevreuil.Nanterre Première Triennale des Amériques, Maubeuge, France
1991 : Commande de l'Etat, fresque pour la ville d'Arcueil. Décors pour l'Opéra-Bastille dans l'Idoménée de Mozart, mise en scène de Jean-Pierre Miquel, Arcueil, France
« L'œuf de Colomb » – artistes américains, Budapest
1990 : « Mages, magies, Présences Contemporaines », textes de Marc Le Bot, Aix-en-Provence, France
1989 : « Œuvres sur papier », Galerie du Dragon, Paris, France
1986 : L'espace du dessin, Galerie Minotauro, Caracas, Venezuela
« Démons et merveilles », Maison de la Culture, Vitry, France
« Los Americanos », Artcurial. Paris, au Musée de l'Amérique Latine, Monaco
« Grands et Jeunes d'Aujourd'hui », Grand Palais, Paris, France
1985 : « Grands et Jeunes d'Aujourd'hui », Grand Palais, Paris, France
« Du réel au magique », Grand Palais, Paris, France
1984 : II Biennale d'Art, La Havane, Biennale des Jeunes Artistes, Musée d'Art Contemporain, Caracas, Venezuela
1983 : « Droits Socialistes de L'Homme », Grand Palais, Paris, France
1982 : ARCO, Foire Internationale, Galerie Minotauro, Madrid, Espagne
Salon de Mai, Biennale de dessin et gravure, Paris, France
Biennal de Paris, avec la Galerie d'Art National, Caracas au Musée de la Ville de Paris, France
1981 : « Indagacion de la imagen », Galerie d'Art National, Caracas, Venezueal
« La génération intermédiaire », Bogota, Colombie
« Paysage de la mémoire », Galerie Minotauro, Caracas, Venezuela
1980 : « Nouveau dessin, nouvelle génération », Memphis, Boston, Washington, New York, USA
« Grands et Jeunes d'Aujourd'hui », Salon de Mai, Grand Palais, Paris, France