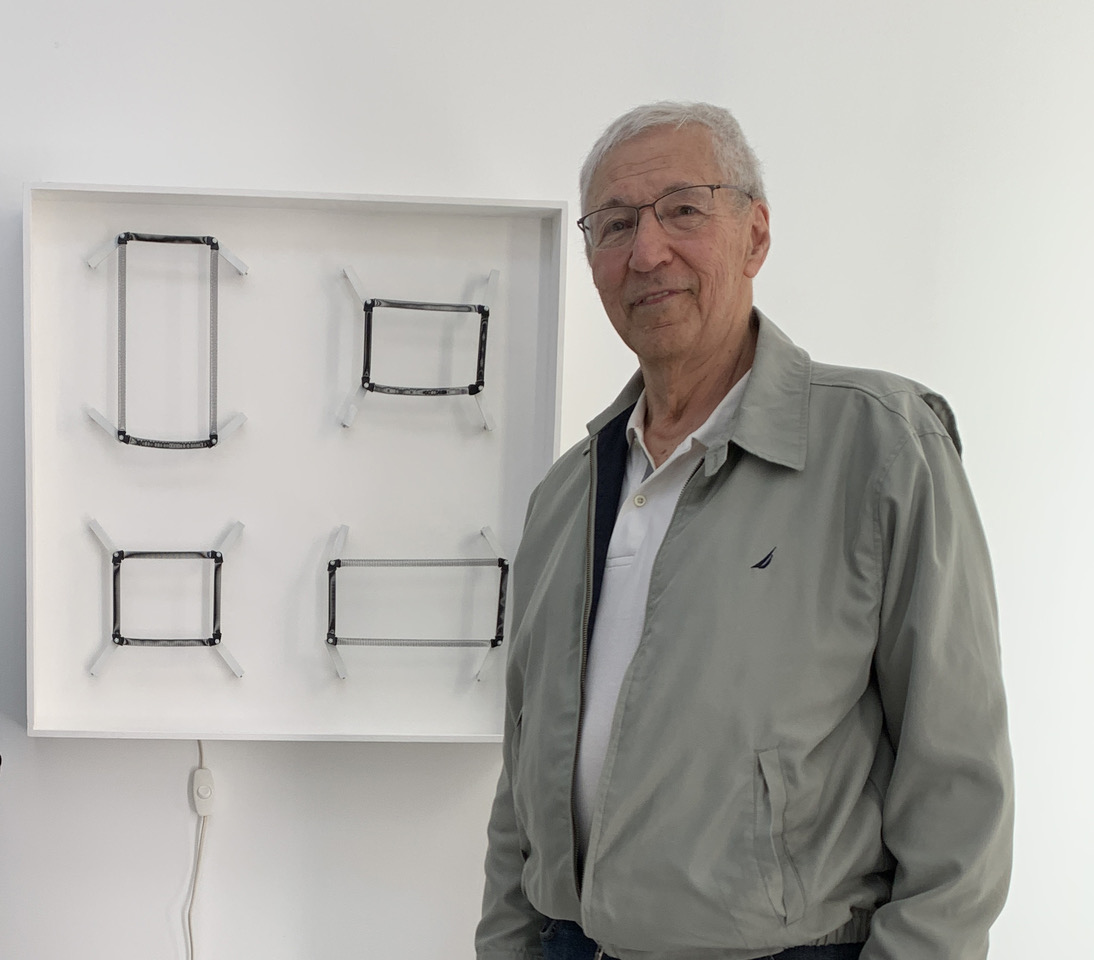 Born in 1938 in Beirut (Lebanon)
Graduated from Concordia University, Montreal (Canada)
1965 : Model maker in the construction team of the Quebec Pavilion at the Montreal World Fair
1967 : Contemporary Art Museum Prize, Montreal.
1970 : Universal exhibit of Osaka, Japan
1977 : Prize Museum of Modern Art, San Francisco : World Print Competition
Lives and works between Nîmes, Paris and Montreal
Roger Vilder expresses through simple geometry, his observations of the world, forms to which he gives a slow, continuous movement of growth and decay. In doing so, forms, spaces and colors are put in relation to each other, thus privileging the harmony of the composition in a space-time continuum, with an organic sensuality.
Roger Vilder has long explored the notion of movement, calling himself a "researcher in movement of movement". He has experimented with a work around mutations, transformation and evolution.
"If Vilder has recourse to the geometric form, it is because he intends to go to the bottom of things, to express the essence of life through its constant metamorphosis. His animated reliefs that appear the incessant crossing of two perpendicular lines express both a Mondrian and all the Mondrians in the world. Life is the squaring of the circle and Vilder knows that computer design has solved the problem."
– Pierre Restany, Art Critic – 
Collection publiques et privées : 
Contemporary Art Museum Montréal Canada

Fine Arts Museum Ottawa Canada

Art Gallery of Kingston Kingston Canada

Modern Art Museum San-Francisco Etats-Unis

Fine Arts Museum Ludwigshafen Allemagne

Kunst Museum Gelsenkirschen Allemagne

Fine Arts Museum Krefeld Allemagne

Forbes Magazine New-York Etats-Unis

artequation – CB Richard Ellis Paris France

Coppenrath & ass. Montréal Canada

Société Heintz S.A Metz France

E.Sauvage Architecte Paris France

Fondation Villa Datris L'isle sur la Sorgues France

Museum of Fine Arts Montréal Canada
Expositions personnelles : 
2022 : L' Académie des Arts de Riga, Lettonie 
2021 :  Galerie Három Budapest, Hongrie 
2020 : Galerie Zavodny Mikulov, République Tchèque
2020 : La Patinoire Royale Galerie Valérie Bach Bruxelles, Belgique
2019 :  Institut français de Slovaquie Bratislava, Slovaquie
2018 : Galerie La Ligne Zurich, Suisse
2016 : Galerie Nery Mariño Paris, France
2015 : Galerie La Salamandre Nîmes, France
2015 : Galerie Nery Mariño Paris, France
2015 : Galerie Edition Hoffmann Friedberg, Allemagne
2014 : Galerie Un lieu une œuvre Menerbes, France
2014 : Galerie Nery Mariño Paris, France
2012 : Institut Français Barcelone, Espagne
2011 : Territoires numériques, programme septembre à décembre 2011 – KawengaMontpellier, France
2010 :  Algorithms – Galerie From Point to Point Nîmes, France
2005 : Galerie Philippe Pannetier Nîmes, France
2003 : Coppenrath set Associés Monumental sculptures – Ways Mills, Qc, Canada
2002 : Galerie Park'Art Marseille, France
2002 : Galerie Philippe Pannetier Nîmes, France
1997 : Galerie Le Mercier Quebec, Canada
1993 : Galeria Del Leon Guadalajara, Mexique
1982 : Animotion – Television & Radio France Canada
1978 : Galerie Gilles Gheerbrant Montréal, Canada
1976 : Galerie Seven Détroit, Etats-Unis
1975 : Color In Motion – Musée d'art contemporain Montréal, Qc. Canada
1973 : Galerie Ernst Hanovre, Alemagne
1973 : Galerie M Bochum, Alemagne
1973 : Atelier Glasmeir Gelsenkirchen, Alemagne
1973 : Realisation of Computer Works – Centre Canadien Météorologique
1973 : Centre Culturel Gérard Philippe Champigny-sur-Marne, France
1973 : Galleria La Polena Gênes, Suisse
1973 : Roger Vilder – Centre Culturel Canadien Paris, France
1973 : Städtisches Kunstsammlungen Ludwigshafen-am-Rhein, Allemagne
1972 : Galerie Teufel Cologne, Allemagne
1972 : Galleria Sincron Brescia, Italie
1972 : The Electric Gallery Toronto, Canada
1971 : First computer works –
1971 : Wells Gallery Ottawa, Canada
1970 : Happening sur la communication – National Film Board Montréal, Canada
1970 : The Electric Gallery Toronto, Canada
1968 : Galerie du Siècle Montréal, Canada
1968 : First Neon sculptur –
1965 : Galerie Libre Montréal, Canada
Expositions collectives
2022 : Musée d'Art Moderne de Hünfeld, Allemagne
2021 : Musée Bozart Bruxelles, Belgique 
2020 : Canadian computer Art 1967-1974 – McIntosh Gallery Ontario, Canada
2020 : Art par ordinateur – Université de Caen Caen, France
2019 : Kunstraum Stoffen Allemagne
2019 :  Un décor 60 art cinétique – Galerie Neri Marino Paris, France
2019 : Galerie Abstract Project Paris, France
2019 : Galerie Un lieu une oeuvre fête ses 10 ans – Galerie Un lieu une oeuvreMénerbes, France
2018 : Comparaisons – Grand Palais Paris, France
2018 : SAXON Art Gallery Budapest, Hongrie
2018 : Art Paris – Galerie La Ligne, Grand Palais Paris, France
2018 : Computer Grafik 1984 – DAM Gallery Berlin Allemagne
2018 : Arts et mathématiques – Galerie Réalités nouvelles Paris France
2018 : Action – Reaction (Actie-Reactie 100 jaar kinetische Kunst) – Kunsthal Rotterdam, Pays Bas
2017 :  Galerie Hoffmann Friedberg, Allemagne
2017 : Comparaisons – Grand Palais Paris, France
2017 :  Art Paris – Galerie La Ligne, Grand Palais Paris, France
2017 :  Arts Numériques – Galerie Réalités nouvelles Paris, France
2017 : Galerie RCM Paris, France
2017 :  Cinétismes – Galerie Réalités nouvelles Paris France
2016 : Galerie Réalités Nouvelles Paris, France
2016 :  Art Elysée Paris, France
2016 : Carrément – Espace Peugeot Paris, France
2016 : Arts Paris – Galerie Hoffmann Paris, France
2016 : Hommage à Herbin – Galerie Art concret Paris, France
2016 : Miami Artfair – Miami, Etats-Unis
2015 : A l'Ecu de France – Viroflay, France
2015 : Maison des Arts de Laval Laval, Qc. Canada
2015 : Karlsruhe Art Fair – Galerie Hoffmann Friedberg, Allemagne
2015 : Comparaisons – Grand Palais Paris, France
2015 : Comparaisons – Royan, France
2015 : Galerie Réalités nouvelles Paris, France
2015 : Early computer works – DAM Gallery Berlin, Allemagne
2014 : Villa Datris, Espace Montecristo Paris, France
2014 : Galerie Réalités nouvelles Paris, France
2014 : Comparaisons – Grand Palais Paris, France
2013 : Mouvements et lumières – Fondation Frank Popper Marcigny, France
2013 : Mathematics and Art – Enschede, Pays-Bas
2013 : Made in Light – Musée en herbe Paris, France
2012 : Fondation Villa Datris Isle sur la Sorgues, France
2012 : Kinetica Art Fair – Londres, Angleterre
2011 : Golf de Nîmes Nîmes, France
2011 : Galerie Brugier-Rigail Paris, France
2010 : Galerie Gimpel-Muller Paris, France
2010 : Canary Wharf Londres, Angleterre
2010 : Kinetica Art Fair – Londres, Angleterre
2010 : ARC exhibit – Earls's Court Londres, Angleterre
2009 : Kinetica Museum Londres, Angleterre et Budapest, Hongrie
2008 : Selfridges Londres, Angleterre
2008 : International Kepes Society – Galerie A22 Budapest, Hongrie
2007 : Rétrospective Art numérique – Musée de Brêmes Brêmes, Allemagne
2007 : Concrete and Glass – Kinetica Museum Londres, Angleterre
2006 : Kinetica Museum Londres, Angleterre
2003 : Centre d'art Peyresq Toulon, France
1999 : Musée d'Art Contemporain Montréal, Canada
1999 : Musée de la civilisation Quebec, Canada
1996 : Kingston Art Center Kingston, Canada
1992 : Musée d'art contemporain Montréal, Canada
1984 : Animotion – film broadcasting Canada
1974 : Exposition internationale d'art à l'ordinateur – Montréal, Canada
1974 : Computer Art'74 – Tokyo, Japon
1974 : SDL Collection – National Art Center Ottawa, Canada
1974 : CyberART'74 – University of Toronto Toronto, Canada
1974 : Galerie Gilles Gheerbrant Montréal, Canada
1974 : International Computer Graphic – The Polytechnic of Central London Londres, Angleterre
1974 : Espace 5 Montréal, Canada
1974 : Le musée électrique – Musée d'art contemporain Montréal, Canada
1974 : SDL Collection – Université Laval Laval, Canada
1973 : Elektrizität und Kunst – Hambourg, Allemagne
1973 : Cybernetic Artrip – Sony Building Tokyo, Japon
1973 : Winnipeg Art Gallery Winnipeg, Canada
1973 : Vancouver Art Gallery Vancouver, Canada
1973 : Iris Clert Paris, France
1973 : Programm-Zufall-System – Städtisches Museum MönchengladbachMönchengladbach, Allemagne
1973 : International Computer Art Exhibition – Toronto, Canada
1973 : Contact II – Sigma, Galerie des Beaux-Arts Bordeaux, France
1973 : New Brunswick Museum Saint John, Canada
1972 : York University Gallery Toronto, Canada
1972 : International Kunstmesse – Basle & Dusseldorf, Suisse
1972 : Rothman's Art Gallery Stratford, Canada
1972 : Owens Gallery Sackville, Canada
1972 : Exposition internationale Art et Ordinateur – Montréal, Canada
1972 : Robert McLaughlin Gallery Oshawa, Canada
1972 : Teufel Gallery Cologne, Allemagne
1971 : Cybernetic and Art – Cambridge, Angleterre
1971 : Galerie Nationale du Canada Ottawa, Canada
1971 : Galerie Denise René Paris, France
1971 : Centre d'Art Saydie Bronfman Montréal, Canada
1971 : York University Gallery Toronto, Canada
1971 : Canadian Computer Exhibition – Toronto, Canada
1971 : Musée d'art contemporain Montréal, Canada
1970 : Caspary Gallery New-York, Etats-Unis
1970 : 12th Biennal – Winnipeg Art Gallery Winnipeg, Canada
1970 : Musée d'art contemporain Montréal, Canada
1970 : Centre d'Art Agnès Etherington Windsor, Canada
1970 : Kinetics Hayward Gallery Londres, Angleterre
1970 : Canada National Gallery Ottawa, Canada
1970 : Musée Rodin Paris, France
1970 : Musée National des Beaux Arts de Québec Quebec, Canada
1969 : Some More Beginings – Brooklyn Museum New-York, Etats-Unis
1969 : Musée d'art contemporain Montréal, Canada
1969 : Howard Wise Gallery New-York, Etats-Unis
1968 : Artists 68 – Ontario Art Gallery Toronto, Canada
1968 : 11th Biennal – Winnipeg Art Gallery Winnipeg Canada
1968 : The J.L. Hudson Gallery Détroit, Etats-Unis
1968 : Howard Wise Gallery New-York, Etats-Unis
1967 Award : Musée d'art contemporain Montréal, Canada