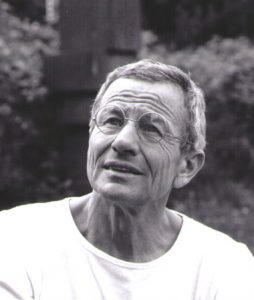 Born in 1928 and died in 2008 in Frankfurt (Germany)
1946 : Studied graphic arts at the School of Decorative Arts in Offenbach (Germany).
1952 : Studied at the School of Fine Arts in Frankfurt am Main and then at the Academy of Fine Arts in Munich with the sculptor Toni Stadler.
1954 : Taught at the National Professional School for Stonecutters in Wunsiedel
1956 : First « biomorphic » sculptures in clay, bronze, wood and stone
1960 : First abstract works based on the vertical and the horizontal.
1963 : Participates to the Symposium of European Sculptors in Berlin.
1967 : Produces white paintings and sculptures at the Cité Internationale des Arts in Paris.
1974 : Lecturer at the Städelschule, the Frankfurt School of Fine Arts.
1999 : Elected corresponding member of the Bavarian Academy of Fine Arts in Munich (Germany).
2001- 2008 : Participates every year to the Salon « Réalités Nouvelles » in Paris.
« The greatest of the « constructive », « geometric » or « abstract » artists undoubtedly develop an extreme sensitivity to forms, to the bright or whispered accords of colours, but this sensitivity is no longer in the register of emotion, since it is no longer of the order of confidence but of the order of the most exquisite or powerful refinement – which, once again, is not at all the same thing. »
Frédéric Vitoux – Member of the Académie Française
Public collections:
• Middelheim, Openluchtmuseum voor Beeldhouwkunst, Antwerpen, Belgique
• Museum Boyman van Beuningen, Rotterdam, Pays-bas
• Städelsches Kunstinstitut und Städtische Galerie, Frankfurt, Allemagne
• Historisches Museum, Frankfurt, Allemagne
• Staatliche Kunstsammlungen, Kassel, Allemagne
• Städtische Galerie – beim ZKM, Karlsruhe, Allemagne
• Kunsthalle, Bremen, Allemagne
• Oberhessisches Museum, GieBen, Allemagne
• Studio A – Museum Gegenstandsfreier Kunst, Otterndorf, Allemagne
• Kunsthalle, Bremerhaven, Allemagne
• Wilhelm Lehmbruck Museum, Duisburg, Allemagne
• Quadrat Bottrop – Joseph Albers Museum, Bottrop, Allemagne
• Museum für Moderne Kunst, Frankfurt, Allemagne
• Dainihon Ink. Co.Collection, Tokyo, Japon
• Kawamura Memorial Museum of Art, Sakura, Japon
• Skulpturen-Museum Glaskasten, Marl, Allemagne
• Saarland Museum, Saarbrücken, Allemagne
• Städtische Galerie, Schwäbisch Hall, Allemagne
• Museum im Gotischen haus, Bad Homburg v.d. Höhe, Allemagne
• Musée de Pontoise (Donation Freundlich), Pontoise, France
• Museum of Contemporary Art, Sapporo, Japon
• FRAC Île-de-France, Paris, France
• Bush-Reisinger Museum, Harvard University, Cambridge, USA
• Museum Beelden an Zee, Scheveningen-den-Haag, Pays-Bas
• Städel-Museum-Garten (Jardin du Musée Städel), Frankfurt, Allemagne
• Musée des Ursulines de Mâcon, France
• Altana – Sinclar Haus, Bad Homburg vor der Höhe, Allemagne
• Museum St Wendel, Stiftung Dr Walter Bruch, Saarland, Allemagne
• Museum im Kulturspeicher, Würzburg, Allemagne
• Museum Chelmskie, Chelm, Pologne
• Städel, Graphische Sammlung, Frankfurt, Allemagne
• Pfalzgalerie, Kaiserslautern, Allemagne
• Musée de Cambrai (Donation André Le Bozec), France
• Collection de la Médiathèque de Valenciennes, France
• Satoru Sato Art Museum, Tome City, Miyagi, Japon
• Institut für Stadtgeschichte im Karmeliterkloster, Frankfurt, Allemagne
• Albertinum, Staatliche Kunstsammlung, Dresden, Allemagne
• Kunstmuseum Ahlen, Westfalen, Allemagne
• Musée du Touquet, Donation André Le Bozec, France