Born in Monterrey, Nuevo Leon, Mexico, in 1958
Graduated in Beaux-Arts and sculpture from the University of Texas in Austin (Texas)
Lives and works in Monterey and Paris
Alberto Vargas is a sculptor, an architect and a landscape gardener all in one…. He is certainly not a statuary! « Evoke » and « recall » are the key words in his sculptural alphabet. In fact, his cultural influences are multiple: Greek, Latin, Gothic, even Baroque…
From each, he retains only what is appropriate to his project. Often, these sculptures bring to mind models and small reproductions of disappeared temples… He will never disown this source, but it is not the only one. Not far from the classicism of the columns and in contrast to them, one observes low sculptures, of an undeniable stability. In some cases, the work clearly emerges from the far reaches of ancient Mexican architecture: a pyramid, a staircase on a dark marble cone, possibly topped by less classical constructions, such as those pyramids of the ancient Mexicans that the conquerors topped with their own temples. Here realism shines through.
Alberto Vargas has a double attraction that is translated into forms: serenity and torment, balance and impetuousness. The smooth, pure, imperceptible form is fundamentally opposed to other creations that are all straight and oblique, angles and points, which are also distinctive signs of this artist. There are no out-of-place features or expressive gestures. Everything is geometric, straight, clean. His forms are 'clear and distinct'.
Moreover, the combination of very solid materials (metal, hard stone) can give way to a confrontation between the common industrial steel of proven strength and the noble whiteness of fragile alabaster. But doesn't an artist's art also consist in raising all materials, whatever they are, to the same level of quality? Elegance of his forms, synthesis and perfect purity in his finishes, rigour in his knowledge of the material… Alberto Vargas achieves excellence! Note: the artist also creates monumental works, intended for the urban space and therefore out of scale to take place in an exhibition.
Alberto Vargas' work has been shown for more than 20 years in galleries, museums and institutions in the capital of Nuevo León, such as the Monterrey Museum, the Centennial Museum, the Monterrey Metropolitan Museum and the Alfa Cultural Centre. He also exhibits regularly in the rest of the country, in Mexico City, Merida and Guadalajara, as well as abroad in the United States, France and Spain.
He has participated in several international biennials and art fairs, including the IV and V FEMSA Biennials in Monterrey, Expoarte, VI International Contemporary Art Fair and I Bienal de Escultura in Guadalajara, as well as in some editions of ARCO in Madrid, Art Miami in the United States, and FIAC in Paris.
Alberto Vargas owns public sculptures in museums and universities in Monterrey, Nuevo León and Los Angeles, California. His work is part of important private collections of companies and institutions such as the collection of the Pinacoteca de Nuevo León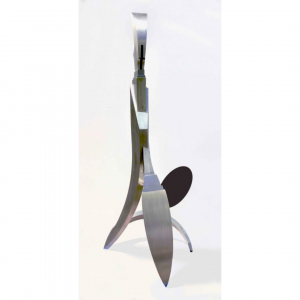 Fanfan, 2019
Stainless steel and marble
67 x 27 x 30 cm
Unique piece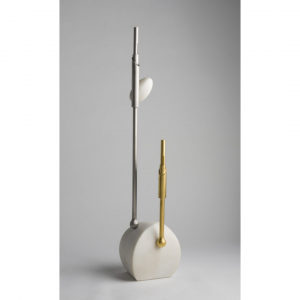 Calamus II, 2016
Alabaster, stainless steel and gold leaf
100 x 22 x 22 cm
Unique piece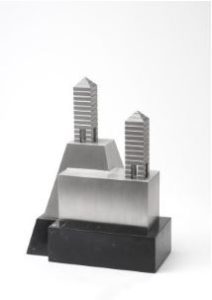 Xanthos, 2005
Stainless steel and marble
36 x 27 x 22,5 cm
Unique piece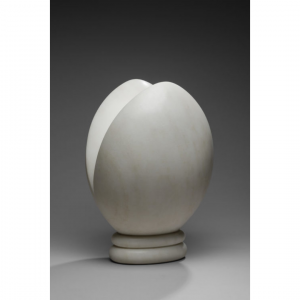 Mitra, 2012
Alabaster and stainless steel base
44 x 30 x 20 cm 
Unique piece 
Sculptures in public space :
2003 : « La Crestería », acier inoxydable, Martel Building, Monterrey, Mexique
2002 : « Monte Horeb », acier Cor-ten, Collection permanente du Musée d'art contemporain de Monterrey, Mexique
2000 : « Estípite », 300 x 76.5 x 57 cm, acier inoxydable, Musée des Arts Latino-Américains, MoLAA, Los Angeles, Etats-Unis
« Herma Estípite », acier inoxydable, Tour CNCI, Monterrey, Mexique
1999 : « El Urim et El Temmim », Acier inoxydable et acier Cor-Ten, « Germe », acier Cor-Ten et granit, Centre des Arts, Pinacothèque, Parc Fundidora, Monterrey, Mexique
Personal Exhibitions :
2009 : « Alberto Vargas, Escultura », Galerie Arte Actual Mexicano, Monterrey, Mexique
2006 : « El Mundo Desde La Estela », Centre des Arts / Pinacoteca. Parc Fundidora, Monterrey, Mexique
2005 : « Plataformas Imposibles », Musée des Arts, Université de Guadalajara, Jalisco
« Plataformas Imposibles », Musée de la ville de Querétaro, Querétaro
2004 : « Plataformas Imposibles », Musée de l'Art contemporain de Monterrey, Monterrey, Mexique
2003 : Art Chicago, froire d'Art contemporain, avec la Galerie Arte Actual Mexicano, Chicago Etats-Unis
2001 : « Rios Verticales », Galerie Arte Actual Mexicano, Monterrey, Mexique
« Rios Verticales », Galerie Arte Actual  Mexicano, Mexico, Mexique
1996 : « Argentum » Galerie Arte Actual Mexicano, Monterrey, Mexique
Group Exhibitions: 
2019 : « 

Conquêtes spatiales #2 

», Galerie Wagner, Paris, France
« Sciences Cachées », Galerie Wagner, Le Touquet-Paris-Plage, France
2007 : « La Magie de l'univers », Planétarium Alpha, Garza García, Mexique
Biennale de la sculpture, Musée des Arts, Université de Guadalajara, Jalisco
« Le jouet Mexicain dans l'art », Centre des Arts, Pinacoteca, Parc Fundidora, Monterrey, Mexique
« Quatre Saisons », Galerie Arte Actual Mexicano, Monterrey, Mexique
2005 : ARCO, Foire d'art contemporain, Madrid, Espagne
« Sculpture Brotherhoods », Mexique-USA, Musée d'art contemporain du Yucatán MACAY, Merida Yucatan
« Echos du Mexique », Arte Actual Mexicano, Monterrey, Mexique
« Interlude 70's et 80's », Musée métropolitain de Monterrey, Mexique
« Paysages du désir », Musée métropolitain de Monterrey, Mexique
« Habitation de L'âme », Centre des Arts, Pinacoteca, Parc Fundidora, Monterrey, Mexique
2003 : « Art Et Éthique… Réflexions », Musée métropolitain de Monterrey, Mexique
« Nature Morte », Musée métropolitain de Monterrey, Mexique
2002 : Art Chicago, Foire d'art contemporain, Chicago, Etats-Unis
« Monterrey, sculpture de notre temps », Musée métropolitain de Monterrey, Mexique
« Mort sans fin », Musée métropolitain de Monterrey, Mexique
2001 : Art Miami, Miami Convention Center, Miami, Floride, Etats-Unis
Art Chicago, Foire d'art contemporain, Chicago, Etats-Unis
« Eté plein » GAM, Galerie Arte Mexicano, México, Mexique
5ème Biennale FEMSA, Centre d'Art, Monterrey, Mexique
« Rencontre et célébration », Musée du Centenaire, Garza García, Mexique
2000 : « La bible dans l'art », Musée du Centenaire, Garza García, Mexique
« Les transitions », Centre d'Art, Monterrey, Mexique
1999 : « Genèse de l'univers », Serfin Bank, Garza García, Mexique
« Douze dans le nord », Galerie Arte Actual Mexicano Monterrey, Mexique
Quatrième Biennale de Monterrey, peintures, sculptures et installation, Musée de Monterrey, Mexique
Art Chicago, Foire d'art contemporain, Chicago, Etats-Unis
FIAC, Foire d'art contemporain, Paris, France
« Du désenchantement de l'harmonie », Musée du Cneteniare, Garza García, Mexique
1998 : Expoarte, 7ème Foire Internationale d'Art Contemporain, Guadalajara, Jalisco
1997 : ARCO, Foire d'art contemporain, Madrid, Espagne
Expoarte, 6ème Foire Internationale d'Art Contemporain, Guadalajara, Jalisco
1987 : Archer M. Huntington Art Gallery, Université du Texas, Austin, Texas, Etats-Unis
1985 : Moody Hall Atrium Université Saint Edward, Austin, Texas, Etats-Unis