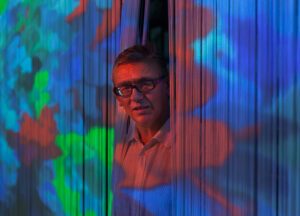 Born in 1959 in Mexico City, Mexico
1981: Graduated from the Ecole Nationale Supérieure des Beaux-Arts de Paris 
1983: Graduated from the Ecole Nationale Supérieure des Arts Décoratifs in Paris
1984: awarded the Lavoisier scholarship to the Pratt Institute in New York
1994 : Laureate of the city of Kujoyama in Kyoto, Japan
Lives and works in Paris
Since 1978, Miguel Chevalier has been using computers as a means of expression in the field of visual arts. He has established himself internationally as one of the pioneers of virtual and digital art.
His experimental and multidisciplinary work addresses the question of immateriality in art, as well as the logic induced by the computer, such as hybridization, generativity, interactivity and networking. He develops different themes, such as the relationship between nature and artifice, the observation of flows and networks that organise our contemporary societies, urban transformations and the architecture of cities, the transposition of motifs from Islamic art into the digital world. The images he delivers to us perpetually question our relationship to the world.
His works are most often presented in the form of large-scale projected digital installations that immerse the viewer in the centre of an interactive virtual universe that is constantly changing. He creates in-situ works that use digital art to revisit the history and architecture of places, giving them a new reading.
Miguel Chevalier is also developing a work of sculpture, which explores the possibilities of 3D printing or laser cutting techniques and now materializes his virtual worlds.
Miguel Chevalier has held numerous exhibitions in museums, art centres and galleries throughout the world. He also carries out projects in public and architectural spaces. He regularly collaborates with architects, designers and music composers.
Miguel Chevalier's work pursues a constant dialogue with the history of art, in a continuity and metamorphosis of vocabulary, to explore and experiment with a new pictorial language.

Flux holographique irisé, 2004
Lasez striped film, Plexiglas on Dibond
150 x 40 cm
Unique piece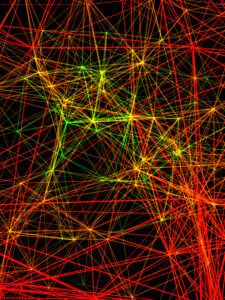 Mise en réseau, 2022
4-colour screen printing on Olin Régular paper 450 gr
50 x 70 cm
10 pieces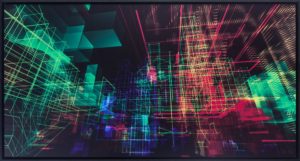 Méta-Cités 6, 2016
Digital printing on aluminium
103,5 x 56 cm
Unique piece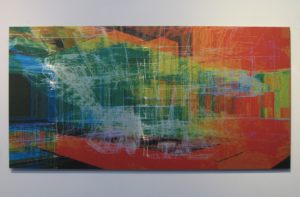 Meta-Cités 1, 2005
Digital printing on aluminium
93 x 46,5 cm
Unique piece
Public collections : 
Musée d'art moderne de la Ville, Paris (FRA)
Bibliothèque nationale, Paris (FRA)
Musée-galerie de la Seita, Paris (FRA)
Fond national d'art contemporain,Puteaux (FRA )
Musée d'art et d'histoire, Belfort (FRA)
Musée des années 30, Boulogne-Billancourt (fra)
Centre d'art contemporain, Brétigny-sur-Orge (fra)
MAC/VAL, musée d'art contemporain du Val de Marne, Vitry sur Seine (FRA)
FDAC Val-de-Marne, Créteil (FRA)
Fondation Hewlett Packard, Lyon (FRA)
Fondation d'art General Motors, Paris (FRA)
Fondation BSN, Paris (FRA)
Fondation Nina Ricci, Paris (FRA)
Château Pichon, Longueville Comtesse Lalande, Pauillac (FRA)
Deloitte & Touche, Neuilly-sur-Seine (FRA)
Michelin, Collection Bibendum, Paris (FRA)
Museo internacional de electrografia, Cuenca (ESP)
Fundación arte y tecnologia Telefonica de España, Madrid (ESP)
Visa Foundation, London (GBR)
Museo de arte Alvar y Carmen T. de Carrillo Gil, Mexico (MEX)
Museo de artes visuales Alejandro Otero, Caracas (VEN)
Museo de bellas artes, Maracaibo (VEN)
Royal Caribbean Cruce line, Miami (USA)
Centre Culturel Itau, São Paulo (BRE)
Musée de la poste, Paris (FRA)
Digital Art International (FRA)
Abbaye de Pierredon, Saint-Rémy-de-Provence (FRA)
Fondation Clément, Martinique
Fondation Villa Datris, L'Isle-sur-la-Sorgue (FRA)
Fondation Guy & Myriam Ullens
Personal exhibitions :
2022 : Paradis Artificiels, Maison Elsa Triolet-Aragon, Saint-Arnoult-en-Yvelines (FRA)
Fractal Flowers, Art to Be Gallery, Lille (FRA)
2021 : Digital Abysses, Aqua Planet, Jeju Island (KOR)
Alfombras Mágicas, Festival LuzMadrid, Centre culturel Matadero Madrid (SPA)
Maillages Cosmiques, Festival Révélations, Eglise Saint-Jean-de-Malte, Aix-en-provence (FRA)
Paradis Artificiels, Maisons des Arts, Bagneux (FRA)
Digital Moirés, Espace Niemeyer, Paris (FRA)
Dans un Nuage de Pixels 2021 – Miguel Chevalier et A+A Cooren, Mobilier national, Chapelle des Gobelins, Paris (FRA)
Paradis Artificiels, Cineum, Cannes (FRA)
Coraux Fractal 1, Saint-Tropez Couleur Bleu, Saint-Tropez Lighthouse (FRA)
Corauxllages, Fondation Linda et Guy Pieters, Saint-Tropez (FRA)
Extra-Natural , Musée de Gajac, Villeneuve-sur-Lot (FRA)
2020 : Power Pixels, Wood Street Galleries, Pittsburgh (USA)
Digital Cristaux, Espace Art Absolument, Paris (FRA)
2019 : L'Oeil de la Machine, Musée Ingres Bourdelle, Montauban (FRA)
Orbites, Centre Commercial Beaugrenelle, Paris (FRA)
Power Pixels, Mineral Lodge, Villaroger (FRA)
Digital Supernova, Cathédrale Notre-Dame, Rodez (FRA)
Power Pixels, Mineral Lodge, Villaroger (FRA)
Pixels Noir Lumière, Musée Soulages, Rodez (FRA) Machine Vision, Galerie Lélia Mordoch, Paris (FRA)
2018 : D'un rêve à l'autre, Domaine de Trévarez, Saint-Goazec (FRA)
Digital Icons, AURORA Light, video, sound Biennal, City Hall, Dallas (USA)
Power Pixels, La Galerie par GRAF Notaires, Paris (FRA)
Digital Icônes, Chapelle Saint-Nicolas, Grand festival, Verdun (FRA)
Digital Abysses, Base sous-marine, Bordeaux (FRA)
Origin of the World Bubble, Oxford Circus, Festival Lumiere, Londres (UK)
Ubiquity 1, The Mayor Gallery, Londres (UK)
Ubiquity 2, Wilmotte Gallery à Lichfield Studios, Londres (UK)
2017 : Complex Meshes, Artrepublic, Jacksonville (USA)
Flower Power, Festival Aarhus, Bispetorv, Aarhus (DNK)
In-Out / Paradis Artificiels, Domaine de Chaumont-sur-Loire (FRA)
Flower Power, Jing An Kerry Centre, Shanghai (CHN)
Fractal Flowers, façade de l'hôtel de Ville, Ivry-sur-Seine (FRA)
2016 : Power Pixels, Galerie Lélia Mordoch, Miami (USA)
Voûtes Célestes, Nuit Blanche, Eglise Saint-Eustache, Paris (FRA)
Onde Pixel – Lo Sguardo di… Miguel Chevalier, UniCredit Pavilion, Milan (ITA)
Magic Carpets, IF: Milton Keynes International Festival 2016, Middleton Hall, centre:mk, Milton Keynes (UK)
Mosaïque de Pixels, Yia Art Fair avec la Galerie Keza, Espace Louise, Bruxelles (BEL)
Power Pixels, Galerie LMS, Bruxelles (BEL)
Binary Waves & Complexe Meshes, Forbes Digitak Plaza Gallery, Oakland (USA)
L'Origine du Monde, Performance visuelle et acoustique avec Pascal Contet, Week-end "Plug and Play", Auditorium-Orchestre national, Lyon (FRA)
Complex Meshes, Origin of World & Pixels Wave, Lumiere London 2016, Piccadilly Circus, London (UK)
2015 : V oxels Light, Eglise Saint-Eustache, Paris (FRA)
Complex Meshes, Festival Lumiere, Cathédrale de Durham, Durham (UK)
Dear World… Yours, Cambridge, King's College Chapel, Cambridge (UK)
Yia Art Fair #05, avec la Galerie Keza, Carreau du Temple, Paris (FRA)
The Origin of the World, Performance visuelle et acoustique avec Pascal Contet,
Istanbul (TUR)
Méta-Territoires, Galerie Fernand Léger, Ivry-sur-Seine (FRA)
Vortex, Galerie Lélia Mordoch, Paris (FRA)
Paradis Artificiels, Domaine départemental de la Roche Jagu, Ploëzal (FRA)
Eternal Legacy – In tribute to Vacheron Constantin's 260th anniversary, Genève,
Shanghai, Hong-Kong, New-York
Pixels Wave, National Design Centre, Singapore Night Festival, Singapore (SG)
Pixels Wave, Malta Arts Festival, Malta (MT)
Fractal Fowers and Liquid Pixels, Heart Ibiza (SPA)
La Ola del Cine, façade du Théâtre National, Festival Internacional de Cine, Panamá City, Panamá (PAN)
Digital Arabesques, Saison culturelle France-Maroc 2015, 4 installations avec 4
Instituts français au Maroc : Derb Lâalouj à Essaouira ; Dar Benjelloun à Tétouan ; jardin de l'Institut français à Agadir; Dar Batha à Fès (MAR)
2014 : Digital Paradise, Galerie Puerta Roja, Hong Kong (HK)
Magic Carpets, Festival Internazionale di Andria Castel dei Mondi, Castel del Monte, Andria (ITA)
Mémoire et Mutations, a-part Festival, remparts, Baux-de-Provence (FRA)
Power Pixels, Fundació Stämpfli, Sitges (ESP)
Tapis Magiques, Journées du Patrimoine, Eglise du Sacré Cœur, Casablanca (MAR) Paradis Artificiels, Musée d'art moderne, Céret (FRA)
Power Pixels, Utsikten Kunstsenter, Kvinesdal (NOR)
2013 : El Origen del Mundo, Filux, Festival Internacional de las Luces México, Palacio de Bellas Artes, Mexico (MEX)
Power Pixels, Centre des arts, Enghien-les-Bains (FRA)
Pixels Power, Galerie MiniMasterpiece, Paris (FRA)
Power Pixels, Pile Pont Expo, Saint-Gervais les Bains (FRA)
Power Pixels, Musée en Herbe, Paris (FRA)
Fractal Flowers, Château de la Cité de Carcassonne (FRA)
Power Pixels,Wood Street Galleries, Pittsburgh (USA)
2012 : Powers Pixels, Carrières de Lumières, Festival a-part, Baux-de-Provence (FRA)
Power Pixels, Espace d'art contemporain André Malraux, Colmar (FRA)
Power Pixels, Entrepôt 9 / Galerie Barnoud, Quetigny (FRA)
Nuage Fractal, Château de Dravert, La Guiche (FRA)
La Vague des Pixels, Festival Mai Numérique, cour du Château Comtal de la cité de Carcassonne (FRA)
Rosaces Digitales, Festival Chemins d'art en Armagnac, Eglise d'Aurens, Castelnau-sur-Auvignon (FRA)
2011 : Digital Arabesques, Corniche d'Abou Dabi, Alliance Française d'Abou Dabi (EAU)
Pixels Snow et Digital Cristaux, Forum des Halles, Paris (FRA)
Power Pixels (cat.), Fondation Oi Futuro, Rio de Janeiro (BRA)
Power Pixels, Gallery Priveekollektie, Heusden aan de Maas (NLD)
Sur-Natures, Institut français de Cologne (GER)
2010 : De la nature symbolique aux jardins virtuels, Musée Maurice Denis (cat.), Saint- Germain-en- Laye (FRA)
Fractal Flowers in vitro, Université du Bosphore, Istanbul (TUR)
Fractal Flowers in vitro, Sanat Limani, Istanbul (TUR)
Pixels Power (cat.), Galerie Antonio Prates, Lisbonne (POR)
Fractal Flowers, International Biennial of Art & Industrial Design", Marinha Grande (POR)
Terra Incognita, Mis (Museu da Imagem e do Som), Sao Paulo (BRA)
Fractal Flowers Cave, carrière du Mas de la Pyramide, Saint-Rémy-de-Provence (FRA)
Sur-Natures, La Cité du Numérique, Futuroscope, Poitiers (FRA)
Fractal Flowers, Tri Postal, Lille (FRA)
Pixels Snow, halle La grenette, Grand Bornand (FRA)
2009 : Pixels Snow, Piste des Gettiers, Grand Bornand (FRA)
Power Pixels, Galerie Georges Verney Carron, Lyon (FRA)
Flores Fractales, Centro Cultural Chacao, Caracas (VEZ)
Pixels Liquides, Nuit blanche, Fnac / Forum des Halles, Paris (FRA)
Fractal Flowers in vitro, Musée de la Chasse et de la Nature, Paris (FRA)
Fractal Flowers, station de métro Galeria, Brasilia (BRE)
Segunda Natureza, Espaço Marcantônio Vilaça, Brasilia (BRE)
Fractal Flowers Bubble, Amabassade de France, Brasilia (BRE)
Fractal Flowers, Salon international du Meuble, Boffi, Milan (ITA)
Fractal Flowers, iMAL, Center for Digital Cultures and Technology, Bruxelles (BEL)
2008 : Fractal Flowers in vitro, Parvis de la Mairie du 4e arrondissement de Paris (FRA)
Pixels Liquides, Loft 19, Paris (FRA)
Fractal Flowers, façade de l'Eglise d'Enghien-les-Bains (FRA)
Fractal Flowers, Galerie Suzanne Tarasiève, Paris (FRA)
Slick08, avec la Galerie Barnoud (Dijon) et la Galerie Numeriscausa (Paris), Paris (FRA)
Fractal Flowers, Boffi Bains Paris, Designer's day, Paris (FRA)
2007 : Sur-Natures, façade du bâtiment LCL, avenue des Champs Elysées, Paris (FRA)
Paradis Artificiel, Galerie des Galeries Lafayette, Paris (FRA)
Sur-Natures, La grande galerie, espace culturel Condorcet, Viry-Chatillon (FRA)
Crossborders, Grand Comptoir de la gare, dans le cadre de « Luxembourg, Grande Région, Capitale européenne de la Culture 2007 », Metz (FRA)
Seconde Nature (cat.), Anciennes écuries des ardoisières, Trélazé (FRA)
Ultra-Nature, Techfest Mumbai, Mumbai (IND)
2006 : Métacités, Galerie Thinkingprints, Bruxelles (BE)
Arabesques numériques, Palais Ksar Char Bagh, Marrakech (MA)
Ultra-Nature, Gallery Sejul, Seoul (KOR)
RGB Land, Wood Street Galleries, Pittsburgh (USA)
Sur-Natures 2006, L'Art en direct, Boulogne Billancourt (FRA)
Arabesques numériques, Tai Ping Carpets, Designer's Days, Paris (FRA) Sur-Natures, salon Maison & Objet, Villepinte (FRA)
Supra-Natura, façade du Museo do Chiado, Luzboa (POR)
2005 : Habiter les réseaux, Galerie Odéon 5, Paris (FRA)
Arabesques Numériques (cat.), Institut Français, Marrakech (MA)
Sur-Natures, complexe Michaud, Montlouis-sur-Loire (FRA)
Supra-Natura, Festival International de Buenos Aires, avec l'Alliance Française, Buenos Aires (AR)
Habiter les réseaux, Kunstverket Galleri, Oslo (NOR)
Sur-Natures in vitro,Galerie des enfants, Centre Georges Pompidou, Paris (FRA)
Livre de la vie, Biel expo, Beyrouth (LBN)
2004 : Paradis artificiels (cat.), Galerie Municipale, Vitry sur Seine (FRA)
Métacités (cat.), Galerie Suzanne Tarasiève, Paris (FRA)
Ultra-Nature, Station de métro, avec le Musée d'art Moderne Astrup Fearnley, Oslo (NOR)
2003 : Art multimédia autour de Miguel Chevalier (cat.), Art Metz 3ème édition, Parc des expositions, Metz (FRA)
Sur-Natures, Domaine Orenga de Gaffory, Patrimonio (FRA)
La Croisée des Réseaux, Bourse de Commerce, Nuit Blanche, Paris (FRA) Tisser les réseaux, Cité Internationale, Fête des lumières, Lyon (FRA)
2002 : Métapolis, Museo de arte contemporaneo, Monterrey (MEX)
2001 : Autres natures, Centre d'Art Moderne Espace Mira Phalaina, Maison Populaire, Montreuil (FRA)
Pensées numériques, Château de Lapalisse, Lapalisse (FRA)

2000 : Périphérie, MAMCO, Genève (CHE)
Digital World, Espace Paul Ricard, Paris (FRA)
Mémoires & Mutations, La Tête d'Obsidienne-Fort Napoléon, La Seyne-sur-Mer (FRA)
Flux numériques, Eric Linard Galerie, Le Val des Nymphes, La Garde Adhemar (FRA)
Artifices/Artefact, Atelier Arcay, Paris (FRA)
Multi-écrans, exposition on-line, Enviedart, Paris (FRA)
1999 : Flux, Galerie Kahn, Strasbourg (FRA)
Croissances & Mutations, Espace Landowski, Boulogne-Billancourt (FRA)
Interférences, Nex & Com, Neuilly-sur-Seine (FRA)
Habiter les réseaux, Galerie de l'esplanade de l'Ecole des beaux-arts, Metz (FRA)
Mémoires & Mutations, Centre d'art contemporain La Fabrika, Beyrouth (LBN)
1998 : Autres natures, Galerie Claire Gastaud, Clermont-Ferrand (FRA)
Nature de synthèse, Galerie du Cirque, Paris (FRA)
Périphérie, Espace Pierre Cardin, Paris (FRA)
Miguel Chevalier, Centre d'art contemporain Artère, Boulogne-Billancourt (FRA)
1997 : Autres natures, Centre d'art contemporain Bouvet-Ladubay, Saumur (FRA)
Massivement parallèle, Institut français, Stuttgart (AL)
1996 : Oro negro (cat.), Museo de arte Alvar y Carmen T. de Carrillo Gil, Mexico (MEX)
Autres natures, Galerie Sylvana Lorenz, Paris (FRA)
Otra natura (cat.), Centro nacional de las artes – Centro multimedia, Mexico (MEX)
1994 : Oro negro (cat.), Museo de arte universidad nacional de Colombia, Bogota (COL)
Contre nature, Villa Kujoyama, Kyoto (JPN)
1993 :  Interface, Galerie Karin Sachs, München (AL)
Oro negro (cat.), Museo de artes visuales Alejandro Otero, Caracas (VEN)
Oro negro (cat.), Centro de arte contemporaneo de Corpoven, Puerto la Cruz (VEN)
Oro negro (cat.), Museo de bellas artes, Maracaïbo (VEN)
1992 : Performances, jeux olympiques d'hiver, Albertville (FRA)
Performances, Jeux olympiques d'été, Barcelone (ESP)
De l'analogique au numérique (cat.), Musée d'art et d'histoire, Belfort (FRA)
La rencontre des deux mondes, Casa de Velazquez, Madrid (ESP)
Interface, Hôpital éphémère, Paris (FRA)
Réseaux, Galerie Sylvana Lorenz, Paris (FRA)
Redécouverte, Musée de la Cie des Indes, Citadelle de Port-Louis, Lorient (FRA)
Découverte, Museo internacional de electrografia, Cuenca (ESP)
1991 : Labyrinthe, Galerie Yaki Kornblit, Amsterdam (NLD)
Marine (cat.), Ecole régionale des beaux-arts, Nantes (FRA)
Œnologie (cat.), Château Pichon Longueville Comtesse de Lalande, Pauillac (FRA)
1990 : Tableau de bord, Intersection 11/20, Paris (FRA)
Interconnexion (cat.), Centre d'art contemporain La Base, Levallois-Perret (FRA)
Télescopages, 121 Art Gallery, Anvers (BEL)
Marine, Galerie Joseph Dutertre, Rennes (FRA)
Anthropométrie – installation stéréoscopique avec la collaboration de Benoît Berry dans le puits de l'Hôpital, Le Réservoir, Le Kremlin-Bicêtre (FRA)
Marine, Galerie Le Chanjour, Nice (FRA)
Anthropométrie (cat.), Galleria Vivita 2, Firenze (ITA)
1989 : Interconnexion, Galerie Jade, International art fair, Frankfurt (AL)
Mosaïques (cat.), Espace Jules Vernes, Brétigny-sur-Orge (FRA)
Télescopages (cat.), Centre d'art contemporain, Hérouville St-Clair (FRA)
1988 : De l'analogique au numérique, Galerie Sylvana Lorenz, Paris (FRA)
1987 : Images nouvelles (cat.), Granit Centre d'art contemporain, Belfort (FRA)
1985 : Peintures et sérigraphies, Galerie de l'ENSBA, Grande Masse, Paris (FRA)
Group Exhibitions :
2023 : "Mouvement et lumière", exposition collective à la Fondation Villa Datris de l'Isle-sur-la-Sorgue avec la Galerie Wagner
2022 :  La couleur en mouvement, Galerie Wagner, Paris
Comme un fleuve qui déborde, Topographie de l'art, Paris (FRA)
SP-Arte avec Dan Galeria, Bienal Pavilion, Sao Paulo (BRA)
Cinétique – La Sculpture En Mouvement, Espace Monte-Cristo, Paris (FRA)
Art Paris Art Fair avec la Galerie Lélia Mordoch (Paris / Miami), Grand Palais Éphémère, Paris
Craft.3.0, 1535° Creative Hub, Differdange (LUX)
Repetitions, The Mayor Gallery, Londres (UK)
ZONA Maco avec le Mobilier national, Mexico (MEX)
Paysage Paris Saclay, Carré à la Farine, Versailles (FRA)
2021 : Libres comme l'art, Espace Niemeyer, Paris (FRA)
Dans un nuage de pixels – Miguel Chevalier et A+A Cooren, La Biennale, Grand Palais Ephémère, Paris (FRA)
Art Collectors, Château d'Aunoy, Champeaux (FRA)
Re Wild – De la nature à l'oeuvre, Château de Rochefort, Rochefort-en-Yvelines (FRA)
Art Paris Art Fair, Grand Palais Ephémère, Paris (FRA)
Art cinétique et art digital, Galerie Mordoch, Paris (FRA)
Flowers in art, ARKEN Museum for Moderne Kunst, Ishøj (DNK)
Paris Saclay- Paysages, Opéra de Massy, Massy (FRA)
Paris Saclay- Paysages, Château du Val Fleury, Gif-sur-Yvette (FRA)
Paris Saclay- Paysages, Espace Allende, Palaiseau (FRA)
Bijoux d'artistes – De Picasso à Koons – La collection de Diane Venet, Grimaldi Forum, Monaco
Sur les chemins du paradis, Les Franciscaines, Deauville (FRA)
Sculpture en fête ! L'exposition des 10 ans de la collection Fondation Villa Datris, Fondation Villa Datris, L'Isle-sur-la-Sorgue (FRA)
2020 :  Art Paris Art Fair avec la Galerie Lélia Mordoch, Grand Palais, Paris (FRA) Gainsbourg
Dali, forever, Galerie Boa, Paris (FRA)
Immaterial/Re-material: A brief history of computing art, UCCA – Ullens Center for Contemporary Art, Pékin (CHN)
2019 : Illusionary Nature – Digital Worlds, Museum Sinclair-Haus, Bad Homburg (GER)
GAINSB'ART et caetera, Art to be Gallery, Lille (FRA)
Quatre petits points, Galerie Edouard Escougnou, Paris (FRA)
Art Elysées avec la Galerie Mordoch, Pavillons sur les Champs-Élysées, Paris (FRA)
Cinétisme, Abstraction, Figuration, Galerie Lélia Mordoch, Paris (FRA)
Post Shadows, Galerie Italienne, Paris (FRA)
MUTATIO, Garage Amelot, Paris (FRA)
Group show, Podgorny Robinson Gallery, Saint-Paul-de-Vence (FRA)
Desviaciones, Museo Provincial de Fotografia, Palacio Dionisi, Cordoba (ARG)
Diálogo entre sentidos: el viaje del arte perceptivo entre América y Europa, Museo del Canal Interoceánico de Panamá (PAN)
FairForSaatchi, avec The Mayor Gallery (Londres), Saatchi Gallery, Londres (UK)
Shadows, Galerie Italienne, Paris (FRA)
Arte Botanica-Regards d'artistes contemporains, Domaine de la Roche Jagu, Ploëzal (FRA)
Art Paris Art Fair, avec la Galerie Mordoch, Grand Palais, Paris (FRA)
TEFAF Maastricht, avec The Mayor Gallery (Londres), Maastricht (NLD)
Montluçon Art Mobile, Fonds d'art moderne et contemporain, Montluçon (FRA)
SP-ARTE, avec Dan Galeria, Bienal Pavilion, Ibirapuera Park, Sao Paulo (BRA)
2018 : Forces et Mouvements, Galerie François Léage, Paris (FRA)
Tech effect, Cornell Art Museum, Delray Beach (USA)
Art Elysées, avec la Galerie Lélia Mordoch (Paris/Miami), avenue des Champs Elysées, Paris
Art in Motion. 100 Masterpieces with and through Media. An Operative Canon, ZKM, Karlsruhe (GER)
Pistils & Pixels – Regards Mixés entre les collections du musée Ingres, du muséum Victor Brun et de la Mémo et les œuvres de Miguel Chevalier, Médiathèque Mémo, Montauban Artistes & Robots, Grand Palais, Paris (FRA)
Al Musiqa, Philharmonie de Paris (FRA)
Bains Numériques, biennale internationale des arts numériques, La Serrurerie, Enghien-les- Bains (FRA)
TEFAF Maastricht, avec The Mayor Gallery, Maastricht (NLD)
Schöffer et ses amis d'aujourd'hui, La Ville A des Arts, Paris (FRA)
De Nature en Sculpture, Espace Monte-Cristo – Fondation Villa Datris, Paris (FRA)
De Calder à Koons, bijoux d'artistes. La collection idéale de Diane Venet, musée des Arts décoratifs (Paris)
Clouzot et les arts plastiques: une suite contemporaine, LUX Scène nationale, Valence (FRA)
New lights – Dialogue entre les éclaireurs du XVIIIe siècle et de l'Art contemporain, Galerie François Léage, Paris (FRA)
Art Paris Art Fair, avec la Galerie Mordoch (Paris/Miami), Grand Palais, Paris (FR)
2017 : Clouzot et les arts plastiques: une suite contemporaine, Topographie de l'Art, Paris (FRA)
Artists & Robots, Contemporary Art center, Astana (KAZ)
The Monaco Masters Show, Opera Gallery, Monaco (MC)
Collector's cabinet, Puerta Roja Gallery, Hong Kong (HK)
Hortus 2.0, Musée Louis Vouland, Avignon (FRA)
De Nature en Sculpture, Villa Datris, L'Isle-sur-la-Sorgue (FRA)
Abstract X ed2, Galerie Aeroplastic, Bruxelles (BEL)
Washington 186, AEROPLASTICS contemporary, Bruxelles (BEL) Destiny, Galerie LMS, Bruxelles (BEL)
Comme une fleur, Centre Culturel Aragon, Oyonnax (FRA)
DATACITY, Centre des arts, Enghien-les-Bains (FRA)
Géométrie dans l'espace, Topographie de l'art, Paris (FRA)
Tefaf, avec The Mayor Gallery, Maastricht (NLD)
Art Paris Art Fair, avec la Galerie Lélia Mordoch, Grand Palais, Paris (FRA) Kinetic Fields, Opera Gallery, New York (USA)
IconoMania, Maif Social Club, Paris (FRA)
Gainsbourg still alive, Maison de ventes Cornette de Saint Cyr, Paris (FRA)
La ligne d'ombre parfois se brise, Galerie Lélia Mordoch, Paris (FRA)
2016 : Red desert, Galerie Artvera's, Genève (CHE)
Scope Miami Beach, avec la Galerie Lélia Mordoch, Miami (USA)
Réseaux et Intéractions, Cramif, Paris (FRA)
L'Im-matériel, Galerie Episodique, Paris (FRA)
BAM Festival, Caserne Fonck, Liège (BEL)
Impression 3d, L'usine du futur, Lieu du Design, Paris (FRA)
Art Elysées, avec les galeries Lélia Mordoch, Scène Ouverte et Minimasterpiece, Champs Elysées, Paris (FRA)
Poésie Fractale, Galerie Scène Ouverte, Saint-Ouen (FRA)
Intangible Space – Miguel Chevalier et Laurent Martin "Lo", Puerta Roja Gallery, Hong Kong, (HK)
Les off Art & Design Végétal, Parcours "Vert" du Festival D'Days, Galerie VIA, Paris (FRA)
Les Lumières de la Ville, Galerie Lélia Mordoch, Paris (FRA)
2015 : 2050 – Une brève histoire de l'avenir, Musées royaux des Beaux-Arts de Belgique, Bruxelles (BEL)
Bonjour la France, Goyang AramNuri Arts Center, Goyang (KOR)
Bonjour la France, Seongnam Arts Center, Seongnam City (KOR)
Jewellery made by contemporary artists, Ventana Contemporary, Ibiza (ESP)
Art Elysées, avec la Galerie Lélia Mordoch, Champs Elysées, Paris (FRA)
Harper's Bazaar Art Jakarta, avec la Galerie Puerta Roja, Ritz Carlton, Jakarta (IDN)
Sydney Contemporary, avec la Galerie Puerta Roja, Carriageworks, Sydney (AUS)
Dacryl – matière à création, showroom Dacryl, Paris (FRA)
Archi-Sculpture – Hommage à Tristan Fourtine, Villa Datris, L'Isle sur la Sorgue (FRA)
Art Paris Art Fair, avec la Galerie Lélia Mordoch (Paris), Grand Palais, Paris (FRA)
Art Central Art Fair, avec la Galerie Puerta Roja (Hong Kong), Hong Kong
L'Origine du Monde, iNuit, Visages du Monde, Cergy (FRA)
2014 : Digital Arabesques, Al Majaz waterfront, Islamic Art Festival, Sharjah (EAU)
Magic Carpets, Festival Castel dei Mondi, Castel del Monte, Andria (ITA)
L'Origine du Monde, Le Bellevue, Biarritz en Lumière, Biarritz (FRA)
The Art of Infinity, Lelia Mordoch Gallery, Miami (USA)
Metamorphosis of the Virtual, K11 Art Foundation, Shanghai (CHN)
Art Elysées, avec la Galerie Lélia Mordoch, Pavillon sur les Champs Elysées, Paris (FRA)
Autres Natures, Domaine de Chaumont-sur-Loire (FRA)
L'Origine du Monde, façade du Grand Palais, avec la Galerie Louise Alexander, Art Paris Art Fair, (FRA)
Unpainted, media art fair, avec la Galerie Louise Alexander, Postpalast Munich (GER)
Korea International Art Fair, with Puerta Roja Gallery, Seoul (KOR)
AD intérieurs, Décors à vivre, Musée des Arts Décoratifs, Paris (FRA)
L'Origine du Monde, performance acoustique et visuelle avec Pascal Contet, Festival Nuits de Nacre, Tulle (FRA)
Festival a-part, Baux-de-Provence (FRA)
L'Origine du Monde, performance acoustique et visuelle avec Pascal Contet, Festival Tons Voisins, Albi (FRA)
PAD – Art and Design, avec la Galerie Priveekollektie, Jardin des Tuileries, Paris (FRA)
2013 : Homage to Denise René, Espace Expression, Miami (USA)
Les Métamorphoses du Virtuel – 100 ans d'art et de liberté, Officina delle Zattere, Venise (ITA)
Art Paris Art Fair, avec Louise Alexander Gallery, Sem-art Gallery, Grand Palais, Paris (FRA)
PAD Paris, avec Priveekollektie Gallery (NLD), Jardin des Tuileries, Paris
Retrospective Auguste Herbin, Musée d'Art Moderne, Céret (FRA)
Turbulences II, Fondation Boghossian – Villa Empain, Bruxelles (BEL)
Libérons la fleur ! Galerie Martine et Thibault de la Châtre, Paris (FRA)
Cabinet Da-End 03, Galerie Da-end, Paris (FRA)
Bijoux d'Hommes, Galerie MiniMasterpiece, Paris (FRA)
Picasso to Koons: Artist as Jeweler (cat.), Bass Museum of art, Miami (USA)
2012 : Retrospective Auguste Herbin, Musée Départemental Matisse, Cateau Cambrésis (FRA)
Art Miami, with Gallery Priveekollektie (NLD), Miami (USA)
Turbulences, Espace culturel Louis Vuitton, Paris (FRA)
Mouvement et lumière, Villa Datris, L'Isle-sur-la-Sorgue (FRA)
2011 : La peur de la couleur, Galerie Perimeter, Paris (FRA)
PAD Paris, avec la Galerie Perimeter et la Galerie Priveekollektie, Jardin des Tuileries, Paris Picasso to Koons: Artist as Jeweler (cat.), Benaki Museum, Athènes (GR)
Salon du livre, avec les Editions Arichi, Paris (FRA)
Art Miami, with Gallery Priveekollektie (NLD), Miami (USA)
Picasso to Koons: The Artist as Jeweler (cat.), Museum of Art and Design, New-York (USA)
Festival La Novela, Musée Les Abattoirs, Toulouse (FRA)
Nuit Blanche, East – Slovakian Gallery Kosice, Kosice (SVK)
Arte Cibernética, Itaú Acervo Usina do Gasômetro, Porto Alegre (BRA)
Les Manufactures, Hôtel de l'industrie, Paris (FRA)
Rêve d'éternité, Villa Empain, Bruxelles (BEL)
Sculptures plurielles, Fondation Datris, L'Isle-sur-la-Sorgue (FRA)
Art Basel / Design, Gallery Priveekollektie (NLD), Bâle (CHE)
arteBA 2011, avec la Galerie Debbie Friedman, Buenos Aire (ARG)
Festival AP'art, Domaine de Pierredon, Saint-Rémy-de-Provence (FRA)
Amicalement vôtre – Joël Ducorroy, Gallery Baudoin Lebon, Paris (FRA)
Drawing Now Paris l Suite…, Paris (FRA)
PAD, 15e Pavillon des Arts et du Design, Gallery Priveekollektie (NLD), Tuileries, Paris (FRA)
Au Fil du Jardin, Bry-sur-Marne (FRA)
Art Amsterdam, avec la Galerie Priveekollektie (NLD), Amsterdam, (NLD)
Adamà. Cantica per la terra, PaRDeS – Laboratorio di Ricerca D Arte Contemporanea, Mirano (IT)
Sentiers de la sculpture, Saint-Tropez (FRA)
Au doigt et à l'oeil. Chroniques informatiques, Centre culturel Nicolas Peiresc, Toulon (FRA)
Passagen, Interior Design Week Koln, Design Quartier Ehrenfeld, Cologne (GER)
2010 : More Light! Miguel Chevalier and Dieter Lutsch, Association for Culture and Education KIBLA, Maribor (SNV)
Living Codes, PaciArte contemporary, Brescia (IT)
Frimousses de Créateurs pour l'Unicef, Petit Palais, Paris (FRA)
A Light Odyssey, Galerie Messine, Paris (FRA)
Le grand Pari(s) de l'art contemporain, Abbaye de Maubuisson, Saint-Ouen-l'Aumône (FRA)
D'Amour et de Vie, la passion, origine de toute création, Centre Culturel de l'Ambassade d'Ukraine en France, Paris
Art Elysées, Galerie Messine (Paris), Champs Elysées, Paris (FRA)
Digital Nights, Singapore Art Museum, Singapore (SG)
Chic Art Fair, Galerie Barnoud (Dijon), Docks en Seine, Paris (FRA)
Sur-Natures, 25 ans de la Géode, Paris (FRA)
Emotif pixel, Agence LCL, Nice (FRA)
Fleurs plastiques, Fête de l'Eau, Wattwiller (FRA)
Manimal, Musée d'art contemporain d'Herzliya, Herzliya (IL)
Historical present and future, Priveekollektie Contemporary Art | Design, Heusden aan de Maas (Netherlands)
Art Brussels, avec la Galerie Suzanne Tarasiève (Paris), Bruxelles (BEL)
Map Out, Loft 19 de la Galerie Suzanne Tarasiève, Paris (FRA)
Hold the line, Galerie Seine 51, Paris (FRA)
Géométrie hors limites. Collection Jean et Colette Cherqui, Maison de l'Amérique Latine, Paris (FRA)
2009 : Dialogue avec les collections #2 – paysage/vidéo, Musée d'Art de Toulon (FRA)
Inside, art and science, La Cordoaria, Lisbonne (POR)
Slick 09, Galerie Barnoud (Dijon), 104, Paris Herbarius 2059, Salon international du livre Ancien, Grand Palais, Paris (FRA)
On a marché sur la terre, Centre d'art de l'Yonne, Commun du château de Tanlay (FRA)
Flower Power, Centre d'art Villa Giulia / CRAA – Centre Recherche Art Actuelle, Verbania (ITA)
2008 : La Poste inspire les artistes, Musée de la Poste, Paris (FRA)
Slick 08, avec la Galerie Numeriscausa (Paris) et la Galerie Barnoud (Dijon), 104, Paris Pixels Liquides, installation interactive Festival des Bains Numériques # 3, Centre des art d'Enghien-les-Bains (FRA)
Ultra-Natures, Emoção Art.ficial 4.0, Centro Cultural Itaú, São Paulo (BRA)
Digital Screen Show, Château d'Auvers-sur-Oise (FRA)
2007 : Jardins demain, Hôtel de ville, Paris (FRA)
Natural Digital, Fondation Vasarely, Aix-en-Provence (FRA)
Dialogues méditerranéens, citadelle, Saint-Tropez (FRA)
Sur-Natures, Nuit Blanche, rue des trois cailloux, Amiens (FRA)
Ultra Nature, Glow Festival : forum of light in art and architecture, Eindhoven (NLD)
Il était une fois…, Galerie Numeriscausa, Paris (FRA)
2006 : Art Paris, avec les Editions Paul Bourquin et Thinking Prints, Paris (FRA)
Digital Paradise, Espaces Transitoires, Galerie Paris Sud, Cachan (FRA)
Flux végétal (cat.), Galerie Delacroix, IFT, Tanger (MA)
Art Brussels, avec la Galerie Suzanne Tarasiève, Bruxelles (BE)
MACO Mexico avec la Galerie Suzanne Tarasiève, Mexico (ME)
51ème Salon d'Art Contemporain de Montrouge, artiste invité, Montrouge (FRA)
Art and playing – Funsters (cat.), Seoul Arts Center, Seoul (KOR)
Des artistes en leur monde, Drouot-Montaigne, Paris (FRA)
Paradis artificiels, dans le cadre des rencontres des arts visuels, Larodde (FRA)
Sur-natures, centre culturel Saint-Exupéry festival Chemins numériques, Reims (FRA) FIAC, avec la Galerie Suzanne Tarasiève, Paris (FRA)
SLICK contemporary art fair, avec la Galerie Numericausa, Paris (FRA)
2005 :  Sur le fil, Biche de Bere Gallery, Paris (FRA)
Portraits de Femmes de la Bible (cat.), Galerie Nikki Diana Marquardt , Paris (FRA)
Du politique au cosmique : voyages dans l'espace-temps, MK2, Paris (FRA) Cartographies
Paysages, Galerie Akié Arichi, Paris (FRA)
1er contact (cat.), Le Cube, Ville d'Issy-les-Moulineaux, (FRA)
Art Paris, avec les Editions Paul Bourquin, Paris (FRA)
Art Brussels, Suzanne Tarasiève et Galerie Art of this Century, Bruxelles (BE)
ça ne se représentera plus, Galeries du Cloître, Ecole des beaux-arts, Rennes (FRA)
Natural / Digital, Biche de Bere Gallery, Paris (FRA)
Art Numérique, Musée de Saint Brieuc, Saint Brieuc (FRA)
L'algorithme pixelisé, Une Nuit d'Art-ventures 2005, place Saint-Sulpice, Paris (FRA)
Sur-Natures, Nuit Blanche, façade 171 rue du Chevaleret, Paris (FRA)
+ – Dense, Galerie du Petit Château, Sceaux (FRA)
FIAC , Galerie Suzanne Tarasiève, Paris (FRA)
L'original multiple, Bibliothèque nationale de France, Paris (FRA)
Digital Paradise (cat.), Daejeon Museum of Art Gallery, Daejeon (KOR)
ElectoScape (cat.), Zendai Museum of Modern Art, Shanghai (CHN)
Sur-Natures, Festival Arborescence, Aix-en-Provence (FRA)
Flux végétal (cat.), Espace d'art Actua d'Attijariwafa bank, Casablanca (MA)
2004 : Magie numérique (cat.), Centre culturel Aragon, Oyonnax (FRA)
Vidéos séquence, Maison des Arts, Malakoff (FRA)
Inkjet, galerie Box, Ostende (BE)
Arborescence 04, Ecole Supérieure d'Art d'Aix, Aix-en-Provence (FRA)
Art Brussels, avec la Galerie Suzanne Tarasiève, Bruxelles (BE)
De leur temps (cat.), Musée des Beaux-Arts, Tourcoing (FRA)
FIAC, avec la Galerie Suzanne Tarasiève, Paris (FRA)
Art Paris, avec les Editions Paul Bourquin, Paris (FRA)
De leur temps. Collections privées françaises (cat.), ADIAF, Musée des Beaux-Arts, Tourcoing (FRA)
D'une image qui ne serait pas du semblant – La photographie écrite. 1950-2005 (cat.), Passage de Retz, Paris (FRA)
RIAM 01 – Rencontres Internationales des Arts Multimédia, Galerie SMP, Galerie RLBQ, Marseille (FRA)
Galerie Suzanne Tarasiève, Art Brussels, Bruxelles (BE)
2003 : Collection – Etape 01 (cat.), Musée d'Art Contemporain Val de Marne, Vitry (FRA)
Hybride Art – Codes – Barres (cat.), Musée Français de la Carte à Jouer, Issy-les-Moulineaux (FRA)
L'invention du monde, Centre Georges Pompidou, Paris (FRA)
Space Art (cat.), festival d'art numérique Outsiders, Maison Européenne de la Photographie, Paris (FRA)
L'Art emmêlé (cat.), Hôtel de Ville, Paris (FRA)
Les matériaux de la sculpture (cat.), Musée de l'Arles et de la Provence Antique, Arles (FRA)
2002 51 artistes éditées par Eric Linard, Espace Saint Louis, Avignon (FRA)
Campus Euro(pe) Art (cat.), Université Paris X, Nanterre (FRA)
In port in situ, Château-Musée, Boulogne sur Mer (FRA)
La force de l'esprit (cat.), Espace Pierre Cardin, Paris (FRA)
Les Centaures – La collection (cat.), Château-Musée, Boulogne sur Mer (FRA)
2001 : Le mois des arts actuels, Espace Lino Ventura, Torcy (FRA)
10 ans (cat.), Centre d'art contemporain Bouvet Ladubay, Saumur (FRA)
Joint venture (cat.), AT Kearney, Paris (FRA)
Acquisitions 2000 (cat.), Fonds départemental d'art contemporain Val de Marne, Créteil (FRA)
Paysages aleatoires, Galerie Eof, Paris (FRA)
Mondial (cat.), Grimaldi Forum, Monaco (MC)
2000 : Exposition fractale, Galerie Kahn, St'art 2000, Strasbourg (FRA)
Les 100 sourires de Monna Lisa (cat.), Metropolitan Art Museum, Tokyo (JPN)
Mémoires & mutations, Institut français d'architecture, Paris (FRA)
Cette culture qui vient de la rue (cat.), curator Pierre Restany, Galerie municipale, Vitry-sur- Seine (FRA)
Aller-Retour, Biennale Internationale 2000 de Gwangju (KOR)
Le temps fractal (cat.), curator HF Debailleux, Galerie Renos Xippas, Paris (FRA)
Machins Machines, Donjon de Vez, Vez (FRA)
Narcisse blessé (cat.), Passage de Retz, Paris (FRA)
Images furtives (cat.), Abbaye du Ronceray, Angers (FRA)
ISEA 2000, Espace Landowski, Boulogne-Billancourt (FRA)
1999 : L'Estampe en France (cat.), Cultural center inter-american development bank, Washington (USA)
Le Phare, Salon du Meuble, Paris (FRA)
Mc Donald's vu par …, La Danse des Pixels, Galerie des Pas Perdus, Gare Saint Lazare, Paris (FRA)
Fractalisations (cat.), Villa Tamaris, La Seyne-sur-Mer (FRA)
Projections franco-polonaises (cat.), Tower Building, Lodz (POL)
1899 – 1999 Le Passage du Siècle, Passage de Retz, Paris (FRA)
Pacaembù – Uma réplica planetaria para a cidade/mundo de Sao Paulo (cat.), Oficina Cultural Oswald de Andrade, Sao Paulo (BRA)
Virtuel Réel, Espace Paul Ricard, Paris (FRA)
Art Fractal, Centre Culturel Français, Torino et Mulino Poirino, Poirino (ITA)
Fractalisations II, Abbaye du Ronceray, Angers (FRA)
Les Nuits Savoureuses (cat.), festival d'arts multimédia urbains, Belfort (FRA)
1998 : Zoom (fractal) (cat.), Visual arts gallery at Purchase college – State University, New York (USA)
80 artistes autour du Mondial (cat.), Galerie Enrico Navarra, Paris (FRA)
Fétiches, fétichismes (cat.), Passage de Retz, Paris (FRA)
Arts vidéo et nouvelles technologies, Festival Vidéoformes 98, Clermont-Ferrand (FRA)
1997 : Magie der zahl (cat.), Staatsgalerie, Stuttgart (AL)
Fractal art (cat.), Espace Paul Ricard, Paris (FRA)
Aparté 2, Ecole des beaux-arts dans divers hôtels de la ville, Reims (FRA) Art fractal (cat.), Espace Mabel Semmler, Paris (FRA)
Rencontres arts électroniques, Ecole régionale des beaux-arts, Rennes (FRA)
1996 : La Ville moderne en Europe 1870-1996, Museum of contemporary art, Tokyo (JPN)
Electra 96 (cat.), Henie Onstad kunstsenter, Hovikodden (NOR)
Vous avez dit Fractal ?, Musée, Uzés (FRA)
La Plastica come materiale nobile, Studio Lattuada, Milano (ITA)
Vision quest 1996, Beijing International Center, Pékin (CHN)
1995 :  Printemps de Cahors (FRA)
Espace d'art Yvonamor Palix, ARCO 1995, Madrid (ESP)
Papiers à lettres, le Musée de la Poste, Galerie d'Orsay, Paris (FRA)
1994 : La Ville (cat.), Centre Georges Pompidou, Paris (FRA)
Arte in Francia 1970-1993 (cat.), Galleria comunale d'arte moderna, Bologna (ITA)
L'Art à la plage (cat.), Galerie Navarra, Saint-Tropez (FRA)
Espace d'art Yvonamor Palix, FIAC 94, Paris (FRA)
Logo and non logo (cat.), Thread waxing space gallery, New York (USA)
Icono. L'Image de synthèse point par point, Le Grand Hornu, Mons (BEL)
Figures d'origines (cat.), Chapelle Saint-Louis de la Salpétrière, Paris (FRA)
Mutations de l'image (cat.), Vidéothèque, Paris (FRA)
1993 : Procédures, Ecole nationale des beaux-arts, Paris (FRA)
Excess in the technomediacratic society (cat.), Shoshana Wayne Gallery, Santa Monica (USA)
10 ans d'édition 1982 / 1992, Fort Napoléon, La Seyne-sur-Mer (FRA)
Compkuenstlerg, Künstlerwerkstatt computerunterstützte kunst, München (AL)
1992 : Variaciones en Gris (cat.), Centro cultural de la Villa, Madrid (ESP)
Epreuves numériques, Centre national de la photographie, Paris (FRA)
Excess in the techno mediacratic-society (cat.), Musée, Arbois (FRA)
Parallèle, Galeria Yvonamor Palix, Madrid (ESP)
Art & industrie (cat.), Musée des beaux-arts, Nantes (FRA)
Variations Gitanes (cat.), Grande Halle de la Villette, Paris (FRA)
Objets d'artistes, Galerie Krief, Paris (FRA)
Rencontres d'art multimédia (cat.), Château de l'Eglantine, Jouy-en-Josas (FRA)
Oltrefoto (cat.), Museo Ken Damy, Brescia (ITA)
Olimpicos 92 (cat.), Palau Moya, Barcelona (ESP)
1991 : La Photographie comme objet (cat.), Galerie Ghislave, Paris (FRA)
Les Couleurs de l'argent, Musée de la Poste, (cat.), Paris (FRA)
Lapis (cat.), Centro d'Arte, Taormina (ITA)
Art 3000 (cat.), Centre Georges Pompidou, Paris (FRA)
Châssis sérigraphiques, Galerie Isabelle Bongard, Paris (FRA)
FIAC, avec la Galerie Jade, Paris (FRA)
La 5ème Nuit des jeunes créateurs, Palais des Congrès de Paris, Paris (FRA)
Echt falsch (vraiment faux) (cat.), Museum Villa Stuck, München (AL)
1990 : Vidéo art plastique 90 (cat.), Centre d'art contemporain, Hérouville St-Clair (FRA)
Acquisitions du FNAC, Centre national des arts plastiques, Paris (FRA)
Galerie Jade, International art exposition, Chicago (USA)
V.I.P. – Vidéo, images, peinture (cat.), Galerie du Génie, Paris (FRA)
L'Art décodé (cat.), Galerie Stéphane de Beyrie, Paris (FRA)
Galerie Jade, International art fair, Basel (CHE)
Galerie Jade, International art fair, Frankfurt (AL)
La Vidéo casse le Baroque, Centre Wallonie-Bruxelles, Paris (FRA)
Itinéraire 90 (cat.), Hôtel de Ville, Levallois-Perret (FRA)
Parcours d'images (cat.), Galerie art & essai, Rennes (FRA)
Salon Jeune peinture (cat.), Grand Palais, Paris (FRA)
Art & publicité 1890-1990 (cat.), Centre Georges Pompidou, Paris (FRA)
1989 : Frontières (cat.), Galerie Le Chanjour, Nice (FRA)
Nos années 80 (cat.), Fondation Cartier, Jouy-en-Josas (FRA)
Dedans, dehors (cat.), Espace Jules Vernes, Brétigny-sur-Orge (FRA)
Fictions (cat.), Curator Jérome Sans , Aéroport international de Montréal Mirabel et Galerie Aubes 3935, Montréal (CAN)
Mec-Art-Techno-Pub, Galerie Krief et Galerie Le Chanjour, Paris et Nice (FRA)
Galerie Jade, FIAC 89, Paris (FRA)
Game over, Festival Tucano Art, Rio de Janeiro (BRA)
Vidéo art plastique 89 (cat.), Centre d'art contemporain, Hérouville St-Clair (FRA)
Estampes à Royaumont, Galerie L'Autre côté, Paris (FRA)
1988 :  Galerie Charles Cartwright, Salon des Indépendants (cat.), Paris (FRA)
Ateliers 88 (cat.), ARC Musée d'art moderne de la Ville, Paris (FRA)
Le Combat des images (cat.), Centre d'art contemporain, Montbéliard (FRA)
Galerie Jade, International art fair, Basel (CHE)
La Photo à la rescousse de l'art, Centre d'art du Lubéron, Apt (FRA)
Le Chiffre. Multiples approches du chiffre dans l'art contemporain 1960 – 1988 (cat.), Carré des arts, Parc Floral, Paris (FRA)
Accrochage avec Claude Rutault, Espace art & cie (bosser/Tournereau), Paris (FRA)
Studio de l'ARC (cat.), Rencontres internationales de photographie, Arles (FRA)
Galerie Jade, FIAC 88, Paris (FRA)
Art & sport (cat.), Granit Centre d'art contemporain, Belfort (FRA)
Vidéo art plastique 88 (cat.), Centre d'art contemporain, Hérouville St-Clair (FRA)
Video arte (cat.), Institut français, Santiago du Chili (CHL)
L'Art vidéo (cat.), Musée du Château, Montbéliard (FRA)
Le Mouvement dans l'art (cat.), Musée municipal, Saint-Cloud (FRA)
Les 101 Communes de l'art – L'Eté du territoire (cat.), Maison des arts, Belfort (FRA)
1987 : Festival des arts électroniques, Rennes (FRA)
1986 : Images du futur – sélection internationale, Cité des arts et des nouvelles technologies, Montréal (CAN)
ACM Siggraph (cat.), Dallas (USA)
Trans-culture, Exit art gallery, New York (USA)
Nouvelles images, Grande Halle de la Villette, Paris (FRA)
Festival des arts électroniques, Rennes (FRA)
Festival de l'image et de l'informatique, Montreuil-sous-Bois (FRA)
FAUST – Forum des arts de l'univers scientifique et technique, Toulouse (FRA)
1984 : Galerie de l'ENSBA, Grande Masse, Paris (FRA) Columbus Circle, New York (USA)
1983 : Institut français, London (GBR)
1982 : Galerie de l'Ecole nationale supérieure des beaux-arts, Paris (FRA)