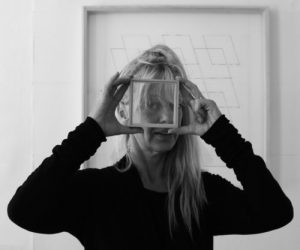 Born in Krommie (Netherlands) in 1961
Self-taught artists
Lives and works in Amersfoort (Netherlands)
The close connection between simplicity and complexity.
Anneke Klein Kranenbarg's work is defined by  the importance it gives to sight. The act of looking is so elementary that the visual perception of our surroundings seems to be given, so much so that we are not even conscious of it anymore.
Anneke Klein Kranenbarg's work wants to break away from what seems to be obvious. Through her compositions, she studies basic shapes such as squares and rectangles that she decomposes in order to obtain a new construction, a new shape. In order to do that, she uses black or red thread, see-through glass plates and layers. The threads are stretched or under the plate that they perforate to come back together. For the spectator that moves around the object, the effect is that of a subtle sliding of lines towards other configurations of two or three dimensional shapes.
The artist thus unites obvious contrast in one work. From this coherence between two and three dimensionality, simplicity and complexity, rises a very peculiar visual tension. This is where Anneke's fascination stands. Her research aims to render sensible this opposition. The effect of light and shadow is often determined for the spatial emergence of shapes.
Monique Groot, journalist and art historian.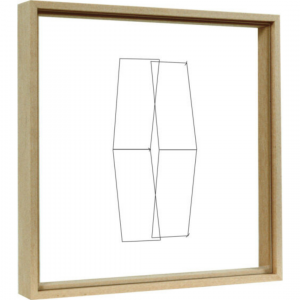 Quatre quadrilatères 508, 2020
Wire, Plexiglas and wood frame
25 x 25 x 3,5 cm
Unique piece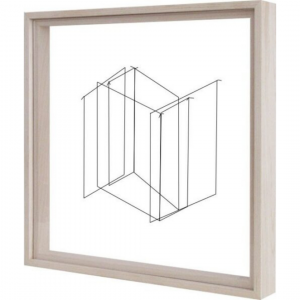 Renversements 745, 2020
Wire, Plexiglas and wood frame
25 x 25 x 3,5 cm
Unique piece
Main exhibitions
2023 : "-,=,+,"  Galerie Wagner, Paris
Salon Art Karlsruhe, avec la Galerie Wagner, Allemagne
2022: Drawing Now Art Fair, avec la Galerie Wagner, Paris, France
2021 : Exposition collective « Mesures/Démesures #2″, Galerie Wagner, Paris, France
2020 : Galerie Leonhard, Graz (AT)
KCB Bergen, Museum Kranenburgh, Bergen N-H (NL)
2019 : Gruppenausstellung GOMRINGER! von 27 Kunstler_innen im Museum der Wahrnehmung MUWA , Graz (AT)
Biennale internationale d'art non objectif de la ville de Pont de Claix (F)
Move-d , Pulchri Den Haag (NL)
Zutphen Concreet, Bolwerk (NL)
Frauenmuseum Bonn, RATIONALE 4 Bauhaus 1919-2019 'ïnnenraum » (D)
Saxon art gallery, budapest (H)
2018 : Gallery Broft, Leerdam (NL)
4th International Scientific and Artistic Conference     geometry in discourse – discourse in geometry titled COMPLEXITY (P)
Kunstkontor-Nurnberg, Nurnberg (D)
Kunstraum Roy, Kunnersdorf (D)
2017 : IKKP Kunsthaus Rehau (D)
De spanning van de lijn
Galerie Franzis Engels, Amsterdam (NL)
17 visies geometrische kunst, Galerie T Middelburg (NL)
Art Karlsruhe,Galerie Franzis Engels, Amsterdam (DE)
Kunstraum Roy, Kunnersdorf (D)
2016 : KCB Museum Kranenburgh, 'Terz'' Bergen NH (NL)
Musées de Châteauroux, F-Châteauroux (F)
"Rhythme et Géométrie
2015 : Galerie leonhard, Graz (AT)
Galéria Umelka, Bratislava (CZ)
Tatranská galéria, Poprad.(SK)
Gallery of Fine Arts, Ostrava (CZ).
Kunstlijn, Haarlem (NL)
2014 : Gallery nine (9), Amsterdam (NL)
nl konkret ,Kunstverein Langenveld (D)
Gruppe Konkret Kunstlerforum Bonn(D)
solo – Museum der Wahrnehmung, Graz (AT)
Galeria EL, Elblag (P)
Concreet Nu, Terra Art Projects Zoetermeer (NL)
International Mobile MADI Museum VÁC, (H)
2013 : Pulchri, Den Haag (NL)
Eulengasse, Frankfurt am main (D)
Centrum Voor Constructivime Den Heeck, Bornem (B)
Gallery 9 Kunstrai, Amsterdam (NL)
Galerie Konkret, Sulzburg (D)
Gallery 9, RAW rotterdam, (NL)
2012 : MG.Art, Zeebrugge (B)
Galerie La Ligne, Zurich (CH)
Galerie für Zeitgenossische Kunst, Bamberg (D)
KunstRai, Gallery Nine (9), Amsterdam (NL)
Russisches Haus der Wissenschaft Kultur, Berlijn (D)
De Vishal, Haarlem (NL)
2011 : Gallery Nine (9), Amsterdam (NL)
Galerie Conny van Kasteel, Egmond aan Zee (NL)
Centre d'art contemporain Frank Popper, Marcigny (F)
Museum Modern Art, Hünfeld (D)
Marine gallery , Zeebrugge (B)
"Bring your own" (BYO) at IS-Projects , Leiden (NL)
Galeria El , Elblag (PL)
National Museum, Kielce (PL)
2010 : Kunsthaus, Nurnberg (D)
Kadmium, constructivisten nu, Delft (nl)
Kunsthaus IKK, Rehau (D)
Kunstverein 'Talstrasse' Halle an der Saale (D)
Galerie Konkret, Sulzburg (D)
Stadtischen Galerie im Flachsgasse , Speyer (D)
Artantique, Gallery Nine (9), Utrecht (NL)
Musees de Sens, Sens (F)
Museum van Lien , Fijnaart (NL)
2009 : Galerie Konkret, Sulzburg (D)
Museum of Geometric and Madi Art, Dallas (USA)
Gallery: 9022 Gyõr (H)
St.Joseph galerie, Leeuwarden (NL)
Galerie Conny van kasteel, Egmond aan Zee (NL)
Künstverein Walkmuehle, Wiesbaden (D)
B55 Contemporary Art Gallery, Budapest (H)
Art Amsterdam Gallery Nine (9), (NL)
Museum Waterland , Purmerend (NL)
Museum Castelnuovo, Napels (I)
2008 : Galerie 15a, Lochem (NL)
Galerie Konkret im Kunsthaus, Rehau (D)
St.Joseph galerie, Leeuwarden (NL)
Museum Modern Art, Hünfeld (D)
Galerie Conny van Kasteel, Egmond aan zee (NL)
Arte Structura, Citta di Desenzano de Garda (I)
Gallery nine, Amsterdam (NL)
2007 : Galerie Konkret, Sulzburg (D)
Mobil Madi Museum, Budapest (H)
Galerie Conny van Kasteel, Egmond aan zee (NL)
Museum Modern Art, Hunfeld (D)
2006 : Künstlerforum, Bonn (D)
Museum Kranenburgh, Bergen N-H (NL)
concreet' Galerie achter de zuilen, Overveen (NL)
KCB, Bergen N-H (NL)
Moscow Museum of Modern Art, Moskou (RU)
Universiteit Twente 'De Verhouding Qua Art Qua Science, Enschede (NL)
Artonivo Art unlimited, Brugge België /Galerie Conny van Kasteel (B)
Kunstruimte 09, Groningen (NL)
Gallery nine, Amsterdam (NL
2005 : Veldwerk « stroming », Zaanstad (NL)
Kunstruimte 09, Groningen (NL
Arte Struktura, Milaan (I)
2004 : Galerij De Lawei, Drachten (NL)
Galerie Arti Capelli, 's Hertogenbosch (NL)
Kunst RAI Amsterdam, Gallery nine (NL)
Galerie Conny van Kasteel, Egmond aan zee (NL)
2003 : Galerie Conny van Kasteel, Egmond aan zee (NL)
2002 : Kunstcentrum Zaanstad, Zaandam (NL)
Mondriaanhuis
Museum voor Constructieve en Concrete Kunst,
Amersfoort project « 37 kunstenaars gaan om een tafel zitten » Conny van Kasteel (NL)
Galerie Conny van Kasteel, Egmond aanZee, (NL)
project « 37 kunstenaars gaan om een tafel zitten »
2001 : Gallery nine, Amsterdam (NL)PAN 2001, Amsterdam, Galerie De Vierde Dimensie (NL)
Galerie De Vierde Dimensie, Plasmolen (NL
Galerie Conny van Kasteel, Egmond aan Zee (NL)
2000 : KCB Bergen N-H (NL)
1999 : Kunst RAI Amsterdam, Galerie Naber (NL)
Galerie Dijk 1, Alkmaar (NL)
Galerie Naber, Groningen (NL)
1998 : Kunstcentrum Zaanstad, Zaandam (NL)
CIC Villa Eksternest, Roeselare (B
1997 : AVRO's Kunstblik, tv programma over hedendaagse kunst (NL)
1996 : Galerie Naber, Groningen (NL)
De Boterhal, Hoorn (NL)
1995 : Galerie Dijk 1, Alkmaar (NL)