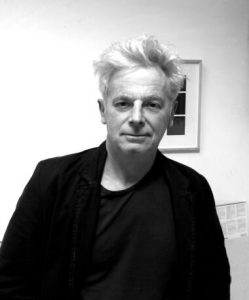 Born in 1965 in Douarnenez
From 1983 to 1985, he travelled in Ireland and France, initiating his artistic research through photography, which he has practised since the age of twelve.
 1986: Moved to Paris and he starts attending Abraham Pincas' class of painting technique at the Ecole des Beaux Arts.
 1993: He returns to Bretagne to devote himself to painting and photography
2002: Solo exhibition at "l'art dans les chapelles", Pontivy
 2005: Solo exhibition at the Centre des Arts de Douarnenez; group exhibition at the Domaine de Kerguéhennec in Bignan.
 2014: After research combining painting and volume, he returned to the two-dimensional medium.
The process of structuring is the very subject of the works. I try to obtain « a certain state of equilibrium » in a dynamic of forms that combines stability and instability, harmony and disharmony. Sometimes, sets of 6, 12 or 20 paintings highlight the principle of composition by moving, permuting or deleting elements, but disturbances come to upset the logic of the system. No rule of the game is final.
The painting, in a way, is provisionally finished. It is a possibility of circulation among others, an open and unframed space, not constraining for the glance. It hardly tries to impose itself as a work. An existential questioning insinuates itself there: is it too much?
Need of decluttering… Exposing its own principles of setting in order to better deny them, this painting ventures to the limits of its disappearance.
The work however escapes the bursting and the disenchantment by its very materiality. The slightly rough weave and the irregularities of the canvas, the sensitive mattness of the colors are the indices of a will to see and to give to see in this world.
The abstraction that I put in scene feeds on our mobility and our real presence; it does not claim, in no way, to replace it.
Jean-Pierre Le Bars, December 2021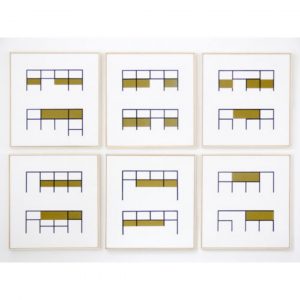 Sans titre, 2020
Acrylic on canvas mounted on medium
46 x 43 cm
Unique piece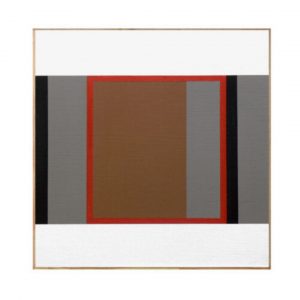 Sans titre, 2017
Acrylic on canvas 
44 x 44 cm
Unique piece
Photographic projects:
2008: Pour son Projet Borges Il photographie Buenos Aires de janvier 2008 à avril 2009
2005 : Ayant bénéficié en d'une une bourse de recherche en photographie du Centre National des Arts Plastiques (CNAP), il voyage pendant trois mois dans le grand-Nord scandinave et Russe, jusqu'en Sibérie. (Projet Les heures éteintes ).
Publics Collections:
Bibliothèque Nationale de France
Fond national d'art contemporain
Fond régional d'art contemporain de Bretagne
«Le Ring », artothèque de Nantes.
Solo exhibitions:
2022: Galerie Grewenig, Heidelberg, Allemagne
2021:  Galerie Plein-jour, Douarnene
2014: Galerie Panonica, Bruxelles
           Galerie Aleph, Quimper
2011: Agence «  Bonnot Architecture », Saint-Brieuc
2007 :  Médiathèque de Rambouillet
           Médiathèque de Douarnenez
           Librairie – galerie l'Imagigraphe, Paris
2005:  Centre des Arts de Douarnenez
2004 : Centre Hospitalier de Quimper
           Galerie Vieille du Temple, Paris
2002:  Collège de " la Tourelle", Quimper
           Galerie 21, Tokyo
           "L'Art dans les Chapelles", Pontivy
2000:  Galerie Vieille du Temple, Paris
1999 : « Espace Nuit », Mai Photographique, Quimper
1998:  Galerie Amers, Concarneau
           Centre Culturel "le Triangle", Rennes
1997:  Galerie Jean-Pierre Lambert, Paris
Group Exhibitions:
2023 : "-,=,+,"  Galerie Wagner, Paris
2022: Liberalitas – Galerie Wagner en collaboration avec le Centre d'Art Contemporain Frank Popper, Paris
« Statements », galerie Sehr, Koblenz, Allemagne 
2021 : « Why white ? », galerie Wagner, Paris
2020 : Librairie-galerie Bergenshe-Boekhande, Bergen, Hollande
              « L'atelier », Nantes, projection dans le cadre de la Quinzaine Photographique Nantaise
2019:  Galerie Far West, Saint Guénolé-Penmar'ch, avec Anne James Chaton
2018:  « Diversité », le Diapason, Université de Rennes 1, avec Véra Molnar et les frères Ripoulains
           Galerie Aller-simple, Longjumeau
           «  30 ans », galerie La Forest-Divonne, Paris
2017:  Galerie Plein-jour, Douarnenez
           Galerie La Forest-Divonne, Paris
2016:  Galerie « Aller simple », Longjumeau
           Galerie Plein-jour, Douarnenez
           Réalisation d'une œuvre « in situ », Lycée Pierre Guéguen, Concarneau
2014 : Centre culturel Bertin-Poirée, Paris
2013:  Librairie-galerie Bergenshe-Boekhande, Bergen,Hollande
           « Art Paris », Grand Palais, Paris (galerie Vieille du Temple)
           Galerie vieille du Temple Paris
Château de Poncé-sur-le-lloir, été 2013
            Fort de Sainte-Marine, Combrit, été 2013, avec Alexandra Duprez
2012 : Galerie vieille du Temple Paris
            Galerie « Aller simple » Longjumeau
2011:  « Art Paris », Grand Palais, Paris (galerie Vieille du Temple)
2009: « Carnet d'artistes » Médiathèque des Ursulines, Quimper
            « Là ou je ne connais personne » Alain Michard commissaire. Centre culturel Le Colombier, Rennes
2008: Galerie Vieille du Temple, Paris
2005: Domaine de Kerguéhennec, Bignan
2000 "Eloge de l'Ombre", exposition itinérante, Japon.
1999 : "Le Corps du Visible", Rencontres  Internationales de la Photographie, Arles
1997 : "Photographie au présent", Bibliothèque Nationale de France