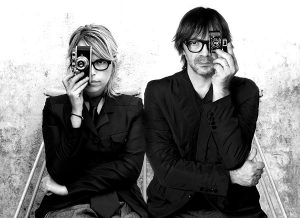 Dana Maitec 
Born in 1970 in Onești
Self-taught photographer
Artistic director
Stéphane Maietc 
Born in Bucharest in 1957.
Graduated from Nicolae Tonitza High School in Bucharest in 1977 and from the Ioan Grigorescu Academy of Fine Arts in 1984.
Together since 1994 and in art-duo since 2002
Members of the Maison des Artistes
Their photographs have been published in prestigious international publications including the Financial Times, Elle International, Worth Magazine, Where Magazine and Paris Magazine.
Lives and works in Paris, France
Dana and Stéphane Maïtec's photo series is a clear proof of their experimental, incessant and lively research.
Lighting has always been a major preoccupation for the couple in their work. The new series of photographs highlights light as the main creative protagonist; the multi-layered coloured volumetry. We see in these new, almost sculptural, painting-like images the result of a mysterious rediscovery of photography.
Leaving aside their focus on the figurative, the two artists place colour, form and reflection at the centre of their photographic investigation. The setting is no longer a visible landscape but becomes an integral part of the image, in a spectacular and revealing revelation of the creative potential of working with natural light.
Their new work is a shift from figurative to non-figurative and abstract photography, an unexpected shift from the concreteness and materiality of the figurative to the softness of the image: the weightlessness of shapes and colours created by light.
In a world where technology claims an ever-increasing power in the image-making process, Dana and Stéphane Maïtec make authentic use of photography. Technology is a very discreet, slightly perceptible factor in their work.
The new photographs are created in the privacy of their studio, with natural light. They discreetly reveal a process in which the camera records the birth of colours, volumes, reflected forms and layers without any technical intervention, except that of the camera witnessing the privileged moment when light, reflections and objects interfere.      
The two photographers abandoned their figure-centred research for a moment to investigate the boundaries between photography, painting and light sculpture, an undeclared manifesto for a new fluid art genre. A bold new reassertion of light and a plea for minimalist, technology-free artist intervention.
Collections privées : 
Bucarest, Paris, Monaco, Londres, Genève, Berlin, Rome, USA (NY, LA, Palm Springs, Las Vegas, East Hamptons, Miami, Boston, etc.), Hong Kong, Arabie Saoudite, Australie, Nouvelle-Zélande , Allemagne, Mexique.
Collections publiques : 
Musée National d'Art de Roumanie, Bonte Foundation Alcabideche, Portugal, University Stevens Institute of Technology, NY/USA
Personal exhibitions :
2019 – 2020 : #Maitec, Bois, Or, Lumière, Musée National d'Art de Roumanie, Bucarest
2018 : Constructure, Galerie NAG, Paris
Reflections. Vers un nouvel art de la lumière fluide, ICR Paris / Médiathèque Jacques Baumel / Rueil-Malmaison, France
2017 : Glasshouse, Beverly Hills / Los Angeles, États-Unis
2014 : Crowning Heads Machine, Galerie Anne & Just Jaeckin, Paris, 2014
2013 : Crowning Heads Machine, Festival International Les Rencontres d'Arles/ La Galerie de Poche, Arles, France
2009 : Festival international Les Rencontres d'Arles, Arles, France
Mémoires d'un dandy, La Galerie de Poche, Arles, France
Les pinceaux de Ben-Ami Koller, La Galerie de Poche, Arles, France
2006 – 2009 : Les artistes roumains de Paris dans leurs ateliers, Exposition itinérante, Bruxelles, Nantes, Strasbourg, Charlemagne, Bruxelles, Anvers, Amsterdam
2005 : Les artistes roumains de Paris dans leurs ateliers, Ministère des Affaires étrangères, Bucarest
2004 : Les artistes roumains de Paris dans leurs ateliers, Institut Culturel Roumain, Paris
Group exhibitions :
2022 : La couleur en mouvement, Galerie Wagner, Paris
"Micro-macro-Trans CORDIAL" Galerie Arcub, Bucarest
2018 : Join the Dots, Imago Mundi – Luciano Benetton Collection, Salone degli Incanti, Trieste, Italie
2016 : Café Flore, 2artAngels & Galerie Anne & Just Jaeckin, Paris