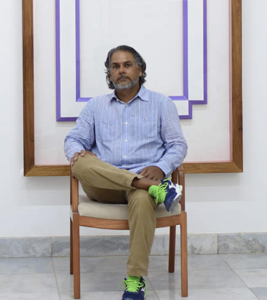 Born in 1970 in Santa Maria de Boa Vista, Brazil
1982 – 1986: Centre for the study of gems and minerals
1986: Sculpture course with Joao Batista Queiroz, at the Universidade Federal de Pernambuco
1993: trip to Paris
1995 : Gold medal at the Mahares Festival in Tunisia
1999: Malta Biennial Sculpture Award
1999- 2004 : Professor in charge of the sculpture and art foundry workshop of the city of Paris
Founder of the "Museu MADI" project in Brazil
Lives and works in Paris from 1993 
Interested in the fundamental notion of emptiness, Jaildo Marinho's abstract works constantly explore its constructive and vital potential. At first glance, this seems paradoxical for an artist whose favourite material is marble, traditionally associated with the idea of mass and weight.
This is precisely the challenge that Jaildo Marinho has set himself through creations that oscillate between the second and third dimensions. What they have in common is the use of simple geometric forms, of a pure white, to which the artist occasionally adds bright colours.
Jaildo Marinho's work is divided into different series that he has developed over the years with a constantly renewed inventiveness.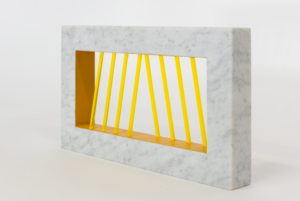 Soleil
Marbre blanc de Carrare, plexiglas et acvrylic
19 x 34 x 4 cm 
Pièce unique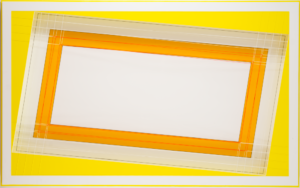 Lignes Obliques n° 468, Volume flash jaune-jaune, 2013
Acrylique sur bois et nylon 
200 x 124 x 11 cm
Pièce unique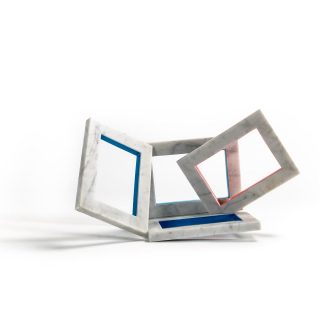 Azuizinha, 2019
Marbre blanc de Carrare et acrylique
27.5 x 55 x 24.5 cm
Pièce unique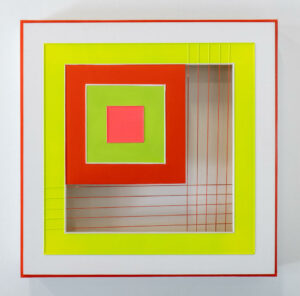 Cible, 2018
Acrylique sur bois et nylon 
76 x 76 x 10 cm
Pièce unique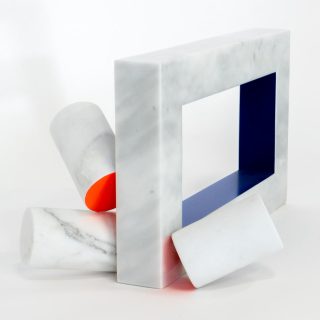 Ciel, 2014
Marbre blanc de Carrare et acrylique
29 x 25 x 55 cm
Pièce unique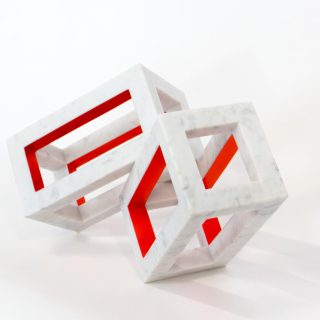 Même structure, 2021
Marbre blanc de Carrare et acrylique
32 x 44 x 41.5 cm
Pièce unique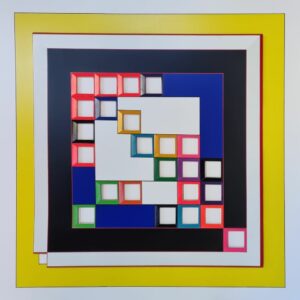 Hommage Auguste Herbin, 2023
Acrylique sur bois et PVC
150 x 150 x 8 cm
Pièce unique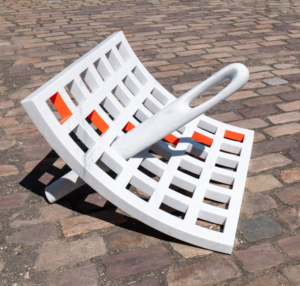 Trame diagonale, 2021
Marbre blanc de Carrare et acrylique
60 x 104 x 102 cm
Pièce unique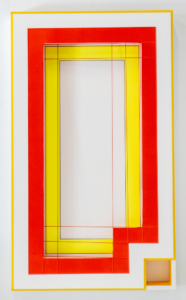 Vide jaune, 2015
Acrylique sur bois, nylon et PVC
116 x 68 x 8 cm
Pièce unique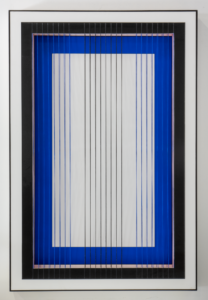 Azul, 2015-2021
Acrylique sur bois, nylon et PVC
160 x 107 x 10 cm
Pièce unique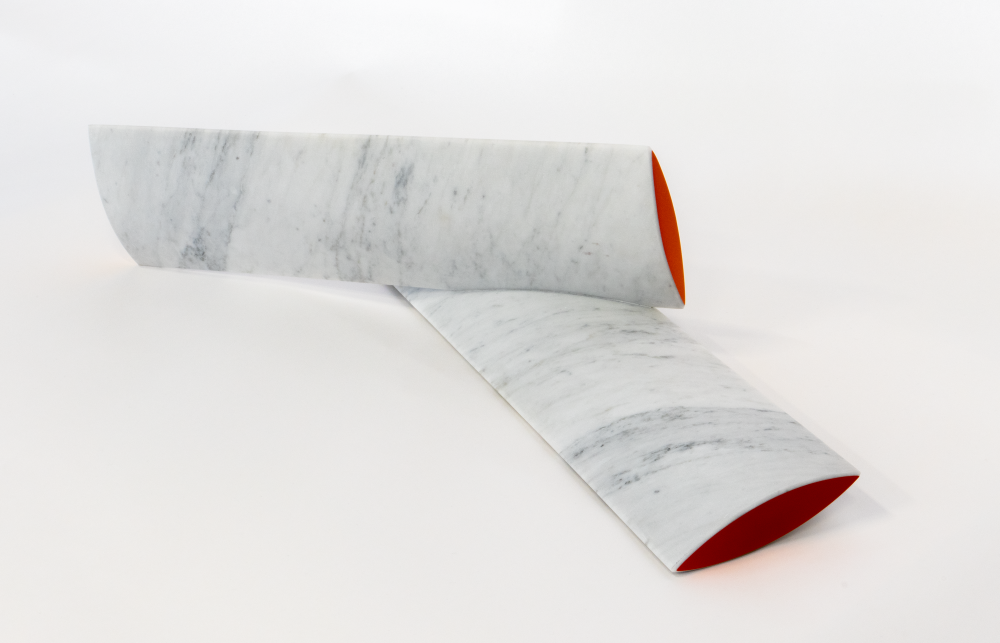 Faca Amolada, 2023
Marbre blanc de Carrare et acrylique
20 x 71 x 43 cm
Pièce unique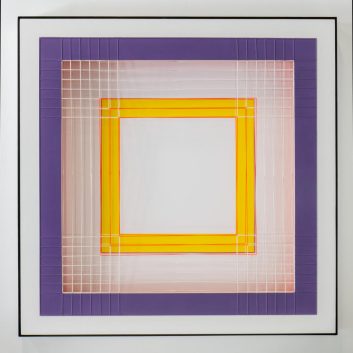 Stelinha, 2021
Acrylique sur bois, nylon et PVC
102 x 102 x 10 cm
Pièce unique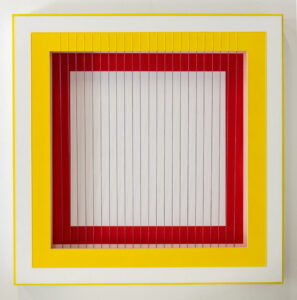 Matheus 24, 2015 – 2021
Acrylique sur bois, nylon et PVC
102 x 102 x 10 cm 
Pièce unique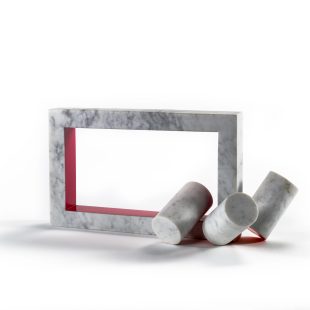 Porte rouge, 2014
Marbre blanc de Carrare et acrylique
45 x 62 x 62 cm
Pièce unique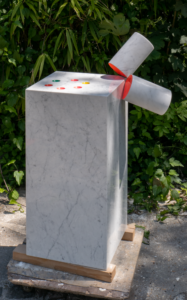 6 + 3, 2013
Marbre blanc de carrare, plexiglas et acrylique
103 x 64 x 64 cm
Pièce unique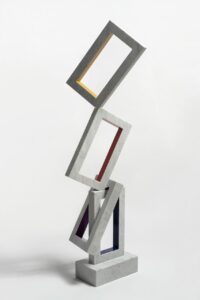 Bleu la ligne, 2019
Marbre blanc de Carrare et acrylique,
120 x 40 x 40 cm
Pièce unique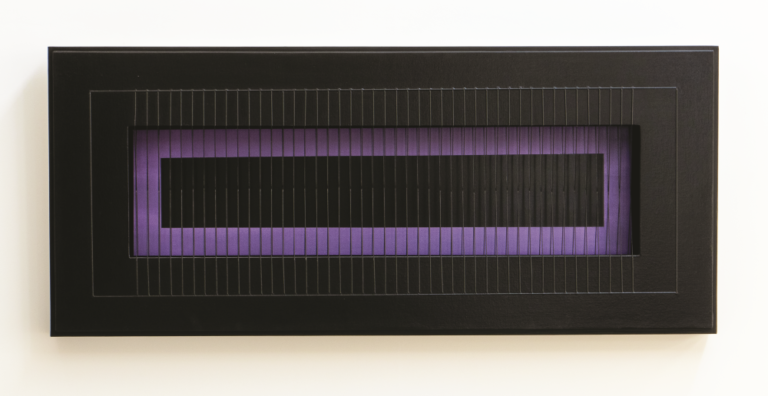 Tamires, 2021
Acrylique sur bois, nylon et PVC
51.5 x 119 x 8 cm
Pièce unique 
Personal exhibitions :
2023 : Solo show à la Maison Louis Carré, en collaboration avec la Galerie Wagner, Paris 
2018 : « Origens», GALERIA MULTIARTE, Fortaleza (Brésil)
2017 : « Cristalizaçao », MAM, Museu de Arte Moderna do Rio de Janeiro (Brésil)
2015 : « Blanc, Rouge de Meudon », Centre d'art et de culture de la Ville de Meudon (France)
2014 : « Navette », Espace Meyer Zafra-Paris (France)
2013 : « Empty Orange », Durbain Segnini Gallery-Miami (USA)
2012 : « Jaildo Marinho », Galeria Pinakotheke Cultural », Rio de Janeiro (Brésil)
« Jaildo Marinho – Oeuvres récentes », Galerie Nery Marino, Paris (France)
« Le Vide Oblique » Maison de L'Amerique Latine, Cour Ovale-Paris (France)
2010 : GaleriiizL, Vystavnou Salou   Univerzitnej Kniznice, Bratislave   (Slovaquie)
Hungarian Academy of Sciences Centre for Regional Studies, Gÿor (Hungrie)
2009 : « Structure Ouverte » Galerie Nery Marino, Paris (France)
2008 : « Instalaçao/Bricolages  Hommage à Claude Levi Strauss. » Fundaçao Joaquim Nabuco, Recife (Brésil) 
Galeria Manuel Bandeira, Academia Brasileira de Letras, Rio de Janeiro (Brésil)
2007 : « Portas para Brasilia », Espaço Cultural Marcantonio Vilaça-Brasilia (Brésil)
2006 : «Portes pour Bercy », Palais Omnisports de Paris Bercy, Paris  (France)
2005 : Galerie Nery Marino, Paris (France)
2004 : Casa do Brasil, Madrid (Espagne)
« Derrière le Tableau », Bibliothèque Historique de la Ville de Paris (France)
Galerie ADAC – Paris (France)
2003 : Galeria JG Arte Visual, Fortaleza (Brésil)
Centre Culturel Franco-Brésilien, Paris (France)
2002 : MAC, Museu de Arte Contemporânea de Pernambuco, Olinda (Brésil)
The Ronald Reagan Building and International Trade Center, Washington – DC (USA)
2001 : Galerie Claude Dorval, Paris (France)
2000 : Museu Coripos, Santa Maria da Boa Vista (Brésil)
Galerie ADAC, Paris (France)
1999 : Centre Culturel Franco-Brésilien-Paris (France)
Concert-Sculpture, salle multimédia de l'ADAC, Paris (France)
1998 : Galerie Debret-Paris (France)
Galeria Tenda Arte, Petrolina  (Brésil)
1996 : Château de Montaigut-le-Blanc (France)
1995 : Galeria Tenda Arte, Petrolina  (Brésil)
1992 : Espaço Cultural Caixa Economica Federal, Recife (Brèsil)
Public collections : 
Instituto Serzedello Corrêa-ISC, Brasilia (Brésil)
Fondation Villa Datris (France)
MACLA-Museo de Arte Contemporaneo Latinoamericano (Argentine)
Museu Madi Sobral (Brésil)
Espace Monte-Cristo, Paris (France)
Maison de l'Amerique Latine (France)
UNIFOR – Universidade de Fortaleza (Brésil)
Museo de Arte Contemporaneo Francisco Narvaez (Venezuela)
Le Fanal, Saint- Nazaire (France)
The Ronald Reagan Building and International Trade Center, Washington (USA)
Espaco Cultural Marcantonio Vilaça, Brasilia (Brésil)
Magi'900 – Museo delle Eccellenze Arristiche e Storiche (Italie)
Madi Mobil (Hongrie)
RAJA Art Collection (France)
Musée Satoru Sato (Japon)
Colection Usina de Arte – Ricardo Pessoa de Queiroz (Brésil)
Group Exhibitions :
2023 : Exposition "Source Code" , en partenariat avec la Galerie Charlot et la Galerie Denise René, Paris
2022: La couleur en mouvement, Galerie Wagner, Paris 
Hommage à Ivan-Contreras-Brunet, Galerie Wagner, Paris
2019 : ART MIAMI-Durbain Segnini Gallery-Miami (USA)
ZONA MACO-Arte Contenporanéo 2019-Durbain Segnini Gallery-Miami (Mexique)
MADI BUENOS AIRES-MADI INTERNACIONAL -Galeria de Arte PALERMO H -Buenos Aires (Argentine)
SP ARTE- Galeria PinaKotheke Cultural- Sao Paulo (Bresil)
2018 : ART MIAMI-Durbain Segnini Gallery-Miami (USA)
ESPACE OBLIQUE-Galerie Denise René-Paris (France)
« Carré Latin »-Jardin du Palais Royal-Paris (France)
ARTRIO- Galeria PinaKotheke Cultural- Rio de Janeiro (Brésil)
« A Intençao e o Gesto-Projeto Arte e Industria »-Museu da Industria –Fortaleza (Brésil)
« A Intençao e o Gesto-Projeto Arte e Industria  -MAC Museu de Arte Contemporanea de Goias-Goiânia (Brésil)
« 9 Sculptors – Types of Abstraction »- Durbain Segnini Gallery-Miami (USA)
Palm Beach Modern + Contemporary 2018 -Durbain Segnini Gallery-Miami (USA)
2017 : ART MIAMI- Espace Meyer Zafra (France)
ART Elysées-Espace Meyer Zafra-Paris (France)
ARTRIO- Galeria PinaKotheke Cultural- Rio de Janeiro (Bresil)
« 6° Ediçao do Prêmio CNI-SESI-Senai Marco Antonio Vilaça-MuBE (Brésil)
ART New York- Espace Meyer Zafra (France)
ARTPARIS-Espace Meyer Zafra-Paris (France)
SP ARTE- Galeria PinaKotheke Cultural- Sao Paulo (Bresil)
Raja ART-La collection RAJA Art-2017-Paris (France)
2016 : ART MIAMI- Espace Meyer Zafra-Paris (France)
Coleçao Airton Queiroz –Espaço Cultural UNIFOR-Fortaleza (Bresil)
SCULPTURE EN PARTAGE –Fondation Villa Datris- Isle-Sur-La-Sorgue (France)
SPEAKING of ABSTRACTION –Language Transitions in Latin American Art-Durbain Segnini Gallery-Miami (USA)
SELECTION-Galerie Nery Marino-Paris (France)
ARTRIO- Galeria PinaKotheke Cultural- Rio de Janeiro (Bresil)
SP ARTE- Galeria PinaKotheke Cultural- Sao Paulo (Bresil)
SCULPTURE EN PARTAGE –Fondation Villa Datris- Isle-Sur-La-Sorgue (France)
2015 : MADI- MI Gallery-Osaka (Japon)
ARTRIO- Galeria PinaKotheke Cultural- Rio de Janeiro (Bresil)
Group Show – Summer 2015 –Espace Meyer Zafra-Paris (France)
ARCHI-SCULPTURE –Fondation Villa Datris- Isle-Sur-La-Sorgue (France)
SP ARTE- Galeria PinaKotheke Cultural- Sao Paulo (Bresil)
2014 : ART MIAMI-Durbain Segnini Gallery-Miami (USA)
ARTBO-Durrbain Segnini Gallery-Bogota (Colombia)
ART Elysées-Espace Meyer Zafra-Paris (France)
ARTRIO-Galeria Pinakotheke Cultural-Rio de Janeiro (Brésil)
SP ARTE – Galeria Pinakotheke  Cultural-Sao Paulo (Brésil)
ARTPARIS – Espace Meyer Zafra-Paris (France)
Fondation Villa Datris-Espace Monte-Cristo-Paris (France)
2013 : ArtWYNWOOD – Durbain Segnini Gallery-Miami (USA)
ArtMIAMI- Durbain Segnini Gallery-Miami (USA)
ArtBO – Durbain Segnini Gallery – Bogota (Colombia)
ART ELYSEES – Espace Meyer Zafra-Paris (France)
ARTRIO – Galeria Pinakotheke Cultural – Rio de Janeiro (Brésil)
SYMMETRY FESTIVAL 2013 – Delft (Hollande)
PINTALONDON – Durbain Segnini Gallery -London (Angleterre)
MULTIARTE – Arte Contemporânea Brasileira -dos anos 1950 aos dias atuais – Fortaleza (Brésil)
SP ARTE – Galeria Pinakotheke  Cultural – Sao Paulo (Brésil)
MADI UNIVERSE – 20 years of Mobile MADI Museum -KASSAK MUSEUM – Budapest (Hungrie)
2012 : PINTA Art Show New York- Espace Meyer Zafra – New York (USA)
ARTRIO – Galeria Pinakotheke  Cultural – Rio de Janeiro (Brésil)
Accademia di Belle Arti di Lovere – MADI una geometria oltre le regolea – Bergamo (Italie)
Mouvement et Lumière –Fondation Villa Datris – Isle-Sur-La-Sorgue (France)
SP ARTE – Galeria Pinakotheke Cultural – Sao Paulo (Brésil)
2011 : ARTRIO – Galeria Pinakotheke Cultural – Rio de Janeiro (Brésil)
ART CONSTRUIT – Galerie Nery Marino – Paris (France)
MADI Carmelo  Arden Quin  & Co-Musée d'Art et d'Histoire de la Ville de Cholet – Cholet (France)
Conscience polygonale  de Carmelo  Arden  Quin à MADI contemporain – Centre International  d'Art Contemporain – Castelo  de  Carros – Carros (France)
MADI International – Palais  de Glace – Palacio Nacional de Las Artes – Buenos Aires (Argentine)
SP ARTE – Galeria Pinakotheke Cultural – Sao Paulo (Brésil)
Noir et blanc MADI – Galleria d'Arte Afra Canali – Brescia (Italie)
2010 : « Complementarita » – Castel  dell'Ovo – Naples (Italie)
Salao A Hebraica – Galeria Pinakotheke Cultural – Sao Paulo (Brésil)
« Cor e Forma II » – Simoes de Assis Galeria de Arte -Curitiba (Brésil)
SP ARTE – Galeria Pinakotheke Cultural – Sao Paulo (Brésil)
150ème Anniversaire de l'Angélus de Millet – Espace Culturel Marc Jacquet (Barbizon)
« Construire sa lumiére » -Espace d'art contemporain  Eugène Beaudouin (France)
« Noir et blanc Galleria Marelia – Bergamo (Italia)
2009 : Bichrome – Conservatoire des Arts Plastiques de Montigny-le-Bretonneux (France)
Salon Comparaisons au Grand Palais –Paris (France)
« Second  Line – Feeling of one dimension » – Hungarian Academy of Sciences Centre for Regional Studies – Györ (Hungrie)
« Os caminhos  da arte entre a França e o Brasil » – Galeria Pinakothek e Cultural – Rio de Janeiro (Brésil)
Salao A Hebraica – « Os caminhos da arte entre a França e o Brasil » – Galeria Pinakotheke Cultural – Sao Paulo (Brésil)
Symmetry Festival Budapest  2009- Kortars Galéria- Budapest (Hungria)
SP ARTE – Galeria Pinakotheke Cultural – Sao Paulo (Brésil)
Salon Réalités Nouvelles  (Paris)
MADI International – Galerie « Al Blu di Prussia » – Naples (Italie)
In – Forma Geometrica –Museo Civico di Castelnuovo -Maschio Angioino – Naples (Italie)
2008 : Expansionismo – Durban Segnini Gallery – Caracas (Venezuela)
Salon Comparaisons au Grand Palais – Paris (France)
Arte em Movimento – Espaço Eliana Benchimol – Rio de Janeiro (Brésil)
MADI International – Museu Dragao do Mar – Fortaleza (Brésil)
MADI International – Museo de Arte Contemporaneo Latinoamericano (MACLA) -La Plata (Argentine)
Cor  e Forma – Simoes de Assis Galeria de Arte –Curitiba (Brésil)
Arte Struktura – Larte Construisce l'Europe – MADI – Milano (Italie)
Mobile Madi Museum – Pécs (Hungrie)
Le Teorie del MADI – Galleria Scoglio di  Quarto – Milano (Italie)
SP ARTE – Galeria Pinakotheke Cultural – Sao Paulo (Brésil)
Salon Réalités Nouvelles -Paris (France)
MADI – Maison  de L'Amerique Latine – Paris (France)
Internazionale MADI a Verona-Spazio Arte Pisanello – Verona (Italie)
2007 : « Satoru Sato Art Museum » – Tome (Japon)
Museo de Arte Contemporaneo Francisco Narvaez – Porlamar – Nueva Sparta (Venezuela)
L'abstraction géométrique –Château de Tours -Tours (France)
Académie d'Architecture de Paris (France)
SP Arte – Galeria Pinakotheke Cultural-Sao Paulo (Brésil)
Salon Réalités Nouvelles –Paris (France)
Monocromo – Galerie Orion-Paris (France)
2006 : Salon Comparaisons  au Grand Palais – Paris (France)
Prière de toucher – Marie du 10 éme –Paris (France)
Artbo : Foire Internationale d'Art de Bogota – Graphic Gallery – Bogota (Colombie)
Foire Européenne d'Art Contemporain – Galerie Nery Marino – Strasbourg (France)
Galerie Orion – Paris (France)
Galerie Spazio Lattuada di Milano – Milan (Italie)
SupreMADIsme – Moscow Museum of Contemporary Art – Moscou (Russie)
IKKP – Kunsthaus Rehau –Rehau (Allemagne)
SP Arte – Pinakotheke Cultural – Sao Paulo (Brésil)
Graphicart Gallery Caracas (Venezuela)
Cultural Institute of the Hungarian Republic – Bratislava (Slovaquie)
2005 : Territoires  Transitoires -Musée Palais de La Porte Dorée – Paris (France)
Galeria Multiarte – Fortaleza (Brésil)
1000 et un Brésils – Espace Jean Legendre –Compiègne (France)
Discover Brazil – Ludwig Museum – Koblenz (Allemagne)
Museu  MADI-Sobral- Inauguration  (Brésil)
Arte Madi Venezuela – Centro Cultural Eladio Aleman Sucre – Valencia (Venezuela)
Salon Réalités Nouvelles -Paris (France)
France Couleurs Brésil -Espace Belleville –Paris (France)
MADI Museum & Gallery -Dallas (USA)
2004 : Salon Réalités Nouvelles -Paris (France)
Galeria Anita Schwartz – Rio de Janeiro (Brésil)
Universo Esprit de Géométrie –San Nicola la Strada-  Caserta (Italie) Mai en Cambrésis – Cambrai – (France)
Conservatoire des Arts Montigny-le-Bretonneux (France)
Géometric Art Centre International MADI – Paris (France)
Salon Comparaisons –Paris (France)
Arte Struktura –Milano (Italie)
2003 : Museo MADI – La Plata  (Argentine)
Orangerie du Château de Meudon – Meudon (France)
Salon Réalités Nouvelles -Paris (France)
ARCO'03 – Galerie Marcy Gaymu- Madrid (Espagne)
2002 : 45e Salao de Artes Plasticas de Pernambuco – Tacaruna – Recife  (Brésil)
ART PARIS Carrousel du Louvre – Galerie Claude Dorval –Paris (France)
N.A.V.E –Nucleo de Artes Visuais e Experimentos – Recife (Brésil)
Hommage à Claude Dorval – Galerie Claude Dorval – Paris (France)
Salon Grands et Jeunes d'Aujourd'hui – Avallon (France)
Salon Grands et Jeunes d'Aujourd'hui – Paris (France)
Espace Culturel "Le 148"-Alfortville (France)
Arte Struktura 100X100 -Milan (Italie)
2001 : Fondation Nationale des Arts Graphiques et  Plastiques –Paris (France)
Salon Grands et Jeunes d'Aujourd'hui – Paris (France)
The Third International Symposium for Sculpture -UNESCO – Aley (Liban)
Légendes du Brésil – Salle Eugène Verdun – Annecy (France)
Galerie ADAC – Paris (France) Mai en Cambrésis –Cambrai (France)
Foire de Strasbourg – Galerie Claude Dorval – Strasbourg (France)
Galerie AM TUNNEL – Espace Edward Steichen (Luxembourg)
NART – Paris (France)
Salon Réalités Nouvelles –Paris (France)
2000 : ART PARIS Carrousel du Louvre – Galerie Claude Dorval – Paris (France)
Salon Grands et Jeunes d'Aujourd'hui – Paris (France)
500 ans Brésil – Mairie du 3ème Arrondissement – Paris (France)
Arte Struktura 20×20 – Milan (Italie)
FUTUR'ART – Paris (France)
Salon Réalités Nouvelles –Paris (France)
Foire de Strasbourg – Galerie Claude Dorval – Strabourg (France)
Foire de Gand – Galerie Marcy Gaymu – Gand (Belgique)

1999 : Salon Grands et Jeunes d'Aujourd'hui – Paris (France)
Salon Réalités Nouvelles –Paris (France)
Galerie Claude Dorval – Paris (France)
ART PARIS Carrousel du Louvre – Galerie Marcy Gaymu – Paris (France)
Biennale de Malte (Malte)
Biennale de Malte à Paris (France)
Festival Brésilien – Le Fanal -Saint-Nazaire (France)
1998 : Espace Paris k Palace – Paris (France)
Galerie Dieleman Gembloux (Belgique)
Salon Grands et Jeunes d'Aujourd'hui – Paris (France)
Galerie Claude Dorval — Paris (France)
1997 : Salon Grands et Jeunes d'Aujourd'hui – Paris (France)
1996 : Salon Grands et Jeunes d'Aujourd'hui – Paris (France)
1995 : Festival International de Mahares (Tunisie)
1994 : Salon des Indépendants – Paris (France)
1993 : Espaço Cultural da Secretaria da Fazenda de Recife – Recife (Brésil)