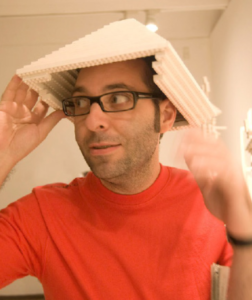 Born in Lleida (Catalonia / Spain) in 1975
1996: Diploma in "Cinematography/Film Editing" from the San Sebastian Sarobe Urnieta Film Schoo
1996-2001: Bachelor's degree in Art History, University of Barcelona
2000-2004: Lives and works in Madrid. Co-founder of the "Cabeza Borradora" group and magazine.
2001-2002: First year of Philosophy at UNED, Madrid
2004-2010: Lives in Barcelona as a filmmaker and independent art curator at MACBA (Barcelona Museum of Contemporary Art) and CCCB (Barcelona Center for Contemporary Culture).
2008-2009: Master's degree in Visual Arts and Education at the University of Barcelona
2009-2016: PhD in "Fine Arts: Art and Education / Artistic Creation Process" at the University of Barcelona
2010-2016: Lives and works in Switzerland
2011: Research residency in New York (3 months)
2014: Diploma in "Contemporary Art Markets", NABA (Nuova Accademia di Belle Arti), Milan (Italy)
2016-2020 : Lives and works between Venice and Los Angeles as curator and artist
2014-2017: Curatorial team for "ISM, ISM, ISM. Pacific Standard Time: L.A./ L.A." (Getty Institute, Los Angeles Filmforum). Publication: Univ. of California Press
Residencies in various countries (U.S.A., Argentina, Mexico, Uruguay, Brazil, Portugal, Italy, New Zealand, etc.) for screenings or teaching seminars and research and training cycles.
2022: Publication "i STiLL BELiEVE iN CELLULOiD", Bilingual: English / Spanish
Lives and works between Barcelona, Los Angeles and Venice
A filmmaker and art historian by training, Antoni Pinent has become a visual artist. His raw material follows the same analog celluloid format in its various standard sizes (35mm, 16mm, Super 8, 8mm, Double 8, 9.5mm, 70mm, IMAX), but now outside projections or his usual recording devices (camera). This particular tangible raw material is shown to us naked, apparently static… yet it is through the different contexts and intentions that the artist attaches to it that it begins to move again. It becomes synonymous with life, whether in a mental, simulated, literal or poetic state. Depending on his series and/or specific pieces, he may classify his work along the following lines: kinetic art, op art, geometric abstraction, as well as readymades, artifacts, conceptual art, visual scores or poems of visual objects.
Antoni Pinient is an artist, filmmaker, art curator and guest lecturer at several universities, museums, art centers, film festivals, cinematheques and film schools.
His work has been screened in several countries, including : France, United Kingdom, Italy, Portugal, United States, Ireland, Argentina, Germany, Romania, Thailand, South Korea, Mexico, Australia, Czech Republic, Poland, Senegal, Denmark, Peru, Bolivia, Colombia, Guatemala, Honduras, Austria, Brazil, Canada, Chile, Uruguay, Belgium, Switzerland, Finland and Spain.
Maze#1 (Overlook /8 mm), 2017
Film Super 8 mm, encaustic on canvas
 50 x 65 cm
Unique piece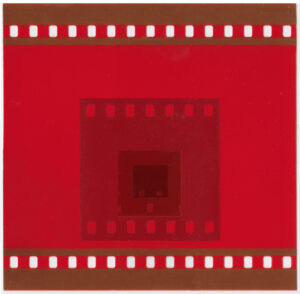 Homage to the frame, 2015/2023
Print on plexiglass, Film super 8, 16 mm, 35 mm, 70 mm,
50 x 50 cm
Unique piece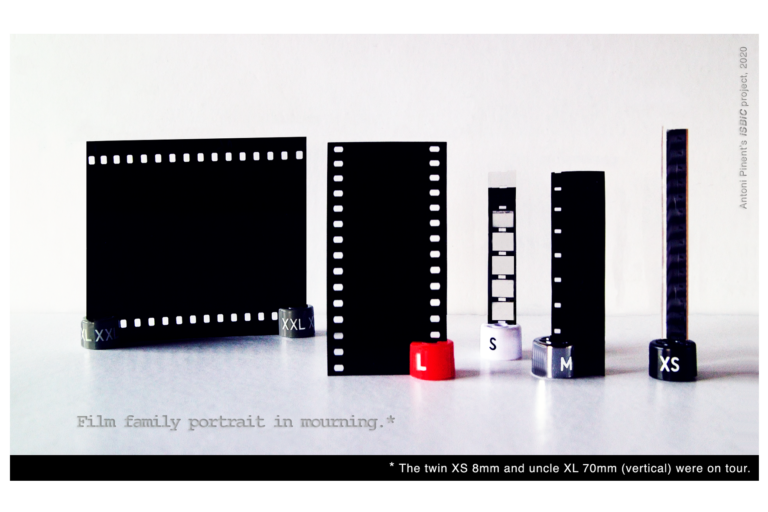 Film family, 2020
Print on plexiglass, Film super 8, 9'5 mm, 16 mm, 35 mm, 70 mm
10 x 15 cm
Edition 10 ex.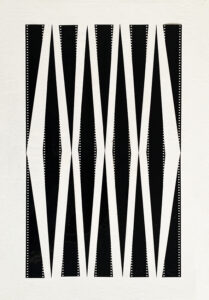 Study-Composition III, 2023
Film 35 mm, collage on canvas
55 x 38 cm
Unique piece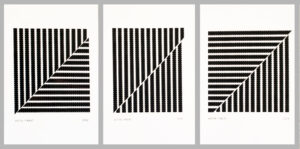 Study -Composition V, VI, VII, 2023
Film 16 mm, collage on canvas
3 x (55 x 38 cm)
Unique piece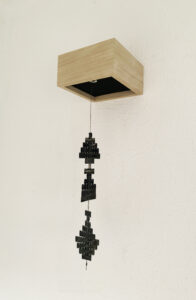 Untitled, 2023,
Mobil, motor clock mechanism, film 16 mm, wood
 65 x 20 x20 cm
Unique piece
Awards and grants
2022: "El temps de les Arts" 2022, Visual Art category at the "Celluloide Despentinat" exhibition, Fundació Joan Brossa / Espai de les Arts Lliures, 2021-2022, Barcelona, Spain
2014: "Lleida Visual Art" Prize, first edition with the work "L'altra faccia della Luna", Lleida (Spain)
2011: "Art and Research" grant from Montehermoso Cultural Center, Vitoria, Spain
2009: "FAD Medal" (Fostering Arts and Design) for her work at Barcelona's Centre de Culture Contemporaine. CCCB – Xcèntric. Film curatorial team, Barcelona, Spain
2008: Prize at the "Biennale de Museum of Contemporary Cinema" (MoCC), New York / Paris / Madrid
Several awards in his filmography, including "Best Film Editing" at the "Semana de Cine Experimental de Madrid" (2008) and "Best Experimental Short Film" at the Lucca Film Festival (Italy, 2008), for "Film Quartet / Polyframe" (2006-2008).
Jury at several international festivals: VideoEx (Zurich, Switzerland, 2021); L'Alternativa (Barcelona, 2010, 2022); Lucca Film Festival / Europa Cinema (Lucca, Italy, 2015); Premi "Roman Gubern' De Cinema Assaig" (Universtitat Autònoma de Barcelona, 2007)
Retrospectives as a filmmaker
2022: "UltraCinema", Mexico
"Museo d'Arte del Terzo Millennio, MAIIIM, Geneva, Italy
2021: "Microscope Gallery", New York, U.S.A, 2021)
2018: "VARTEX", Medellin, Colombia
2017: "INVIDEO" Milan, Italy, "Festival de Cine Radical", La Paz, Bolivia, "MUTA", Lima, Peru
2015: "Dobra", Rio de Janeiro, Brazil
2014: "MUSAC", León, Spain
2012: "Bienal de la Imagen en Movimiento (BIM)", Buenos Aires, Argentina Buenos Aires, Argentina
2010/2002: "La enana marron" Madrid, Spain
2008: "Centro Galego de Artes da Imaxe (CGAI)", A Coruña, Spain
Teaching experience
Since 2004, Antoni Pinent has been a teacher, lecturer and guest professor at a number of universities (IUAV, Venice; CalArts, Los Angeles; Pitzer College, Los Angeles; UPV, Valencia; UB, Barcelona; BAU, Barcelona; ELISAVA, Barcelona, etc. ); film schools (CISA, Locarno-Lugano; Observatorio, Barcelona; La Casa del Cine, Barcelona; Estudio de Cine, Barcelona; FUC, Buenos Aires); contemporary art centers and museums (Aula Xcèntric, CCCB, Barcelona; La Casa Encendida, Madrid; FAC, Montevideo; MUSAC, León; Museo Nacional de Artes Visuales, Montevideo; etc.); Biennales de l'Art Contemporain (Biennales de l'Art Contemporain, Barcelona; Museo Nacional de Artes Visuales, Montevideo; etc.). ); Biennales de l'image en mouvement (BIM, Buenos Aires); Film festivals (Experiments in Cinema, Albuquerque; MUTA, Lima; Festival de Cine Radical, La Paz); Cinematheques (CGAI, La Coruña; etc.).
2012-2016 : Assistant professor at the Fachhochschule Nordwestschweiz (University of Applied Sciences Northwestern Switzerland), Aarau, Solothurn, Windisch, Switzerland.
Personal exhibitions
2023 : « Au-delà du cinéma », Centre d'Etudes Catalanes Faculté des Lettres Sorbonne Université, Paris
2021-2022 : « Celluloide Despentinat », Fundació Joan Brossa / Espai de les Arts Lliures, Barcelone, Espagne
2018-2019 : « Celluloid Art Echoes », SPARC (Spazio Arte Contemporanea) / VeniceArtFactory, Venise
En tant que cinéaste, ses œuvres ont été projetées dans des festivals de cinéma, des cinémathèques et des musées du monde entier sous le nom de « MoMA », San Francisco (SF MoMA, 2012)
Group exhibitions
2021-2022 : « Encrements. Dépôts de la Collection Nationale de Photographie et d'Art Contemporain », organisé par Jesús Navarro, Museu d'Art Jaume Morera de Lleida, Espagne
2018-2019 : « Les marges. Productions émotionnelles, politiques et esthétiques de l'intérieur et de l'extérieur d'un territoire ». Organisé par Jordi Antas et Antoni Jové, Centre d'Art La Panera, Lleida, Espagne
2016 : Art-House Galerie, Thun, Suisse
« 100 Jahre DADA », Cabaret Voltaire, Zurich, Suisse
2014 : « ERNO Project » Première édition, Barcelone. Organisé par Miquel Wert avec Pere Ginard, Marcel Pié, Ona Trabal, Laia Arqueros, Montserrat Segura, Jordi Santanach et Mar Rosàs
« Projectionist Please Read! Projection Instructions as Film Literature », Atlanta, U.S.A, Decatur Book Festival. Organisé par Andy Ditzler avec Andy Warhol, Ken Jacobs, Tony Conrad, Paul Sharits, Malcolm Le Grice, Morgan Fisher, etc.
Exposition collective à Riccione, Rimini, Italie « Der Gast und der Eindringling. Umgekehrtes Spiel » avec Roberto De Luca, Ermanno Cristini, Barbara Fässler, Paul Le Grand, Giancarlo Norese, Olivia Notaro, Luca Scarabelli. En collaboration avec Alessandro Castiglioni et Michael Krethlow Galerie, Berne, Suisse
2011 : «Transferts. Cinéma et littérature ». Organisé par Maximiliano Viale avec Pere Ginard, León Siminiani, Ernesto Sábato, etc. Espai Betúlia, Badalone, Espagne
2009 : « De la parole poétique à l'expérimentation filmique ». Organisé par Maximiliano Viale, Espai Betúlia, Badalone, Espagne