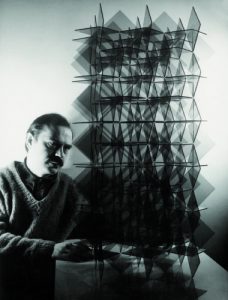 Born in 1932 in Guadalajara, Spain
1946 : Trained at the Escuela de Artes y Oficios in Madrid where he studied painting and sculpture
1950-1955 : Trained at the Fine Arts School of Buenos Aires, Argentina
1956 : Wins 1st prize in painting at the 2nd Salón Estímulo de Artes Plásticas (La Plata, Buenos Aires, Argentina)
1959 : Moves to Paris, France
1960 : Founds the G.R.A.V (visual art research group) with Julio Le Parc, François Morellet, Joël Stein, Yvaral and Horacio García Rossi
1965 :  Integration of electric light and mechanical movement in his sculptures
1974 : Studied the technique of stained glass and created a Wall of Light (200 × 1200 cm) in the Palais des Congrès in Paris, France
1975 : First exhibition in his home town.
2013 : Takes part in the Dynamo exhibition at the Galeries Nationales du Grand Palais in Paris and in the « GRAV 1960-1968 » exhibition at the Musée des Beaux-Arts in Rennes, France
2014 : Death of the artist in Bernay, France
2015 :  Inauguration of the Francisco Sobrino Museum at the artist's birthplace
A major figure in kinetic art, Francisco Sobrino began his career as a sculptor from the two-dimensional research he had carried out until then on paper, paperboard and canvas.
Like other artists of his generation, Francisco Sobrino is interested in the interaction between his works, their environment and/or the viewer. He places great emphasis on the interplay between space, light and the movement of the viewer, with the aim of creating visual instability and blurring the boundaries between the work and its environment.
As an artist of his time, he uses innovative materials such as methacrylate, plexiglass and mirror-polished stainless steel. The art historian Matthieu Poirier wrote about him in 2017: »Sobrino's art is (…) at once concrete and perceptual, kinetic and minimalist, it is detached from narrative in order to achieve the most perfect silence, the most perfect immediacy of sensory vibration.
Numerous solo and group exhibitions in France, the United States, Latin America and Spain.
Represented in Paris by the Denise René, Lelia Mordoch and Mitterand galleries
Publics collections:
Peggy Guggenheim Collection, Venise, Italie
Museum of Fine Arts, Boston, Etats-Unis
Contemporary Art Museum of Bilbao, Espagne
Moderne Art Museum of Alicante, Espagne
Open-air Sculpture Museum, Madrid, Espagne
Collection Diputation Provincial, Guadalajara, Espagne
Peter Stuyvesant Foundation, Hollande
Museum of Modern Art, Ciudad Bolivar, Venezuela
Tel Aviv Museum, Israel
Art fairs:
Art Basel Miami Sicardi Gallery, 2015, Houston, Etats-Unis
Art Basel Miami Sicardi Gallery, 2014, Houston, Etats-Unis
Latest exhibitions:
2023 : "Mouvement et lumière", exposition collective à la Fondation Villa Datris de l'Isle-sur-la-Sorgue avec la Galerie Wagner
2020 : «

Entres les lignes »

, Galerie Wagner, Paris, France


« Cercles

», Galerie Wagner, Paris, France
« Sculpture dans le Parc », Parc du Château de Mouans-Sartoux, Espace de l'Art Concret, France
« Hard Edge », Galerie Denise René, Paris, France
2019 : « Espace oblique », Galerie Denise René, Paris, France
Espace de l'art concret, Mouans-Sartoux, France
« Transformation Instable », Galerie Mitterrand, Paris, France
2017 : « Que de la sculpture », Galerie Denise René, Paris, France
« Modus Operandi », Galerie Mitterrand, Paris, France
« 40th anniversary. Twentieth Century Art Collection, 1977-2017 », Museo de Arte
Contemporaneo de Alicante (MACA), Alicante, Espagne
« La ligne d'ombre parfois se brise… », Galerie Lélia Mordoch, Paris, France
2016 : Le Domaine du Muy, France
« Movimientos », Galerie Mitterrand, Paris, France
« Heterotopias », Museo de Arte Contemporaneo de Alicante (MACA), Alicante, Spain
2015 : Obra Arquitectural, Francisco Sobrino Museum, Guadalajara, Espagne
Abstracción. Del Grupo Pórtico Al Centro De Cálculo. 1948-1968, Francisco Sobrino
Museum, Guadalajara, Espagne
2014 : « Francisco Sobrino : Structure & Transformation », Siccardi Gallery, Houston, TX, Etats-Unis
« Francisco Sobrino : Geometria, luz y movimiento », Galeria Guillermo de Osma, Madrid, Espagne
Couleur Et Transparence, Galerie Nery Marino, Paris, France
« Move, move ! … », Galerie Zaloudek, Prague, République Tchèque
« Arte Cinetica », Museo di Santa Giulia, Brescia, Italy
2013 : « Sobrino, Tours et Alentours, 1958-1971 », Galerie Philippe Jousse, Paris, France
« Sobrino, Blanc et Noir », Galerie Marino Neri, Paris, France
« El arte cinético de Francisco Sobrino », Galeria Tiempos Modernos, Madrid, Espagne
Dynamo Un Siècle De Lumière Et De Mouvement Dans L'art 1913-2013, Galeries nationales du Grand Palais, Paris, France
« Foundation Collection 2013 », The Collection of the Pablo Atchugarry Foundation, Maldonado, Uruguay
The System of Objects, Deste Foundation, Athens, Grèce
2012 : « Intercambio global. Abstracción geométrica desde 1950 », MACBA – Museo de Arte
Contemporáneo de Buenos Aires, Buenos Aires, Argentine
« Tomorrow was already here », Museo Tamayo, Mexico City, Mexico
« European Art : 1949-1979 – Marion R. Taylor : Paintings », 1966–2001, Peggy
Guggenheim Collection, Venice, Italy
2011 : « Géométrie onirique », Galerie Lélia Mordoch, Paris, France
2009 : Derivas de la geometría. Razón y orden en la abstracción española, 1950-1975, Fundación Museo Jorge Oteiza, Alzuza, Spain
North Looks South : Building the Latin American Art Collection, Museum of Fine Arts, Houston, TX, Etats-Unis
2008 : « G.R.A.V », Galerie Lélia Mordoch, Paris, France
2007 : « Francisco Sobrino, les œuvres parlent d'elles-mêmes… », Galerie Lélia Mordoch, Paris, France
2006 : Sobrino, Galleria Torozzi, Pondenone, Italie
Sobrino, Museo Nazionale di Villa Pisani, Strà, Italie
Sobrino, Národní Muzeum, Prague, République Tchèque
2005 : Francisco Sobrino, Palazzo del Senato, Milano, Italie
2003 : « Noir et blanc », couleur », Galerie Lélia Mordoch, Paris, France
2000 : « Noir et blanc », Galerie Lélia Mordoch, Paris, France
1999 : Exposition rétrospective, Palais del Infantado, Musée de Guadalajara, Espagne
Exposition de sculptures en plein, Guadelajara, Espagne
1995 : « Blanco, sobre blanco », Fondation d'art moderne Jesus Soto, Bolivar, Venezuela