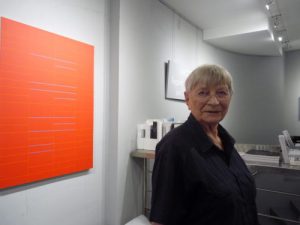 Born in Paris in 1929
1943 : Painting lessons with Mme Buzinska, Saint-Germain-en-Laye
1947-1949 : Studied at the École de décoration de la Ville de Paris
1948-1950 : Studied at the Ecole du Louvre
1955-1956 : Studied for the Professorat de dessin de la Ville de Paris
1951-1955 : Joins Robert Lapoujade's studio in Paris
1966 : Creates the Atelier Fanal in Basel, Switzerland, with Marcel Mazar and opens a painting studio there
1978 : Co-founds the Fanal publishing house in Basel
1980 : Named Knight of the Order of Arts and Letters
Lives and works in Switzerland since 1956
Marie-Thérèse Vacossin began her artistic training during her teenage years. Until 1956, she followed an academic education based on the mastering of drawing from the copy of the antique and the drawing on live model.
From 1951 to 1955, she also took classes with Robert Lapoujade, who taught her to abandon the idea of representation and to see beauty everywhere around her, to consider the world as a collection of forms, rhythms and colour patterns.
For about twenty years, Marie-Thérèse Vacossin's work was eclectic. It reflected both the vogue for lyrical abstraction of the 1950s with the influences of Viera da Silva, Nicolas de Staël and Antoni Tàpies, and certain trends reflecting the new consumer society of the 1960s with a return to figuration.
Under the influence of Jean Gorin and following the discovery of Ad Reinhardt, she found her way in 1973. She made a transition to geometric abstraction entirely centred on questions regarding colour perception. From that moment, and to this day,  Marie-Thérèse Vacossin's work is very closely linked to the Op art movement.

Blanc vertical I, 2016
Acrylic on Arches paper under Plexiglas
125 x 50 cm
Unique pièce

Blanc vertical II, 2016
Acrylic on Arches paper under Plexiglas
125 x 50 cm
Unique pièce

Blanc vertical III, 2016
Acrylic on Arches paper under Plexiglas
125 x 50 cm
Unique pièce

Trajet bleu, 2016
Acrylic on canvas
32 x 192 cm
Unique pièce

Trajet rouge, 2016
Acrylic on canvas
54 x 162 cm
Pièce unique
Public collections:
Allianz, Berlin, Allemagne

Museum für Konkrete Kunst, Ingolstadt, Allemagne
Europaïsches Patentamt (Office européen des brevets), Munich, Allemagne
Hexal AG, Holzkirchen, Allemagne
Repères (donation), Musée des Ursulines, Mâcon, France
Donation Eva-Maria Fruhtrunk, donation André Le Bozec, Musée de Cambrai, France
Musée du Touquet, donation André Le Bozec, France
Banque des Règlements Internationaux, Bâle, Suisse
Musée d'art et d'histoire, Neuchâtel, (et la donation de Dc Francis Jeunet), Suisse
Alcatel, Cortaillod, Suisse
Banque Bonhôte & Cie SA, Neuchâtel, Suisse
Personal Exhibitions:
2020: « Synchromies », Galerie La ligne, Zürich
2016 : « Regard sur la verticale, sur l'horizontale », galerie Wagner
2015 : « Clarté d'ombre », Galerie Oniris, Rennes, France
« Sur l'horizontale », Galerie Gudrun Spielvogel, Munich, Allemagne
« Entre le bleu et blanc », Galerie Numaya, Colombier, Suisse
2012 : « Incantation », L'aquarium, Valenciennes, France
Galerie La Ligne, Zurich
Galerie le cube, Estavayer-le-lac
2011 : « Blanc à l'horizontal », Galerie Gimpel & Muller, Paris, France
2010 : Carrespace, Vallorbe, Suisse
« Rythme linéaire », Galerie Oniris, Rennes, France
2009 : « Sur l'horizon », Galerie La Ligne, Zurich, Suisse
« Cadences verticales », Galerie Gudrun Spielvogel, Munich, Allemagne
2008 : Centre hospitalier universitaire vaudois (CHUV), Lausanne, Suisse
2007 : « Monodie », Galerie La Ligne, Zurich, Suisse
2006 : « La Voie de la couleur » (installation), Galerie d'art Contemporain, Besançon, France
2005 : Perceval 1997 (dans le cadre d'une session de concerts), Musée d'Art et d'Histoire, Neuchâtel, Suisse
Château de Vaumarcus, Vaumarcus, Suisse
Espace Fanal, Bâle, Suisse
« Couleur en verticale », Galerie Oniris, Rennes, France
2004 : « Cadences progressives », Galerie Gudrun Spielvogel, Munich, Allemagne
Galerie Konkret Martin Wörn, Sulzburg, Allemagne
2003 : Fondation Louis Moret, Martigny, Suisse
2002 : Carrespace, Vallorbe, Suisse
März Galerien, Mannheim, Allemagne
2001 : Espace Fanal, Bâle, Suisse
1999 : Galerie Numaga, Auvernier, Suisse
1998 : « Espace libre », Galerie Gudrun Spielvogel, Munich, Allemagne
1996 : Galerie Brigitte Weiss, Zurich, Suisse
1995 : lynedjian Art, Lausanne, Suisse
1995-2003 : Vismara Arte, Milan, Italie
1994 : Repères, Galerie Editions Fanal, Bâle, Suisse
1992 : Galerie Mathieu, Besançon, France
1987 : ART-Basel, Galerie Photo, Bâle, Suisse
1980 : Banque des Règlements Internationaux, Bâle, Suisse
1972 : Galerie d'Art moderne, Bâle, Suisse
Group Exhibitions:
2023 : "-,=,+,"  Galerie Wagner, Paris
Salon Art Karlsruhe, avec la Galerie Wagner, Allemagne
2022 : Liberalitas  – Galerie Wagner, en partenariat avec le Centre d'Art Contemporain Frank Popper, Paris
Art Paris Art Fair, exposition collective, avec la Galerie Wagner, Paris, France
« Why White », exposition collective, Galerie Wagner, Paris, France
2021 : « Trésors de papier #2 », Galerie Wagner, Paris, France
2018 : Salon Art Elysée, avec Galerie Wagner, Paris, France
« Tricolore », Galerie Wagner, Le Touquet-Paris-Plage, France
2017 : Salon Art Elysée, avec la Galerie Wagner, Paris, France
2016 : « Fürshen gemacht », Galerie Konkret Martin Wörn, Sulzburg, Allemagne
« Affinités abstraites I II III – IV V », Galerie Wagner, Le Touquet-Paris-Plage, France
2015 : « Affinités abstraites », Galerie Wagner, Le Touquet-Paris-Plage, France
Lille Art Up, avec la Galerie Wagner, Lille, France
2014 : « Affinités abstraites », Galerie Wagner, Le Touquet-Paris-Plage, France
2013 : « Architectures du silence », Galerie Gimpel-Müller, Paris, France
Espace SHUV avec les éditions Fanal, Lausanne, Suisse
« Transparenz », Galerie Konkret Martin Wörn, Sulzburg, Allemagne
2012 : Galerie C avec les éditions Fanal, Neuchâtel, Suisse
Topographie de l'art, Paris, France
« Farbklänge » – Winter Group 2012, Galerie La Ligne, Zurich, Suisse
2011 : « Winter Group Show », Galerie La Ligne, Zurich, Suisse
2010 : « Couleur et Géométrie, actualité de l'Art Construit Européen », Orangerie des Musées et Bibliothèque Municipale, Sens, France
« Art abstrait/concret », Galerie Jean Gresset, Besançon, France
2008 : Galerie du Cloître, Ecole des Beaux-Arts de Rennes, Rennes, France
2007 : « Constraste », espace fanal (avec Gerhard Doehler), Bâle, Suisse
2006 : Carrespace, (avec ben Muthofer), Vallorbe, Suisse
« Horizontales, verticales, seules », Musée Tavet, Pontoise, France
2005 : « Farbe Jetz », gKg, Bonn, Allemagne
2004 : Musée des Beaux-arts (avec Aurélie Nemours), Mulhouse, France
Art Concret Européen, Künstlerforum, Bonn, Allemagne
2002 : Galerie St Johann, Saarbrücken, Allemagne
1999 : « Constructive Art in Europe at the threshold of the third millennium », Galerie Emilia Suciu, Ettlingen, Allemagne
Galerie Emilia Suciu, (avec Kunibert Fritz et Joan Palà), Ettlingen, Allemagne
« 50 Quadrat ein aktueller Überblick über die internationale konkrete Kunst », Galerie Konkret Martin Wörn, Sulzburg, Allemagne
1997 : « Black is beautiful, white is purity », lynedjian Art, Lausanne, Suisse
« Les femmes et l'abstraction géométrique », lynedjian Art, Lausanne, Suisse
«  A tempo », Centro Cultural Consolidado, Caracas, Venezuela
1995 : Fondation Louis Moret, Matigny, Suisse
1994-1995-1996 : ART Basel, galerie Denise René, Paris, France
1993-1994-1996 : ART Basel, Galerie Mathieu, Besançon, France
1990 : « Hommage à Otto Freundlich », Galerie d'art Moderne, Bâle, Suisse
1990-1992-1993-1994 : ART Basel, Galerie Hoffmann, Friedberg, Allemagne
1987 : FIAC, Galerie Denise René, Paris, France
FIAC, Galerie Oniris, Rennes, France
1986 : Museum für modern Kunst, Cuxhaven, Allemagne
Club Royal de la Banque Nationale de Belgique, Bruxelles, Belgique
1974 : Galerie im Trudelhaus, Baden, Suisse
1967-1966 : Galerie Wercamer, Paris, France
1960 : Universidad de Valladolid, Valladolid, Espagne
1958 : Galerie Denise Breteau, France
Maison de van Gogh, Auvers-sur-Oise, France
Eglise Saint-Nicolas, Chapelle romane, Maisons-Laffite, France
1957 : Galerie Simone Heller, Paris, France
1956 : Atelier Otto Freudlich, Paris, France
1955 : Galerie Le Hérisson, Saint-Germain-en-Laye, France