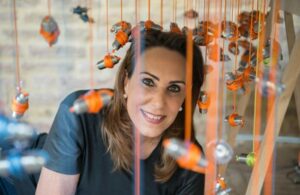 Born in Mexico City in 1958
From 1977 to 1981, she studied graphic design at the Philadelphia College of Art.
In the early 1990s, she joined the studio of Enrique Jolly
Since 1997: She has participated in various collective art exhibitions in Mexico and other countries, such as the International Biennial of Contemporary Art in Florence, Italy. 
Irene stayed in Enrique Jolly's studio for over ten years, where she discovered that abstraction was the language she needed to express both her concerns and her inner world.
Since 1997, her popularity increased exponentially when she began to show her individual works in galleries, cultural centres and other venues in Mexico City. Early in her career, she constructed bronze sculptures that represent movement, but also reflect the artist's state of mind at the time of their creation. These works reflect a great deal of emotion and inner exploration. Most of them are monochrome, mostly made in grey, green or brown.
Throughout her career, Zundel has experimented with various materials such as wax, clay, ceramics, steel, bronze and, in the last two years, she has started working with Plexiglas. The infinite possibilities offered by the latter material have allowed her to create fascinating projects. The artist has gone through a process of learning and research to achieve such results. The result of this process is beautifully illustrated by the artworks gathered for the exhibition Beyond Reality. These are balanced, bright and colourful pieces that have a close relationship with the principles of optical and kinetic art. For the viewer who stands in front of these works, the great variety of colours and light produces a virtual movement. The varied colours of the pieces, with their shadows and reflections, change according to the position of the viewer.
Public installations :
2008 : ABC Hospital, Oncology Building, Mexico City, Mexico
2004:  Alegría (Joy), Federico Gómez Hospital, Mexico City, Mexico
1997: Un mundo lleno de ilusiones (A World Full of Hope), Mexico City's Government,
Mexico City, Mexico
Personal Exhibitions (selection)
2019 :  Beyond Reality, Maison de l'UNESCO, Paris, France
2018 :  Cermodern Museum, Ankara, Turkey
Jenseits des Sichtbaren, Mexican Embassy at Berlin, Germany
2017 :  Más allá de lo aparente. Madrid, Spain
 Oltre il Velo Dell´Apparenza, Venice, Italy
2014:   Inflicto (Inflict), Franz Mayer Museum, Mexico City, Mexico
1999 :   Entorno (Surroundings), Mexico City, Mexico

1998  : Reflejo de Emociones en Movimiento (Reflection of Emotions in Movement), Mexico City, Mexico
1997 :  Desde la emoción hacia la fantasía (From Emotion Towards Fantasy), Jesús Reyes Heroles Cultural Center, Mexico City, Mexico
1996:   Visiones y sueños de la imaginación (Visions and Dreams of the Imagination), Tlalpan Cultural Center, Mexico City, Mexico
 Visiones de la imaginación (Visions of the Imagination), Centro Deportivo Israelita, Mexico City, Mexico
Group exihibition (selection)
2023 : SALC, Galerie Wagner, Paris France 

2019 : Cabo Art Week, SmithDavidson Gallery, Miami, USA