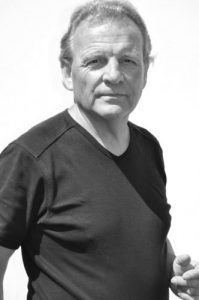 Born in 1941 in Grieskirchen, Austria
 Studied graphic arts with Erich Buchegger at the Kunstschule Linz, Austria
 Between 1975-2003, teaches at the School of Art and Industrial Art in Linz, Austria
Produces his first concrete art works
Lives and works in Austria
Gerhard Frömel's pieces or installations are three-dimensional and made from single elements positioned on two or more planes. Thus, the viewer, depending on where he or she stands, can perceive optical displacements, separations or connections. He can also discover linear elements or a diversity of forms, as well as an illusionary space that can be perceived in two or three dimensions.
The same experiment can be carried out when moving through a city or a landscape: each step leads to an optical transformation. Isolated buildings blend into each other or become a wall; distant buildings and scenes of the landscape seem to line up on the same plane. This physical and mental experience can change our perception of the world. What we could sum up with the formula:  « it is what it will be! »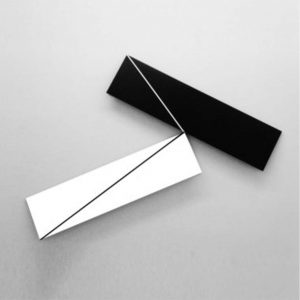 Wandinstallation/Balance 2-teilig, 2017
Black and white acrylic lacquer on aluminium
2 x (125 x 31 x 8) cm
Unique piece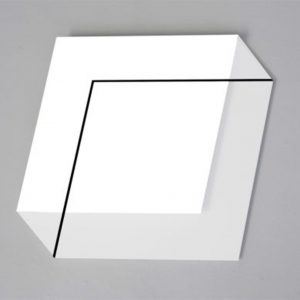 Räumliche Transparenz, 2021
White acrylic lacquer with black lines on aluminium
50 x 57,5 x 3,5 cm
Unique piece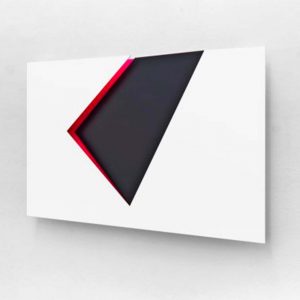 einBlick magenta, 2020
Black, white and magenta acrylic lacquer on aluminium
50 x 75 x 6 cm
Unique piece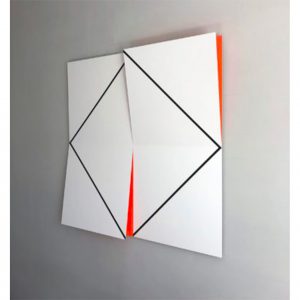 Sechs Quadrate 1 – Teilin, 2020
White and bright orange acrylic lacquer with fine black line on aluminium
75 x 75 x 8 cm
Unique piece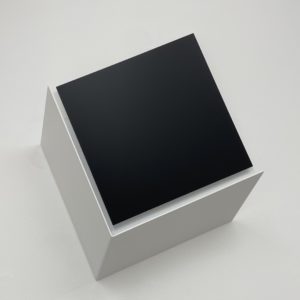 Raumkörper Winkel, 2010
Black and white acrylic lacquer on aluminium32,5 x 32,5 x 10
Unique piece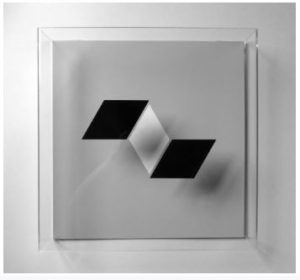 Fliegende Fläschen Paris I, 2021
Acrylic lacquer on aluminium and transparent Plexiglas
37,5 x 37,5 x 6 cm
Unique piece
Private and public collections : 
 Das Klein Museum, Weissenstadt, Allemagne
Collection de la ville de Gmunden, Autriche
Collection de la ville de Linz, Autriche
Galerie nationale de la Haute-Autriche, Autriche
StifterHaus, centre de littérature et de langue, Linz, Autriche
Musée d'Etat du Tyrol, Innsbruck, Autriche
Musée d'art moderne et musée des signes du temps, Hühnfeld, Allemagne
Galerie d'art PAKS à Paks, Hongrie
Musée d'art concret, Ingolstadt, Allemagne
Forum de l'Art Concret, Erfurt, Allemagne
Institut pour l'Art Construit et la poésie concrète (IKKP) Rehau (Collection Gomringer) et Rehau parc de sculpture, Allemagne
Musée de l'abbaye de Liesborn, Wadersloh, Allemagne
La Maison de Mondrian, Amersfoort, Pays-Bas
Centre de sculpture polonaise, Oronsko, Collection Prof. Dr. Bozena Kowalska, Pologne
Collection Peter Staechelin de la ville de Fribourg, Allemagne
Collection Dr. Jiri Valoch, Brünn, République Tchèque
Musée de la ville de Bayreuth, Allemagne
Musée d'art – MUFUKU Weibern OÖ, Autriche
Fondation Messmer, Riegl Breisgau, Allemagne
Lentos, musée d'art contemporain, Linz, Autriche
Musée Ritter, Waldenbuch/Stuttgart, Allemagne
Collection Siegfried Grauwinkel, Allemagne
Collection Musée RUPPERT dans le « Magasin de culture » Würzburg, Allemagne
Collection du Musée Biedermann, Donaueschingen, Allemagne
Collection du Musée Otten, Hohenems, Autriche
Collection Raiffeisenbank Schwanenstadt, Autriche
Collection du Musée Liaunig, Neuhaus i.K, Autriche
Solo shows : 
2021: « Au-delà des apparences », Galerie Wagner, Paris, France
2020: « Noir sur Blanc » Galerie Lindner Vienne, Autriche
2018 : Edition Fanal, Basel St-Alban-Tal, Suisse
Galerie Leonhard Opernring, avec Hellmut Bruch, Graz, Autriche
2017 : Galerie La Ligne, Zürich, Suisse
Galerie Lindner, Vienne, Autriche
Galerie Linde Hollinger Ladenburg, avec Inge Dick u. H. Bruch, Ladenburg, Allemagne
2016 : Musée Angerlehner, avec Inge Dick u. H. Bruch, Wels, Autriche
Julius Ap avec Stephan Ehrenhofer, Berlin, Allemagne
Stadtgalerie Lebzelterhaus, Vöcklabruck, Vöcklabruck, Autriche
2015 : Galerie Mariette Haas, avec Ludwig Wilding, Ingolstadt, Allemagne
2014 : Galerie La Ligne Zürich, avec Hellmut Bruch, Suisse
The Solo Projekt Galerie Lindner Wien, avec Hellmut Bruch, Basel, Suisse
2013 : Galerie Linde Hollinger Ladenburg avec Marcello Morandini, Ladenburg, Allemagne
Galerie Lindner, avec Hellmut Bruch, Vienne, Autriche
2012 : Galerie Walzinger Saarlouis, Saarlouis, Allemagne
2011 : Galerie La Ligne Zürich, avec Müller Emil, Suisse
Galerie Linde Hollinger, Ladenburg, Allemagne
Galerie Mariette Haas, Ingolstadt, Allemagne
2010 : Le petit Musée avec l'artiste Hellmut Bruch, Weissenstadt, Allemagne
Kammerhofgalerie, avec l'artiste Sabine Richter, Gmunden, Autriche
Galerie Leonhard, Graz, Autriche
Group shows : 
2023 : "-,=,+,"  Galerie Wagner, Paris
Exposition duo – Gerhard Frömel et Géraldione Wilcke, chez Klotzshows, en collaboration avec la Galerie Wagner, Bruxelles, Belgique
2022 : Liberalitas – Galerie Wagner en collaboration avec le Centre d'Art Contemporain Frank Popper, Paris
2021 : « Mesures/Démesures #2 », Galerie Wagner, Paris, France
Du Show avec Perez Floresz, Galerie La Ligne, Zurich, Suisse
Espace de l'Art Concret,  Château de Mouans-Sartoux, France
Art Paris, Galerie La Ligne Zurich, Grand Palais Ephémère, Paris, France
« Pas un jour sans ligne » de la collection M H-R, Musée Ritter Waldenbuch, Allemagne
« Inge Dick et ses amis », Galerie Linde Hollinger Ladenburg, Allemagne
2020 : «

Autour du Plan

», Galerie Wagner, Paris, France
« Frömel/Mein Raum in Ladenburg », Galerie Linde Hollinger Ladenburg, Allemagne
« C'est Maerz », Galerie MAERZ, Linz, Autriche
2019 : «

Conquêtes Spatiales

», Galerie Wagner, Paris, France
« Espace négatif », Centre pour l'art et les médias, Karlsruhe, Allemagne
Galerie Lausberg, Düsseldorf, Allemagne
Galerie KunstKontor, Nuremberg, Allemagne
Galerie Fetzer, Sontheim, Autriche
Galerie Forum Wels, Wels, Autriche
Stadtgalerie / 40 ans Lebzelterhaus, Vöcklabruck, Autriche
Art Basel, Edition FANAL Basel, Suisse
Galerie Haas, Ingolstadt, Allemagne
Musée de la perception MUWA, Graz, Autriche
« Les héritiers de Platon », KunstMuseum de Bayreuth, Allemagne
Art Paris, Galerie La Ligne Zurich, Grand Palais, Paris, France
« Art Karlsruhe » , Galerie Linde Hollinger Ladenburg, Allemagne
« Felanitx, Mallorca », Galeria Roy,  Espagne
« Dr. julius ap », Projet Bauhaus, Berlin, Allemagne
2018 : Galerie Wagner, Le Touquet, France
Musée Liaunig, Neuhaus I.K, Autriche
Galerie Fetzer, Sontheim, Allemagne
Art Paris Art Fair, Galerie La Ligne Zürich, Le Grand Palais, Paris, France
Zs Art Galerie Vienne, Autriche
Art Karlsruhe Galerie Linde Hollinger, Karlsruhe, Allemagne
Galerie Linde Hollinger Ladenburg, Ladenburg, Allemagne
Dr. Julius Ap, Berlin, Allemagne
Maison des Arts/Galerie Lindner Vienne, Fürstenfeldbruck, Allemagne
2017 : Mouans Sartoux, France
Carlos Cruz-Diez & La Donation Albers-Honegger
Dr. Julius Ap, Berlin, Allemagne
Art Basel, Edition Fanal Basel, Basel, Suisse
Art Paris Art Fair, Galerie La Ligne Zürich, Le Grand Palais, Paris, France
Art Bodensee, Galerie Hollinger Ladenburg, Dornbirn, Autriche
Art Karlsruhe Galerie Linde Hollinger, Karlsruhe, Allemagne
Galerie Mariette Haas, Ingolstadt, Allemagne
Espace artistique Roy, Kunnersdorf, Allemagne
2016 : Art Basel, Edition Fanal Basel, Suisse
Art Paris Art Fair, Galerie La Ligne Zürich, Le Grand Palais, Paris, France
Galerie Lindner Vienne, Autriche
Zs Art Galerie Wien, Vienne, Autriche
Ikkp Eugen Gomringer, Galerie Lindner Vienne, Rehau Allemagne
Art Bodensee, Galerie Hollinger Ladenburg, Dornbirn, Autriche
Art Karlsruhe Galerie Linde Hollinger, Karlsruhe, Allemagne
Galerie Linde Hollinger Ladenburg, Ladenburg, Allemagne
2015 : Art Basel, Edition Fanal Basel, Suisse
Art Paris Art Fair, Galerie La Ligne Zürich, Le Grand Palais, Paris, France
Galerie La Ligne Zürich, Suisse
Musée Ritter, Exposition Jubilé, Waldenbuch, Allemagne
Musée Vasarely, Budapest, Hongrie
Art International Istanbul, Galerie Lindner Vienne, Istanbul, Turquie
Art Bodensee, Galerie Hollinger Ladenburg, Dornbirn, Autriche
Art Karlsruhe Galerie Linde Hollinger, Allemagne
Galerie 422, avec la Galerie Lindner Vienne, Gmunden, Autriche
2014 : Art Basel, Edition Fanal Basel, Suisse
Art Paris Art Fair, Galerie La Ligne Zürich, Le Grand Palais, Paris, France
Musée Vasarely, Budapest, Hongrie
Art Bodensee, Galerie Hollinger Ladenburg, Dornbirn, Autriche
Art Karlsruhe Galerie Linde Hollinger, Karlsruhe, Allemagne
Galerie Linde Hollinger Ladenburg, Ladenburg, Allemagne
Fondation d'art concret Phleps, Freiburg/Preisgau, Allemagne
Quadrart Dornbirn, Galerie Mariette Haas, Allemagne, Dornbirn, Autriche
Stadtgalerie Lehen Salzburg, Autriche
« Urabain » Galerie Speyer, Allemagne
2013 : Dr Julius Ap Berlin, Allemagne
Art Paris Art Fair, Galerie La Ligne Zürich, Le Grand Palais, Paris, France
Art Zürich, Edition Mülller Emil, Suisse
Art Bodensee, Galerie Hollinger Ladenburg, Dornbirn, Autriche
Art Karlsruhe Galerie Linde Hollinger, Karlsruhe, Allemagne
Galerie März Linz, Autriche*
2012 : Art Bodensee, Galerie Hollinger Ladenburg, Dornbirn, Autriche
Galerie La Ligne Zürich, Suisse
Parc de la sculpture, Wuppertal, Allemagne
Art Zürich, Galerie La Ligne, Suisse
Art Karlsruhe Galerie Linde Hollinger, Karlsruhe, Allemagne
Galerie Linde Hollinger Ladenburg, Ladenburg, Allemagne
Galerie Lindner, Vienne, Autriche
Galerie Lindner, Vienne, Autriche, Bratislava, Slovaquie
2011 : Galerie Nine, Amsterdam, Pays-Bas
Galerie Von Waldenburg, Berlin, Allemagne
Art Zürich, Galerie La Ligne U. Multipleart, Zürich, Suisse
Art Karlsruhe Galerie Linde Hollinger, Karlsruhe, Allemagne
Fondation Messmer, Riegel, au Kaiserstuhl, Allemagne
Parc de la sculpture, Wuppertal, Allemagne
2010 : Musée De Sens, France
Parc de la sculpture, Wuppertal, Allemagne
Art Zürich, Oerlikon, Suisse
Université Technique, Dresden, Allemagne