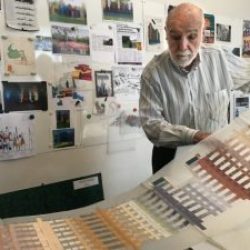 Born in 1929 in Chamalières, France
Pierre Francastel's puoil at the Studio Fernand Léger, at the Montparnasse workshops and at the National School of Fine Arts
1963-1967 : In charge of lectures at the Landscape Department from the Versaille school of Horticulture
1967 : Professor at the National School of Fine Arts, nominated by the Minister of Culture André Malraux
1968 : Teaches at the School of Architecture Paris-la-Villette where he will direct from 1989 to 1998 the following department : "Garden, Landscape and Territory"
1969: following the demand of M. Sirinelli, Director of Superior Education at National Ministry of Education, creates with Bernard Teyssèdre the Studies and Research of Plastic Arts and Sciences of Art Unit at the Université Paris I where he will be lecturer and Vice-Chairman until 1973
1976 Co-founder of the National Super School of Landscape of Versailles, creates and et directs the Charles Rivière Dufresny Studio until 1986
1980-1986 : Lecture and Studies Director of the DEA 108 at the Université Paris-Dauphine
1984-1985: Guest lecturer at the University of Kassel
1990-1991: Guest lecturer at the University of Montréal
1990-2000 : Nominated Associate Lecturer at the University of Philadelphia
2002-2003 : Guest lecturer at the University of Cambridge
2002-2006 : Taught at the University of Bologna, Venuce and Leibniz of Hanovre
1990-2008: Member of the committee of the 1% paysage et developpement du Ministère de l'Equipement
2001 – 2008 : Member of the National Council of Landscape at the Ecology Ministry 
For more than sixty years, Bernard Lassus, visual artist, colourist, landscaper and architect, has been reflecting on and working on the transformations of urban environments.
The concept of atmosphere that he forged at the end of the 1950s pushes the limits of space's arts and explores the plurality of perception factors of our daily environment. Thus, light, colour and movement are the primary materials of his artistic and landscape projects.
Trained as a painter, in particular at Fernand Léger's studio, Bernard Lassus focuses on the relationship between colour and perspective. Opposed to geometric art, the concept of ambiance allows him to put sensitivity and poetic space at the forefront of creation.
From the 1960s onwards, his professional practice was directed towards large-scale colouring projects in low-cost housing estates. Denouncing the uniformity of large housing estates and the functionalist hegemony of the time, he set out to thwart the linear and abstract repetition of construction standards through colour. He is passionate about the psychological appropriation of housing by its inhabitants and is interested about  the question of landscape.
Distinctions : 
 Officer of the Legion of Honour, Ministry of Equipment, 2005
 Chevalier des Arts et Lettres, Ministry of Culture, 1998
The Jardin des Retours was awarded the Grand Prix du Patrimoine by the Ministry of Culture for the town of Rochefort-sur-Mer, 1993. This project is part of the "Grands Travaux du Président de la République
Grand Prix du Paysage, 1996
Sir Geoffrey Jellicoe Gold Medal, I.F.L.A. (International Federation of Landscape Architects)-UNESCO, 2009
 ISA Medal for Science, Istituto di Studi Avanzati, Università di Bologna, Italy, 2010, for "his studies and applications of landscape strategy in respect of biodiversity, history, multiculturalism and sensitive logics".
Doctor Honoris Causa of the University of Montreal, 2002, for "avant-garde discipline at the crossroads of science, humanities and landscape".
Honorary doctorate from the Leibniz University of Hannover, "in recognition of the exceptionality of his research, teaching and practice", 2006
Doctor Honoris Causa of the I.U.A.V. Università di Venezia in 2007, for "his extraordinary contribution to the work of Landscape Design and his constant civil commitment".
"Ruban d'or" from the Direction des Routes of the Ministry of Public Works for the creation of a 7-hectare rest area "les Carrières de Crazannes" and 2.5 km of quarries, 1997
Ruban d'or" from the Roads Directorate of the Ministry of Public Works for the construction of two 65-hectare rest areas in Nimes-Caissargues, 1993
Award for the rehabilitation of social housing, ECSC (European Coal and Steel Community), 1972
Researchs:
1960 – 1977: Research contract for the D.G.R.S.T. – Direction Générale à la Recherche Scientifique et Technique (D.G.R.S.T.) where he highlighted "Les Habitants-Paysagistes", what Claude Lévi-Strauss designated (in 1974) as a new field: the Art of Gardening in suburban housing.

Participates in lighting research at the C.S.T.B. Centre Scientifique et Technique du Bâtiment.
Develops experiments on light, colour and movement for the MAZDA Lighting Centre.

1971 – 1974: Member of the Council for Scientific Research on the Environment
1972 : Expert of the High Committee for the Environment

1972 -1976 : Co-founder of the National Centre for Landscape Studies and Research, Director of Research, Ministry of the Environment

1976 – 1986: Director of Research at the Ecole Nationale Supérieure du Paysage de Versailles

2007 – 2015: Member of the Advisory Board of the Zentrum für Gartenkunst + Landschaftsarchitektur of the Leibniz Universität Hannover

Research contracts for the Ministry of Public Works, the Ministry of Culture, the Ministry of the Environment / Ecology – Sustainable Development
Personal Exhibitions

2022 : « Vivre la couleur », Galerie Wagner, Paris, France
2017 : « Jardin Monde » et «  Focus », au MNAM, Centre Pompidou, Paris, France
1999 : Exposition de travaux, Dumbarton Oaks, Washington, Etats-Unis
1994 : University of Pennsylvania, School of Design, Department of Landscape Architecture, Philadelphie, Etats-Unis
1986 : Coracle Press, Londres, Grande-Bretagne (exposition itinérante)
Graeme Murray Gallery, Edimbourg, Ecosse
Institut Français d'Edimbourg, Edimbourg, Ecosse
Aspex Gallery, Southampton
Canterbury University, bibliothèque, Canterbury
1983 : « Les Pins », Galerie Coracle Press, Londres, Grande-Bretagne
1979 : « Bernard Lassus : la démarche paysagère » :
Institut Français de Stockholm, Suède
Institut Français des Pays-Bas, Amsterdam, Pays-Bas
1978 : « Bernard Lassus : The Landscape Approach » : the Scottish National Gallery of Modern Art, Edimbourg, Ecosse, Grande-Bretagne
« Bernard Lassus », New 57 Gallery, Edimbourg, Ecosse, Grande-Bretagne
1976 : « Garden of the Anterior », Coracle Press, Londres, Grande-Bretagne
1975 : « Paysages Quotidiens de Bernard Lassus », Musée des Arts Décoratifs, Centre Beaubourg, Paris
1965 : « Nouvelle Tendance 3 / Nova Tendencija 3 » : Recherche d'ambiance visuelle / Istrazivanja vizuelnog ambijenta, Muzej za umjetnost i obrt, du 13 Août au 19 Septembre 1965, Zagreb, Exposition personnelle : 35 œuvres de Bernard Lassus
1964 : Maison des Beaux-Arts, Paris, France
1949 : Galerie Aktuaryus, Strasbourg, France
Group exhibitions :
2023 : Drawing Now – Salon du dessin contemporain, avec la Galerie Wagner, Paris
2022 : Liberalitas – Galerie Wagner en collaboration avec le Centre d'Art Contemporain Frank Popper, Paris
2019 : « Le Jardin des Hypothèses », jardins pérennes, Domaine de Chaumont-sur-Loire, France
« Mention spéciale décernée le 21 Juin 2019 par le jury »*
2018 : « Être là … un peu + », carte verte dans le cadre du Festival International des Jardins, Domaine de Chaumont-sur-Loire, France
2017 : « L'Expérience de la Couleur », Musée National de la Céramique, pour le 40e anniversaire du Centre Georges Pompidou, Sèvres
« Eloge de la Couleur », La Piscine, pour le 40e anniversaire du Centre Georges Pompidou, Roubaix, France
« La Corderie Royale, une belle histoire », La Corderie Royale, Centre International de la Mer, Rochefort, France
2015 – 2016 : « Iconographie, l'œuvre comme collection d'images », Frac Limousin et Centre des Livres d'Artistes, Saint Yrieix La Perche, France
2015 : « Le Pas et la Page », approches de la nature dans le livre d'artiste, Frac Paca, Marseille, France
2014 : « Le Pas et la Page », approches de la nature dans le livre d'artiste, Musée Gassendi, Digne-les-Bains, France
2012 – 2013 : « l'Architettura del Mondo, Infrastrutture, mobilità, nuovi paesaggi », à La Triennale di Milano, Italie
2011 – 2012 : « Environnement Polychrome », exposition d'œuvres de Bernard Lassus dans la Galerie Permanente, Musée National d'Art Moderne, Centre Georges Pompidou, Paris, France
2011 : « La Ville Fertile, vers une nature urbaine », Films de 5 grands témoins, Cité de l'Architecture et du Patrimoine, Paris, France, puis version itinérante de cette exposition au Qatar
« Cabin Codex », présentation du livre « Les Pins », issu de la Collection de Livres d'Artistes du Duncan of Jordanstone College of Art and Design, Université de Dundee, Ecosse, Grande-Bretagne
2010 : « Quarry Architecture : recuperating quarries and reinventing landscape », Veronafiere 45e Marmomacc, International Exhibition Marble Design Technology, Présentation des Carrières de Crazannes, Verone, Italie
2008 : Internationale Triënnale Apeldoorn, 100 Dagen Cultuur, Tuin en Landschap, Paleis Het Loo Nationaal Museum, Apeldoorn, Pays-Bas
2006 : « Paysages, Regards Croisés », Orangerie du Musée d'Histoire Naturelle Grenoble, France
2003 : « Contemporary French Landscape Architecture » Fox Gallery, Logan Hall University of Pennsylvania, Philadelphie, Pennsylvanie, Etats-Unis
Biennale d'Architecture de Rotterdam, Rotterdam, Pays-Bas
2002 : « Infrastrutture e Paesaggi Contemporanei », réalisée pendant la Biennale de Venise, à l'Istituto Universitario di Architettura di Venezia, Venise, Italie
« Architecture and Land-Art », pour Veronafiere, Vérone, Italie, puis exposition itinérante à travers diverses villes italiennes
2001 : « Territories, Contemporary European Landscape Design », Présentation des Carrières de Crazannes, à Harvard Graduate School of Design, Cambridge, Massachussets, Etats-Unis
« La Bièvre, Rivière Vivante » présentation du plan vert et du plan paysage de la ville de Sarcelles, France
2001 : Festival International des Jardins en Septembre, aux Jardins de Métis, Grand Métis, Québec, Canada
1999 : Burford House Gardens, Burford, Grande-Bretagne
1998 : « Ogrod, Forma, Symbol e Marzenie », Varsovie, Pologne
1990 : « Diables d'H.L.M. – La Réhabilitation du Logement Social en France », organisée par le C.A.U.E. 93, Centre des Expositions, Montreuil France
« Firenze per l'Arte Moderna », Victoria Miro Gallery, Florence, Italie
1989 : Coracle Press Gallery 1975-1987, Yale Center for British Art, New Haven, Connecticut, Etats-Unis
1987 : « The Unpainted Landscape », Scottish Arts Council et Graeme Murray Gallery, Grande-Bretagne (exposition itinérante) :
MacLaurin Art Gallery, Ayr, Ecosse
Pier Art Center, Stromness, Ecosse
Scottish National Gallery of Modern Art, Edinburgh, Ecosse
Artspace Galleries, Aberdeen, Ecosse
Collins Gallery, University of Strathclyde, Glasgow, Ecosse
Victoria Miro Gallery, Londres
Crawford Center for the Arts, St Andrews University, Ecosse
1983 : « La Ville en ses Jardins » Centre de Création Indutrielle et Centre Beaubourg, Paris, France
« Arte e Ironia », Musée d'Art Contemporain, Caracas, Vénézuela
1982 : « S.O.S. 1.2.3.4.5 », Dokumenta Urbana, Kassel, R.F. Allemagne
S.I.G.M.A. 18, Bordeaux, France
1981 : Exposition Internationale d'Architecture Intentionnelle, Terra II, Wroclaw, Pologne
« Une Approche Paysagère », Galerie du Centre d'Action Culturelle Pablo Neruda, Corbeil Essonnes, France
« Four Years at Coracle Press », Londres (exposition itinérante) :
Southampton Art Gallery, Southampton, Grande-Bretagne
The Mapin Gallery, Sheffield, Grande-Bretagne
Strathclyde University, Collins Exhibition Hall, Glasgow, Grande-Bretagne
Leicester Art Gallery and Museums, Southampton, Grande-Bretagne
1980 : « Paysage Sonore Urbain », Fondation Nationale des Arts Graphiques et Plastiques, Paris, France
1979 : « La Couleur dans la Cité », Fondation Scientifique de Lyon et du Sud-Est, exposition itinérante, Lyon, France
1978 : « Paysages Quotidiens », Maison de la Culture de Ringsted, Ringsted, Danemark
« La Séquence », Studio Luca Palazzoli, Milan, Italie
« Les Singuliers de l'Art : des inspirés aux habitants-paysagistes », Musée d'Art Moderne, section art contemporain, Paris, France
« L'Art et la Ville / Art dans la Vie », exposition itinérante, Secrétariat Général des Villes Nouvelles, Paris, France
1977 : « Le Jardin : lectures et relations », Jardin Botanique National, Bruxelles, Belgique
XIVe Biennale de Sao Paulo, Sao Paulo, Brésil
« L'Art et la Ville », Secrétariat Général du Groupe des Villes Nouvelles, Abbaye de Royaumont, France
1975 : « The Suburbs », Art Net, Londres, Grande-Bretagne
Salon de Mai, Musée d'Art Moderne, Paris, France
Exposition Internationale d'Architecture Intentionnelle, Terra I, Wroclaw, Pologne
« Design for Need », Royal College of Art, Londres, Grande-Bretagne
Internationales Symposium Kunktion der Kunst, Graz, Autriche
« Les Habitants-Paysagistes », Galerie Culturelle, Musée Municipal des Arts et Traditions Populaires, Paris, France
1974 : Salon de Mai, Musée d'Art Moderne, Paris, France
La Bienal Internacional de Obra Grafica y Arte Seriad, Segovia, Espagne
« France is colour », Design Center, Londres, Grande-Bretagne
1973 : Salon des Réalités Nouvelles, Parc Floral, Paris, France
Salon de Mai, Musée d'Art Moderne, Paris, France
XVe Triennale de Milan, Milan, Italie
« French Programme », I.C.A., the Institute of Contemporary Arts, [The Mall, Londres]
1972 : « L'art et les Technologies Industrielles », Le Creusot, France, puis Ville de Vitry s/Seine, France
Salon des Réalités Nouvelles, Parc Floral, Paris, France
Salon de Mai, Musée d'Art Moderne, Paris, France
Salon Comparaison, Grand Palais, Paris, France
Salon de la Jeune Sculpture, Place des Vosges, Paris, France
« Sculptures dans l'Architecture », Centre Jeanne Hachette, Ivry, France
« Mobilier Urbain », Musée des Arts Décoratifs, Pavillon de Marsan, Paris, France
Musée d'Art et d'Histoire, Chambéry, France
1971 : Salon de Mai, Musée d'Art Moderne, Paris, France
Salon de la Jeune Sculpture, Parc Floral, Paris, France
« Design Français », Musée des Arts Décoratifs, Pavillon de Marsan, Paris, France
Kunstzone, Kunstmarkt, Munich, R.F. Allemagne
« Art Cinétique », Galerie d'Art Expérimental, Formes et Mureaux, Lyon, France
1970 : « Arts et Cinétique », Centre Culturel Communal, Nanterre, France
« Art et Architectures », Bilan et Problèmes du 1 %, Halles Centrales, Paris, France
« Art Cinétique », Maison de la Culture, La Rochelle, France, puis Théâtre Gérard Philippe, Saint Denis, France
Foire aux Architectes Liège, Belgique
1969 : Floralies Internationales de Paris, Bois de Vincennes, Paris, France
Salon de Mai, Musée d'Art Moderne, Paris, France
« Plane und Projekt als Kunst », Kunsthalle, Berne, Suisse
« Aktionsraum », Munich, R.F. Allemagne
« Künstler machen Pläne, andere auch Kunsthaus », Hambourg, R.F. Allemagne
Salon Confrontation, Musée de Dijon, Dijon, France
Foire aux Architectes, Tournai, Belgique
« Artists and Architecture 67 », Building Center, Londres, Grande-Bretagne
1968 : « Petits formats d'artistes de 7 pays », Le Disque Rouge, Centre d'Art Construit, Bruxelles, Belgique
« Art Cinétique et Espace », Musée-Maison de la Culture, Le Havre, France
Salon Confrontation, Musée de Dijon, Dijon, France
XIVe Triennale de Milan, Milan, Italie
« Cinétisme, Spectacle, Environnement », Maison de la Culture, Grenoble, France
1967 : Salon Confrontation, Musée de Dijon, Dijon, France
Lumière et Mouvement, Musée d'Art Moderne, Paris, France
« Science Médicale et Prospective », Entretiens de Bichat, Paris, France
Salon des Réalités Nouvelles, Musée Municipal d'Art Moderne, Paris, France
« Artists and Architecture 67 », Building Center, Londres, Grande-Bretagne
1966 : « Kunst Licht Kunst », Musée Municipal d'Eindhoven, Pays-Bas
Salon des Réalités Nouvelles, Musée Municipal d'Art Moderne, Paris, France
1965 : « Mouvement 2 », Galerie Denise Renée, Paris, France
« Art et Mouvement », Musée de Tel Aviv, Israël
« Nouvelle Tendance 3 », Musée d'Art Moderne, Zagreb, Yougoslavie
« Mesure », Musée Municipal de Bielefeld, Bau Zentrum de Hambourg,et Musée Municipal de Witten, R.F. Allemagne
« Aktuel », Galerie Aktuel, Berne, Suisse
Salon des Réalités Nouvelles, Musée Municipal d'Art Moderne, Paris, France
Salon de la Jeune Sculpture, Musée Rodin, Paris, France
1964 : Salon de la Jeune Sculpture, Musée Rodin, Paris, France
Salon des Réalités Nouvelles, Musée Municipal d'Art Moderne, Paris, France
« Les Questions », Galerie d'Art Socio-Expérimental, Paris, France
« Mesure », Beaux-Arts d'Offenbach-am-Rhein, R.F. Allemagne
1963 : Salon de la Jeune Sculpture, Musée Rodin, Paris, France
Salon des Réalités Nouvelles, Musée Municipal d'Art Moderne, Paris, France
« La Couleur, Phénomène Social », Galerie d'Art Socio-Expérimental, Paris, France
1957 : « Lumière, Couleur, Surface et Mouvement », Amiens, France
1955 : Salon de la Jeune Peinture, Paris, France