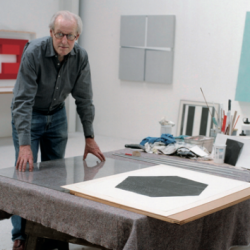 Born in Middlesex in 1942
1958 : Studied at Twickenham School of Arts
1963 : Studied at the Kingston School of Art. He then produced his first abstract works at the Bristisch School in Rome. On his return to England, he is hired as an assistant of the sculptor Bryan Kneale.
1968 : First solo exhibition in a London gallery.
1983 : Retrospective exhibition at the Warwick Trust in London
2010 : The Royal Academy of Arts in London honours his work
Taught at Chelsea College of Art and Design until 1999
Lives and works in London

Differences, equivalences and similarities, slight discrepancies, shifts and transformations, everything that evokes the almost similar, easily enters the field of John Carter's artistic research. His vocabulary is made up of simple geometric shapes: the square, well set between its verticals and horizontals; the parallelogram, this dynamic figure with its two obliques that creates the sway and introduces the shadow on its sides; the triangle, often cropped to disappear behind a surface.
They rub against each other, they shift, they create gaps in their sides, thus creating shadows and illusions. Adventures are created, there is the front and what slips underneath it, mirror sequences or systems that are half shifted.
John Carter's work is governed by rules of play that are both structurally simple and increasingly complex. It invites us to carefully consider the hints of an emerging perspective, the possibility of a gap that would open up a second plane. He attempts to slightly shift the shapes in order to open up a space, to suggest a shift or to create a gap for the eye to see what is happening behind. Which is often the same in reverse. It can also be the colour that blurs the lines by contradicting the stability or integrity of the figure…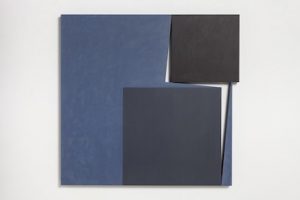 Transition Development (Dark Colours), 2016
Acrylic with with marble powder on plywood
100 x 104 x 4.5 cm
Unique piece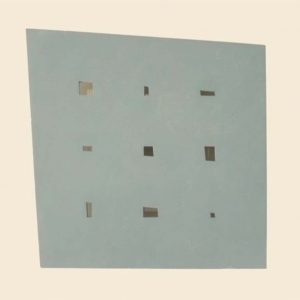 Pierced shape (maquette), 1991
Acrylic on plywood
21 x 21 cm
Unique piece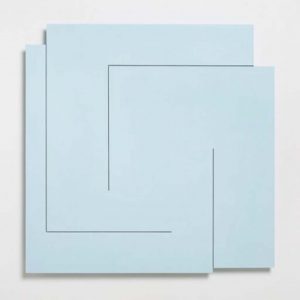 Matrix II, 2017
Acrylic and marble powder on plywood
96 x 96 x 5 cm
Unique piece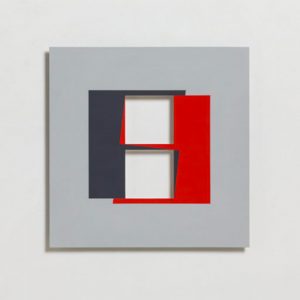 Transition Development III, 2014 
Acrylic and marble powder on plywood
50 x 50 x 5 cm
Unique piece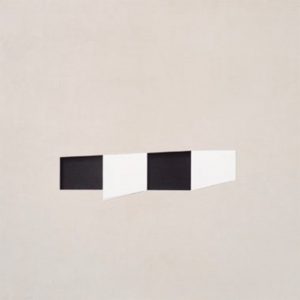 Aperture, 1991
Acrylic on wood
21 x 21 cm
Unique piece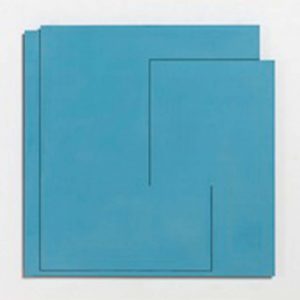 Square formation in blue II, 2015
Acrylic and marble powder on plywood
75 x 75 x 2,5 cm
Unique piece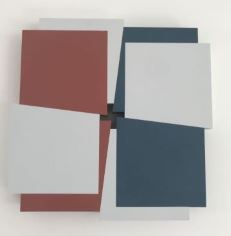 Slot within a Frame, 2020
Acrylic and marble powder on plywood
46 x 46 x 5,3 cm
Unique piece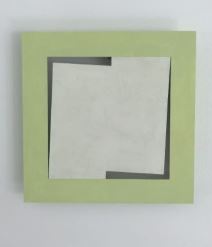 Fault Line: Four Pairs, 2020
Acrylic and marble powder on plywood
 15 x 15 x 3 cm
Unique piece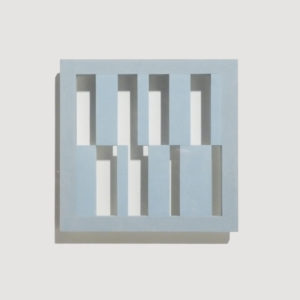 Music,
Acrylic and marble powder on plywood
32 x 32 cm
Unique piece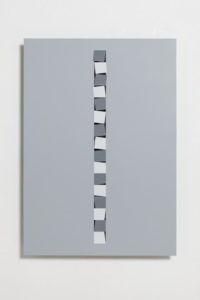 Identical shapes : all orientations on grey, 2016
Acrylic and marble powder on plywood
95,5 x 65 x 4,3 cm, 
Unique piece
Main public and private collections (selection) :
Arts Council of England
British Museum
British Council
Colchester Institute
Contemporary Art Society
Council for National Academic Awards
The Deloitte Art Collection
Donation André Schweizer, Médiathèque de Valenciennes
Donation Eva-Maria Fruhtrunk, Musée de Cambrai
Fitzwilliam Museum, Cambridge
John Creasey Museum, Salisbury
Kultusministerium, Rheinland-Pfalz
Leicestershire Education Authority
Mondriaanhuis, Amersfoort
Musée des Beaux-Arts, Mons
Musée du Petit Format, Couvin
Museum der Künstler, Erfurt
Museum Modern Art, Hünfeld
Museum Gegestandsfreier Kunst, Landkreis Cuxhaven
Museum Ritter, Waldenbuch
Oldham Art Gallery
Museum Pfalzgalerie, Kaiserslautern
Royal Academy of Arts, London
Satoru Sato Art Museum, Tome, Japan
Stadtbucherei – Graphothek, Remscheid
Die Sammlung Peter C.Ruppert, Museum im Kulturspeicher, Würzburg
Southampton City Art Gallery
Technische Universität, Darmstadt
University of Reading
Veszprén Gallery of Modern Painting, László Vass Collection, Veszprén, Hungar
Musée du Touquet, Donation André Le Bozec, France
Recent exhibitions : 
2023 : "-,=,+,"  Galerie Wagner, Paris
2021 : Exposition annuelle  Eté/Hiver, Royal Academy of Arts, Londres, Angleterre
« Small is Beautiful », Galerie Flowers, Londres, Angleterre
« Trésors de papier #2 », Galerie Wagner, Paris, France
2020 : « Autour du Plan », Galerie Wagner, Paris, France
2019 : « Conquêtes Spatiales », Galerie Wagner, Paris, France
2018 : « Espaces en réflexion », Galerie Wagner, Le Touquet-Paris-Plage, France
2017 : Art Elysées 2017 avec la Galerie Wagner, Paris, France
2016 : Exposition personnelle Galerie Wagner, Le Touquet-Paris-Plage, France
« Affinités abstraites, I II III – IV V », Galerie Wagner, le Touquet-Paris-Plage, France
2015 : « Affinités abstraites hiver 2015 » et « Affinités abstraites été 2015 », Galerie Wagner, Le Touquet-Paris-Plage, France
2013 : Exposition "Between Dimensions" à la Royale Academy of Arts de Londres
2012 : Exposition "To the Edge," Young Gallery, Salisbury
Exposition personnelle Galerie Wack, Kaiserslautern
Exposition "Sideways and Down" Southampton City Art Gallery
2011 : Exposition "Between Dimensions" Galerie La Ligne, Zurich