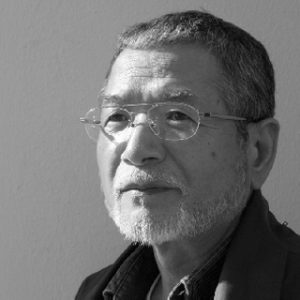 Born in 1945 in Miyagi (Japan)
Graduated from the School of Fine Arts – Toyo in Tokyo
Attended the Ecole des Beaux-Arts in Paris in the studio of Gustave Singier
1973 : Meets Michel Seuphor, Jean Leppien, Bozzolini and Aurélie Nemours
1975 : Meets the artist Carlos Cruz-Diez
1976 : First painting in relief with the help of wooden structures and partial abolition of the canvas to leave room for the void which becomes a central element of his reflections
1979 : Develops the notion of verticalism and a reflection on the integration of art in the environment
1996 : Creation of two white granite columns aligned on the spires of the cathedral of Clermont-Ferrand and accompanied by blocks of granite and Volvic stone
1991 – 2007 : Teacher in plastic arts (geometric art and landscape art) at the University of Paris VIII
Lives and works in Paris
» The use of the abstract is now the inevitable springboard for going further in the journey of consciousness. It is no longer a question of representing the banal object of desire, but desire itself, its strength and its fear, the violence of its impulse and its slow mysteries, everything that the geometrisation of emotions would give the illusion of mastering.
In these zones, the regulated powers of the abstract underlie a more conquering aspiration, a desire for which the sexual slit would only have been the pretext, in other words, the primary way in: in short, the whole of Satoru Sato's work, built globally on verticality, deviates from the quest for passage. (…) Nourished by a rich inner energy, ascetic without coldness, audacious without fuss, now mature, Satoru Sato's work no longer seeks passage, it is passage. « 
Gérard Xuriguera
Extract from the preface of « Satoru. 1969-2001 » Paris. 2001
« From stage to stage, the soul of geometry reaches, in Satoru Sato's work, its extreme deprivation. The zero point, reached in the white or black monochrome, he will go beyond it by finding, for this nudity, a new identity, either by a simple line or by a muted nuance, as effaced as present. Everything is then limited to a report, itself reduced to the affirmation of a delicacy of spirit.
Can the expression of a whole sentence be contained in a single word? Can it be summarised in a simple comma? A comma made in such a way that it would allow one to read beyond the sentence? This is Satoru Sato's risky attempt. With almost nothing, he will say more than a lot. « 
Michel Seuphor
Paris, February 1982
Publics collections:
Musée d'Art Moderne Fondation Pagani, Legnano, Italie
Musée de St Omer, France
Musée Municipal d'Art Graphique de Maracaibo, Venezuela
Musée d'Art Contemporain de Dunkerque, France
Saarland Museum Moderne Galerie, Saaebrucken, Allemagne
Musée de Miyagi, Sendaï, Japon
Musée du Petit Format, Couvin, Belgique
Loft Museum of Contemporary Art, Niigata, Japon
Taïwan Museum of Art, République de Chine
Collége de Minamikata, Japon
Musée de Sculpture Parque del Oest, Caracas, Venezuela
Collége de Bourg-en-Bresse, France
Collége de Nakada, Japon
Bangladesh National Museum, Bangladesh
Parc de Hanasyobu no Sato, Ville de Minamikata, Japon
Kyoto Hotel, Japon
Parc de Bois de Nizayama Art, Toyama, Japon
Jardin de Théatre Shukusai, Hasama, Japon
Ecole primaire de Sakuraba, Nakada, Japon
Natsukawa Pont des Arts, Ishikoshi-Nakada, Japon
Parc de Fureaï, Nakada
Aubin, Ohfunato, Iwate, Japon
Parc du Ceux de l'enfer, Clermont-Ferrand, France
Ville de Santo Tirso, Portugal
Musée de Ursulines, Macon, France
Parc Métropolitain de Quito, EquateurEcole Primaire d'Ishinomori, Japon
Place du Rond-Point, Mairie d'Ishikoshi, Japon
Kudurae Parc, Ville Pu-Yoe, Corée
Ville de Shanchung, Corée
Mini parc Izumida, Ishinomori, Japon
Ville de Cantanhede, Portugal
N Memorial Parc, Pusan, Corée
Suwa Parc, Nakada. Japon
Parc Sculpture Aley, Liban
Museum Haus Ludwig Saarlouis, Allemagne
Sculpture Garden, Korea Folk Art Museum, Corée
Museo de Arte Contemporaneo Latinoamericano, La Plata, Argentine
Parc de Shancheong, Corée
Lycée de Sanuma, Japon
Parc de Youngwal, Corée
Parc de Jiaobanchan, Toayuan, Taïwan
Parc de Rio Piedra Universite Puerto-Rico a San-Jaun, Puerto-Rico
Musée de Cambrai.,donation Le Bozec
Place de Mendoza, Trujillo, Venezuela
Vile de Carrazeda de Ansiaes, Portugal
Parc National des Pyrénées, Borce, France
Musée du dessin et de l'estampe originale, France par donation d'atelier éditions Fanal, Suisse
Musée du Touquet-Paris-Plage, donation par Le Bozec, France
In situ and Monumental realisations:
2010~2011 : Monument  (800 X 1400 X 3500 cm), Pont de Sebers à Borce dans le Parc National des Pyrénées de France
2009 : Monument (500 X 700 X 3350 cm), Carrazeda de Ansiaes, Portugal
Monument (500 X 700 X1000 cm) ,  Marrakech, Maroc
Monument (360 X 500 X  600 cm) ,   Wadgassen ,  Allemagne.
2005~2006 : Monument (200 x 440 x1980 cm) en béton blanc, pierre, eau, à la Place de Mendoza, Trujillo, Venezuela.
2005: Monument ( 400 x 1000 x 1500 cm) en granit, Templie de An-Ei-Ji, Ishinomori,  Japon.
2004 : Monument (680 x 1000 x 3000 cm)  parc de Rio Piedra de l'Université de Puerto-Rico à San-Juan, Puerto-Rico
2003: Monument (450 x 317 x 2000 cm) en granit de Bretagne, parc de Sancheong, Corée
Monument (390 x 300 x 1700 cm) en granit bleu, rose et gris de Bretagne , place de Sankyotsuka, Yonekawa, Japon
Monument (300 x 100 x 500 cm) en granit de Bretagne, Corée
Monument (550 x 460 x 2000 cm) parc de Jiaoban chan, Taoyuan, Taïwan
2002 : Monument (700 x 1000 x 2300 cm) en granit, Sculpture Garden-Korean Folk Village Art Museum, Corée
Monument (500 x 300 x 700 cm) en granit gris de Bretagne, au lycée de Sanuma, Japon
Monument (900 x 800 x 5050 cm) en granit et métal, Vall d'Ordino, Andorre
2001 : Monument (300 x 200 x 600 cm) en marbre, Aley, Liban
2000 : Monument (400 x 450 x 2000 cm) en granit rose et gris de Bretagne, à l'école  primaire d'Ishinomori, Japon
Monument (500 x 100 x 200 cm) en granit bleu de Bretagne, Izumida, Ishinomori, Japon
Monument (450 x 636 x 636 cm) en granit, parc de Sancheong, Corée
Monument (300 x 600 x 1300 cm) en pierre, Ville de Cantanhede, Portugal
Réalisation d'un parc (2,5 hectares) les ponts, la fontaine, le ruisseau,  l'étang, la place centrale,  l'escalier et les monuments en granit bleu,  rose et blanc « Total  Art Design et  Art environnement », Nakada, Japon
Monument (632 x 1219 x 1710 cm) en granit de Bretagne, parc U.N Memorial de Pusan, Corée
1999 : Monument (470x2200x2200) en granit rose et gris de Bretagne, Ishikoshi, Japon
Monument (300 x 1160 x 3000 cm) en granit,  Ville de Pu-Yeo, Corée
1998 : Monument (700x1500x4500) en béton blanc, Quito, Equateur
1997: Monument (430 x 150 x 1570 cm) en granit, Ville de Santo Tirso, Portugal
1996 : Monument (380 x 125 x 1500 cm) en granit bleu de Bretagne, Nakada, Japon
Monument (450 x 200 x 10000 cm) en granit gris de Bretagne, Ohfunato, Iwate, Japon
Monument (800 x 800 x 200 cm) en granit bleu de Bretagne, avec fontaine, Ohfunato, Japon
Monument (700 x 700 x 5300 cm) en granit gris de Tarun, Parc du Ceux de l'enfer, , Ville de Clermont-Ferrand, France
1995 : Réalise un Pont des Arts, Villes de Nakada et Ishikoshi, (1000 x 900 x 17000 cm) associant l'aluminium, le fer, le vitrail, la pierre et la peinture
1994 : Monument (260 x 100 x 700 cm) en granit bleu de Bretagne, Kyoto Hotel, Japon
Monument (700 x 700 x 4000 Cm) en béton, eau, pierre, Parc de boise de Nizayama Art, Toyama, Japon
Monument (500 x 200 x 7000 cm) en granit bleu de Bretagne, Conception du Jardin  pour le théâtre Syukusai, Hasama, Japon
1993 : Art Design de la Place Central du parc de Hanashyobu no Sato (500 x15000 cm), Minamikata, Japon
Réalise un monument (200x100x100) en métal, Kyoei, Japon
Réalise une peinture murale (250 x 300 x 250 x 700 cm et 250 x 300 cm) en couleur,  Kyoei, Japon
Oeuvre (300 x 350 x 20 cm) associant inox et vitrail, Gyutopia, Minamikata, Japon
1992 : Réalisation d'une  oeuvre (550 x 180 x 6200 cm) en granit bleu de Bretagne, Parc de Hanasyobu no Sato,  Minamikata, Japon
Réalise un monument (500 x 80 x 500 cm) en granit bleu de Bretagne,Parc de Hanasyobu no Sato, Minamikata, Japon
1991 : Réalisation de deux monuments (600 x 600 x 500 cm), inox, peinture sur fer et  aluminium) et  (1400 x 300 x 100 cm, acier, pierre, béton, gazon)  au Collège de Bourg-en Bresse, France
Réalisation d'un monument (350 x 225 x 540 cm) en pierre andésité, au  Collège de Nakada, Japon
1990 : Réalisation d'un monument (200 x 100 x 100 cm) de granit noir de Bretagne au Collège de Minamikata, Japon
1988 : Réalisation d'un mur (1400 x 150 x 50 cm) en bois et en fer à Morioka, Japon
1985 : Réalisation de vitraux (200×100) à Morioka, Japon
1976 : Réalisation d'une mosaïque (200x300cm) à la Fondation Pagani à Legnagno, Milan, Italie
Personal Exhibitions (selection):
2019 : Galerie Wagner, Le Touquet-Paris-Plage, France
Galerie Seiho, Tokyo, Japon
Galerie Artislong, Kyoto, Japon
Galerie Seijo, Sendai, Japon
Galerie Project , Sendai, Japon
Ohira vallage Hometown Museum, Miyagi , Japon
Satoru Sato Art Museum ,Tome, Japon
Galerie Pierre Francois Garcier, Paris, France
2017: Galerie Deleuze-Rochetin ,Arpaillargues, France
Galerie Artislong, Kyoto, Japon
2016 : Galerie Schlassgoart , Esch-sur-Alzette, Luxembourg
2015 : « Les espaces de Satoru », Galerie Wagner, Le Touquet-Paris-Plage, France
Galerie Cour Carré , Paris, France
Galerie Wagner, Touquet  Paris-Plage. France
Art'Loft, Bruxelles, Belgique
Galerie Tauraraund, Sendai, Japon
Espace mediArt, Luxembourg
2014 : Chikyudo Galerie , Tokyo, Jampon
2013 : Galerie Schlassgoart , Esch-sur-Alzette, Luxembourg
2011 : Maison des Arts, Chatillon, France
T&A Galerie, Tokyo, Japon
2010 : Chikyudo Galerie, Tokyo, Japon
2007 : Galerie Moteki, Tokyo, Japon
Satoru Sato Art Museum ville de Tome, Japon
Centre Culturel du Château de Montfort.Vernet-la-Varenne/ Puy de Dôme, France
2006 : Galerie Natalie Seroussi, Paris, France
2005 : Maison Franco-Japonaise, Tokyo, JaponGalerie Natalie Seroussi, Paris.
2004 : Gallery Goju ichiban-kan, Aomori, Japon
Espace Nezt  Toyota, Sendaï, Japon
Galerie Art Points, Tokyo, Japon
2002 : Moris Galerie, Tokyo, Japon
Galerie Arts Points, Tokyo, Japon
Galerie Natalie Seroussi, Paris, France
Galerie Morioka Kurisutaru, Morioka, France
Sendaï Médiathèque, Sendaï, Japon
2001: Galerie Greca, Barcelone, France
Galerie Seïjo, Sendaï, France
1999 : Palais des Congrès de la Culture, Le Mans, avec Han-Chang et ChuKo, France
1996 : Musée de Kameï Collection, Sendaï, Japon
Galerie espace-061, Rouen, France
1994: Galerie Convergence, Nantes, France
1993 : Imura Art Gallery, Kyoto, Japon
1992: Spark Gallery-2, Tokyo, Japon
Sincron (Centro culturale arte contemporanea), Brescia, Italie
1991 : Galerie Naïto, Nagoya, Japon
1990 : Galerie Graphic/CD-2, Caracas, Venezuela
Galerie Espacio Simoetti, Valencia
Galerie Ekelund/Tandan, Stockholm, Suède
1989 : « 20 ans Paris », Loft Museum of Contemporary, Art Ten, Niigata, Japon
Galerie Naïto, Nagoya, Japon
Noa no Hakobune, Yamanashi, Japon
Moris Gallery, Tokyo, Japon
Yurakucho-Hanhyu Community Gallery, Tokyo, Japon
Galerie du Grand Magasin Fujisaki, Sendaï, Japon
Galerie Convergence, Nantes, France
Galerie Convergence, Paris, France
1988 : Galerie Morioka Kurisutaru, Morioka, Japon
Galerie Artea, Yamanashi, Japon
Grand Palais, Paris, France
1987: Galerie Grare, Paris, France
Galerie K, Tokyo, Japon
Moris Gallery, Tokyo, Japon
Galerie Miyasaki, Osaka, Japon
Galerie Seïjo, Sendaï, Japon
1986 : Galerie Verifica, Venise, Italie
Grand Palais, Paris, France
1985 : Galerie K, Tokyo, Japon
Galerie Seïjo, Sendaï, Japon
Galerie Municipale de Miyagi, Sendaï, Japon
Galerie Kikyo, Utsunomia, Japon
Galerie Grare, Paris, France
1984 : « Repères », Paris, France
1983 : Galerie Municipale, Musée Municipale de Miyagi, Sendaï, Japon
Galerie K, préface de Michl Seuphor et de Kenjiro Okamoto, Tokyo, Japon
Galerie Seïjo, Sendaï, Japon
1982 – Galerie Saïensu, Morioka, Japon.
Galerie K, Tokyo, Japon
1981 – « Treffpunkt Kunst », présentation de Jean Leppien et de Kenjir
Okamoto, Conférence d'Erika Kötzsch,  Saarlouis, Allemagne
Galerie de Sluis, Leidschendam, Holland
1980 : Galerie Daïnana, préface de Kenjiro Okamoto, Tokyo, Japon
Galerie P-21 Art, Rome, Italie
1979 : Galerie du Haut Pavé, texte de Gérard Xuriguera, Paris
1977 : Centre Culturel 17, Paris
Galerie Dainana, texte de Kenjiro Okamoto, Tokyo
1976 : "Formes Nouvelles", Paris
1975 : Galerie du Grand Magasin Mitsukoshi, Sendaï, Japon
Galerie Pagani, Milan, Italie
Galerie du Haut Pavé, Paris
1974 : Galerie Paul Marquet, Paris
Galerie Dainana, préface de Kenjiro Okamoto, Tokyo
1973 : Maison de la Culture, les Andelys, France
1972 : Galerie Luszpinski (janvier), Paris
Galerie Luszpinski ( juillet), Paris
1970 : Happening, "Espace" sur le Pont des Arts, Paris
1968 : Galerie Yamanaka, Tokyo
1967 : Galerie Takegawa, Tokyo
1966 : Galerie Nishiginza, Tokyo
Group exhibitions (selection):

2022: « Hommage à Ivan Contreras-Brunet », Galerie Wagner, Paris, France  
2021 : « Carrés », Galerie Wagner, Paris, France
9ème Associatio Etude Art Géo Construit, Turn Another Round, Sendai, Japon
Estampe Satoru 1972>2020 au Satoru Sato Art Museum, Tomé, Japon
Ludere et Laetari / treffpunt Kunst, Galerie Ludwig, Museen, Saarlouis, Allemange
2020 :

« Autour du Plan »,

Galerie Wagner, Paris, France
Espace – Ma  à la Galerie Akié Arichi, à Paris, France
2019 :

« Faisons le mur »,

Galerie Wagner, Paris, France


« Sciences cachées »,

Galerie Wagner, Le Touquet-Paris-Plage, France
Work Shops au Satoru Sato Art Museum, Tomé, Japon
Work Shops au Museum  Ohohira mura, Japon
Art Paris Art Fair, le Grand Palais, par Galerie Wagner, Paris, France
2018 : Daniel de Spirt, SATORU (sculptures, peintures, sérigraphies), Carrespace, Vallorbe, Suisse
2017 : Satoru – Sebastian Zanello, Galerie Deleuze-Rochetin, Arpaillargues, France
Art Géo Construit, Satoru Sato Exhibition, Kyoto, Japon
« Couleurs Plurielles », Galerie Wagner, Le Touquet-Paris-Plage, France
2016 : Satoru Sato – Nico Thurm, « Dialogue », Galerie Schlassgoart, Luxembourg
« Hommage au carré », Galerie Wagner, Le Touquet-Paris-Plage, France
« Affinités abstraites I II III – IV V », Galerie Wagner, Le Touquet-Paris-Plage, France
2015 : mediArt, Luxembourg, Luxembourg
Lee-Bauwens Gallery – Art'Loft, Bruxelles, Belgique
Galerie Cour Carré, Paris, France
Galerie Turnaround, Sandai, Sendaï, Japon
« Affinités abstraites », Galerie Wagner, Le Touquet-Paris-Plage, France
2014 : Chikyudo Galerie, Tokyo, Japon
« Affinités abstraites », Galerie Wagner, Le Touquet-Paris-Plage, France
2013 : Galerie Schlassgoart, Esch-sur-Alzette, Luxembourg
2011 : T&A Gallery, Tokyo, Japon
Maison des Arts, Châtillon, Chatillon, France
2010 : Chikyudou Gallery, Tokyo, Japon
2007 : Moteki Gallery, Tokyo, Japon
Treffpunkt Kunst, Museum Haus Ludwig, Saarlouis, Allemagne
Vierde Dimensie Gallery, Plasmolen, Pays-Bas
2006 : Galerie Nathalie Seroussi,Paris, France
2005 : Maison Franco-Japonaise, Tokyo, Japon
Galerie Nathalie Seroussi, Paris, France
2004 : Gallery Goju ichiban-kan, Aomori, Japon
Espace Nezt Toyota, Sendaï, Japon
Art Points Gallery, Tokyo, Japon
2002 : Moris Gallery, Tokyo, Japon
Art Points Gallery, Tokyo, Japon
Galerie Nathalie Seroussi, Paris, France
Morioka Kurisutaru Gallery, Morioka, Japon
2001 : Greca Gallery, Barcelone, Espagne
Seijo Gallery, Sendaï, Japon
1999 : Palais des congrès de la Culture, Le mans, France (avec Han-Chang et ChuKo)
1996 : Musée de Kameï Collection, Sendaï, Japon
Galerie espace-061, Rouen, France
1994 : Galerie Convergence, Nantes, France
1993 : Imura Art Gallery, Kyoto, Japon
1992 : Spark Gallery-2, Tokyo, Japon
Sincron, Arte Contemporanea Brescia, Italie
1991 : Naïto Gallery, Nagoya, Japon
1990 : Graphic/CD-2 Gallery, Caracas, Venezuela
Espacio Simoetti Gallery, Valencia, Italie
Ekelund – Tandan Gallery, Stockholm, Suède
1989 : Cordinate della Ricera, Centro Sociale Cultural di Sardi in Milan, Italie
Mondiale d'estampes petit format, Centre Culturel Franco-Norvégien, Stavange, Norvège
Art, S.O.S, Arménie, Espace, Cardin, Paris, France
10ème anniversaire de Syn'Art, Espace Lamartine, Paris, France
Petit Format de Papier, Japon-1989, Musée du Petit Format, Couvin, Belgique
Konkret, Kunsthaus, Nuremberg, Allemagne
Sculpture-Oggetti-Quardi-Oggetto, Galerie Sincron, Brescia.
Peintures comme ?, l'Espace Victor Hugo, Lisieux, France
Estampe, Aujourd'hui de France, Gallery Seïjo, Sendaï, Japon
Aspect of Contemporary Peinters in Paris, Taïwan Museum of Art
Verificia della Verificia, Galerie Verificia, Venezia, Venise
 » Workshop  » Gallery prefectural de Miyagi, Sendaï, Japon
1988 : Trois Artistes (avec Perez et Strack), Arte Sperkasse, Singer, Allemagne 
Trois Artistes (avec Perez et Strack), Kunsthalle Winterthur, Suisse
Sculptures/Polychromie des années 80, M.J.C., Les hauts de Belleville, Paris
1er Triennale Mondiale d'estampes Petits formats, Chamalières, France
Groupe Konkret, Kunstler-Forum, Bonn
Cinq Artistes de Miyagi, Musée de Miyagi, Sendaï
8ème Try-Art, Musée de Tamanashi, Kohfu
Konstruktion und Konzeption, Berlin 88, Berlin 
Exposition Salon d'octobre de Brive, France
G-7, Art Contemporain, 12 artistes, « The Space », I-II-I, (one-eleven-one), Tokyo
1987 : Confrontation 2, M.J.C., Les Hauts de Bellevilles, Paris 
20 Artistes japonais, Dessins et Objets, Atelier 4, Paris 
« 100/100 », Galerie Sincron, Brescia, Italie
Sculpture en papier, Centre Culturel Jean Arp, Clamart, France
Autour de Luc Peire, Galerie Convergence Paris, Paris
Espace Abstraction, Ephémérité, Chapelle St-Louis de la Salpêtrière, Paris
Estampe de Paris aujourd'hui, galerie Seijo, Sendaï
Hommage à Philippe Morisson, Galerie Sincron, Brescia
International Small Art Exhibition, Gallery Naïto, Nagoya 
12 Artistes, International Gallery Moteki, Tokyo
Hommage aux petits formats, Galerie Carlhian, Paris
International Meeting, Galerie Sincron, Brescia 
1986 : 16 Artistes '86, Galerie Moteki, Tokyo
Art Construit, Espace Belleville, Paris 
Espace Abstraction « Distance », Chapelle St-Louis de la Salpétrière, Paris
Quatrième Biennale de l'Estampe, Sarcelles, France
60×50, Galerie 30, Paris
Géométrie, Espace, Relief (avec Colmenarez et Snell), Galerie Grare, Paris
Experimental Art, the 6th International Small Art Exhibition, Museum of Art, Yamanashi,
N.A.C. Unesco, Paris
Art Contact, International Contemporary Art SHows (avec la Morris Gallery), Lausanne
12 Artistes japonais, Dessins et Objets, galerie Grare, Paris
Konkrete Multiples, Galerie de Sluis, Hollande  
Misura di Qualità, n° 2, Galerie Sincron, Brescia, Italie
1985 : Peintres contemporains au Trianon de Bagatelle au Bois de Boulogne, France
Galerie Olivier Nouvellet, Paris
2nd International Contemporary Art Fair ( avec la Galerie de Sluis), Londres
Huit Artistes à « Repère », Paris
« Variation sur le papier », Galerie d'Orsay, Paris
« Confrontations », M.J.C. Les Hautes de Belleville, Paris
Kunst Manifestatie ( avec la Galerie de Sluis), Amsterdam
« Paradoxes », Galerie Bellechasse, Paris
Books by Artists, Galerie Miyazaki, Osaka
Dixième Anniversaire de la Galerie Seijo, Sendaï
Exposition de groupe, Galerie Moteki, Tokyo
Internationaler Kunstmarkt, Cologne 85, (avec la Galerie de Sluis) Allemagne
Le retour de la Miniature, Graffiti Kolektir, Beograd, Yougoslavie
Estampe Aujourd'hui de Paris, Galerie K, Tokyo
Parcours M.J.C., les Hauts de Bellevilles, Paris
Papiers choisis, Galerie Olivier Nouvelle, Paris
85 Expositions de manière, Séoul-Paris, Séoul Art Center, Séoul
1984 : « Jeunes Abstraction », M.J.C. Les Hauts de Belleville, Paris 
1st International Contemporary Art Fair, Londres
Aspects de l'Art Programmé de 1963 à 1984, Galerie Sincron, Brescia, Italie
« Kunst Manifestatie » (avec la Galerie de Sluis), Amsterdam
Konstamassan Stockholm Art Fair, (avec la Galerie Antiope-France), Stockholm, Suède
3ème Biennale de l'Estampe, C.M.A.P. Sarcelles France
Espace Poésie et Peinture, « Artère », Parc Monceau, Paris
« Cercle, Carré et ligne » Galerie Cahier d'Art, Paris
International Kunstmarkt, Cologne 84, Allemagne
Exposition « Groupe », Espace latino-américain, Paris 
1983 : Tendances de la peinture abstraites au Centre Culturel de la Villedieu, France
Exposition au Centre des Expositions de la Porte de Versailles, Paris
« Arte Concreta » Mostra Internazionale Itinerante, Cesena, Italia
« L'Art Vivant à Paris », Séoul, Corée
Sélection du Salon « Comparaisons » Château de Bourdeilles, France
International Independent Exhibition of Points in Kanagawa, Kawasaki, Japon
« Soyo-Ten », Musée Central de Tokyo
Art International '83 ( avec la Galerie de Sluis), Chicago
Austellung Kunst Im/am Bau, Saarbrücken, Allemagne
« Lyrik + Géométrie », « Treffpunkt Kunst », Saarlouis,
Biennale d'Arte Contemporanea, Struttura-Scultura, Padova, Italie
1982 : XXXe Anniversaire de la  Galerie Haut Pavé, Paris
« Solidarité Pologne », C.F.D.T., Paris
« Fond National et International de Solidarité Féminine », Palais des congrès de Nanterre, France
« Arteder '82 », Feria International de Muestras de Bilbao, Espagne,
Galerie Bellechasse, Paris
« Art Constructif et Cinétique d'Aujourd'hui de Paris », Galerie K, Tokyo
13 Artistes, Les Flocons verts, Chamonix, France
« L'Art Vivant à Paris », à la mairie du 18ème, Paris
2ème Kunstbuers Utrecht '82, Hollande
Art International '82 (avec la Galerie de Sluis), Chicago, Etats-Unis
« Voeux d'Artistes », Atelier 4 Sens, France
« L'Association Artistiques pour le Soutien de la Pologne », Musée d'Art Moderne de la Ville de Paris
Internationaler Kunstmarkt Köln 83 (avec la Galerie de Sluis), Cologne, Allemagne
« Paddock Part 1 » 10 Artistes japonais, Galerie Trans/Form, Paris 
1981 : « Work Area » au Studio Arti Visite de Matera, Italie 
2ème Biennale Internationale d'Art Contemporain de Brest, France
« Work Area » au Centre Culturale Autogestito, Firenze, Italie
« 7 500 Cartes Postales pour Michel Seuphor », Galerie J.M. Place, Paris
« Témoignages'82 », Centre Georges Pompidou, Paris
« Bon Anniversaire, Michel Seuphor », J.-M. Place, Galerie Traces, Rouen, France
Sélection de « Comparaisons 81 », Palais des Papes, Avignon, France
« 11 Pariser Kunstler », Rathaus Galerie Reinikendorf, Berlin
« I Segni della Geometria 81 », Studio A.M. 16, Rome
Internationale Kunstmesse Art, 1982, 1983, 1984, 1985, 1986, 1987 ( avec la Galerie de Sluis), Bale, Suisse
« Work Area », Galerie San Carlo, Naples, Italie
Ligue Nationale Français contre le Cancer, Espace Cardin, Paris
« l'Art vivant à Paris », Mairie du 18ème, Paris
1980 : Aspects de l'Art italien d'Aujourd'hui, galerie l'Aturiale, Liège, belgique
« Art constructif et Cinétique d'aujourd'hui de Paris », Galerie Dainana, Tokyo
« Exposition '80 », Galerie Bellechasse, Paris
Exposition de collage, Galerie Jiyugaoka, Tokyo,
« Hommage à la Galerie Dainana », Galerie Dainana, Tokyo
Mostra d'Arte Contemporanea, Gruppo Internazionale, Padova, Italie
4ème Salon des Arts Internationaux à la Galerie Poiret, Nancy, France
Mostra d'Arte Moderna au Centro d'Arte Azzano S. Paolo, Bergamo, Italie
120 Artistes pour Bierville C.F.T.D.T., Paris
« Nova Era », Galerie Bellechasse, Paris
« Grands et jeunes Concrets d'Aujourd'hui », Galerie de Sluis, Leidshendam, Hollande
Exposition « Novembre à Vitry », 1975, 1976, 1977, 1978, 1979, 1980, Vitry, France
1979 : Première Biennale d'Art Contemporain Brest, France
« XXème Siècle », L'artisan, le Créateur, Galerie de la Défense, Paris-Défense, France
« La Otra Geometria », Galerie Salon des Arts de Maracaïbo, Vénézuela
Exposition à la vente aux enchères publiques «  Petits Formats de Grands et Jeunes Maîtres », Paris,
« 4 Artistes », Studio Zibetto, Milan, Italie
XXème anniversaire de la Révolution Cubaine à l'U.N.E.S.C.O., Paris
6ème Exposition d'Art Contemporain, Musée des Beaux-Arts de Dunkerque, Paris
Galerie Bellechasse, Paris
Galerie « Conoscenza Progettazione », O.C. Studio d'Arte, Milan, Italie
1978 : Galerie du Haut Pavé, Paris
International Kunstmesse, Bale, Suisse
« Harmonies Abstraites », groupe constitué par Gérard Xuriguera au F.I.A.P., Paris
« G-7 », Galerie Dainana, Tokyo
«Les Haut Pavé Galerie d'Essai », Fondation Nationale des Arts Graphiques et Plastiques de Paris
« Ils exposent », Musé de Saint-Omer, Franc
Exposition « Travaux sur Papier et Objets », Centre Culturel de Villaparisis, France
1977 : 70 artistes des « Réalité Nouvelles », mairie du 17ème, Paris
Art Constructif et Cinétique de Paris, Galerie Dainana, Tokyo
Constructivismes Européens, Galerie Quincampoix, Paris
Autour de Victor Laks, Moris Gallery, Tokyo
1976 : « 3 Artistes », Casa de Ahorros Municipal de Vigo, Espagne
Peinture «  Petits Formats », Centre culturel 17, Paris
Biennale Internationale, Amiens, France
1975 : Exposition Internationale d'Art Graphique d'Aujourd'hui ( et 1977), Galerie Mitsubishi, Tokyo,
40 artistes contemporains ( sérigraphies), municipalité de Saint-Ouen, France
« L'Art vivant entre la peine de Mort », Théâtres d'Orsay, Paris
1974 : « Œuvres Graphiques d'Aujourd'hui », Centre Culturel 17, Paris
Exposition au Centre Culturel Scuola comunale de Procchio, Ile d'Elbe, ItaliE
Salons des Réalités Nouvelles, Clermont-Ferrand France
Exposition « Œuvres sérigraphies » Dieppe, France
Groupe d'Artistes Contemporains à la Gallery Gin, Tokyo
1973 : La Presenza delle nuove generazioni nell'Arte attuale, incontri internazionali d'Arte Salerno, Italie
Quatre artistes au Centre Américain, Paris,
Exposition internationale d'Art Contemporain, Monte-Carlo
1972 : Exposition Prix du Haut Pavé, 1973, Paris
Forum des Arts à la Maison de l'O.R.T.F., Paris,
Groupe Atelier G. Singier au Centre Américain, Paris,
Prix de Peinture « Septentrion » au Centre Artistique de Bondues, 1975, 1976, Marcq-en-Barœul, France 
1971 : 6ème Biennale Internationale des jeunes artistes de Tokyo, Musée de Takanawa, Tokyo. 
1970 : Groupe Atelier G.  Singier, Galerie de l'Aéroport d'Orly, France
« Peinture et sculpture » au Centre Culturel de Marly-Le-Roi