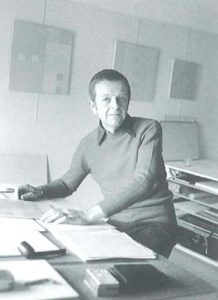 Born in Cambrai on 30 August 1929 – Died in Paris on 14 July 2001
1955 : Meets Gino Severini
1956 : Meets Auguste Herbin
1959 : First solo exhibition at Galerie Colette Allendy, Paris, France
1967 : Moves to Paris, France
1969/1975 : Associate Director of the Denise René Gallery in Paris and New York, France, USA
1974 : Publication of a book with a preface by Jacques Lassaigne
1976 : Creation of serigraphies for the Frantel Hotel in Marseille. Participation in the Calderara Foundation in Vaclago, Italy
1982 : Purchase of a work by the Museum of Montbéliard – Publication of the book « Traversée des apparences », Ed. OCD Paris, France
1983 : Nominated to the steering committee of the Salon « Comparaisons », Paris
Purchase of a work by the Fonds National d'Art Contemporain (Ministry of Culture), France
1984 : Selected for the FRAC Ile de France (purchase of important works), France
1986 : Commissioned by the Association des Amis du Centre Pompidou, France
1990 : Contract for a tapestry – Mobilier National (Gobelins), France
1998 : Dumas-Miller Prize awarded by the Institut de France – Académie des Beaux-Arts, France
2001 : Purchase of a work by the Museum of Cambrai, France
« There is a mystery surrounding Guy de Lussigny's paintings. Like the whispered testimony of an inner adventure, almost a mystical experience. All he needs to do is to use the simplest geometric form – the square – and to play on the most imperceptible chromatic oppositions, to expand his pictorial works, to raise them to the level of a real universe, where it is less a question of gathering, of looking elsewhere for happiness, than of gathering oneself, of finding oneself.
Frédéric Vitoux, of the Académie Française
Born in Cambrai in 1929, Guy de LUSSIGNY began painting in 1950. Initially figurative, he quickly followed in the footsteps of Mondrian and Malevitch. His meeting in 1955 with Gino Severini, one of the creators of the Italian Futurist movement, was decisive. Severini encouraged him to continue along the path he had chosen, geometric abstraction. Very quickly, Lussigny favoured the square, the straight line, and then colour. His work on colours led him to meet the painter Auguste Herbin in 1956, a second major encounter. His first solo exhibition took place in Paris in 1959. From then on he exhibited regularly in France, throughout Europe and in Japan…
Guy de Lussigny moved to the capital in 1967 and participated in numerous exhibitions: Réalités nouvelles, Grands et jeunes d'aujourd'hui, Comparaisons… He worked with the gallery owner Denise René from 1969 to 1975 in Paris and New York. In 1974, he made a third decisive encounter, with the Italian painter Antonio Calderara, with who he became a great friend, and later with the German sculptor Hans Steinbrenner, the Italian sculptor Francesco Marino Di Teana and the painter Antoine de Margerie.
Guy de Lussigny's painting, sober and precise, is of great poetry. For him, the square is « the most stable form that the human mind has invented » and the line the « convenient concept of mathematical reasoning ». On these elements, Guy de Lussigny creates a plastic language that goes towards « a certain idea of perfection ». In 1998, the Académie des Beaux-Arts of the Institut de France awarded him the Dumas-Miller Prize.
His works are present in the public collections of many museums: Valenciennes, Montbéliard, Fondation Calderara, FNAC, FRAC Île-de-France, Mâcon, Mondriaanhuis, Musée Tavet-Delacour de Pontoise, Musée Matisse du Cateau-Cambrésis, LAAC de Dunkerque and above all at the Musée des Beaux-Arts de Cambrai with 70 works from the donation of André Le Bozec, a great collector and sponsor.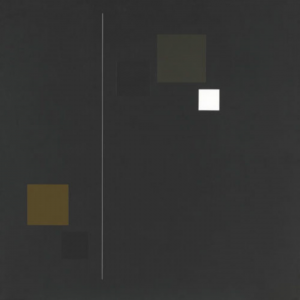 Hyamos, 1990
Acrylic on canvas
100 x 100 cm
103 x 103 cm framed
Unique piece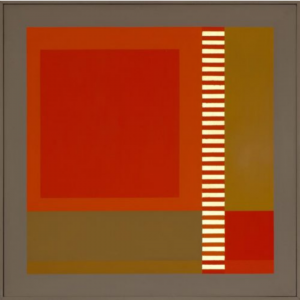 Sans titre, 1973
Acrylic and gold leaf on isorel
 57 x 57 cm
60 x 60 x 0,5 cm fraude under plexiglas 
Unique piece
Public exhibitions:
2016 : Musée du Touquet Paris-Plage (donation André Le Bozec)
2013 : Université Catholique de Louvain-La-Neuve (donation André Le Bozec), Belgique
2010 : Musée des Ursulines, Mâcon, France
Musée Tavet-Delacourt, Pontoise (donation André Le Bozec), France
2009 : Museum Ritter, Waldenbuch, Allemagne
2008 : Lieu d'Art et d'Action Contemporaine, Dunkerque (donation André Le Bozec), France
2005 : Musée des Beaux-Arts, Cambrai (donation Eva-Maria Fruhtrunk), France
Musée Matisse, Le Cateau-Cambrésis (donation André Le Bozec), France
2004 : Musée de Cambrai, France
2001 : Musée des Ursulines, Mâcon, France
Musée des Beaux-Arts, Cambrai, France
2000 : Mondriaanhuis, Amersfoort, Hollande
Museum Chelmskie, Pologne
1997 : Musée des Ursulines, Mâcon, France
1987 : Amis du Centre Pompidou, France
Fondation Jeanne et Otto Freundlich, France
1986 : Musée Tavet-Delacourt, Pontoise, France
Fonds National d'Art Contemporain, France
1984 : FRAC Ile-de-France, France
1983 : Fonds National d'Art Contemporain, France
1982 : Musée de Montbéliard, France
1976 : Fondation Calderara, Ameno, Italie
1960 : Musée de Valenciennes, France
Group exhibitions:
2022 : Liberalitas – Galerie Wagner en collaboration avec le Centre d'Art Contemporain Frank Popper, Paris
« Hommage à Ivan Contreras-Brunet», Galerie Wagner, France
Art Paris Art Fair, exposition collective, avec la Galerie Wagner, Paris, France
« Why White », exposition collective, Galerie Wagner, Paris, France
2019 : « Trésors de papier », exposition collective, Galerie Wagner, Le Touquet-Paris-Plage, France
Art Paris Art Fair, avec la Galerie Wagner, Le Touquet-Paris-Plage, Paris, France


« Conquêtes Spatiales »

, exposition collective, Galerie Wagner, Paris, France
2018 : Art Elysée, avec la Galerie Wagner, Le Touquet-Paris-Plage, Paris, France
« Tricolors », exposition collective, Galerie Wagner, Le Touquet-Paris-Plage, France
Art Paris Art Fair, avec la Galerie Wagner, Le Touquet-Paris-Plage, Paris, France
2017 : « Lignes, harmonies et contrepoints », exposition collective, Galerie Wagner, Le Touquet-Paris-Plage, France
Art Elysée, avec la Galerie Wagner, Le Touquet-Paris-Plage, Paris, France
« Couleurs plurielles », exposition collective, Galerie Wagner, Le Touquet-Paris-Plage, France
Art Paris Art Fair, avec la Galerie Wagner, Le Touquet-Paris-Plage, Paris, France
«De l'original au multiple », exposition collective, Galerie Wagner, Le Touquet-Paris-Plage, France
2016 : Art Elysée, avec la Galerie Wagner, Le Touquet-Paris-Plage, Paris, France
« Affinités abstraites », exposition collective, Galerie Wagner, Le Touquet-Paris-Plage, France
Art Paris Art Fair, avec la Galerie Wagner, Le Touquet-Paris-Plage, Paris, France
Lille Art Up, Foire d'Art Contemporain, avec la Galerie Wagner, Le Touquet-Paris-Plage, Lille, France
« Minimenta », exposition collective, Galerie Wagner, Le Touquet-Paris-Plage, France
Art Touquet, Foire d'Art contemporain, avec la Galerie Wagner, Le Touquet-Paris-Plage, France
2015 : « Affinités abstraites », exposition collective, Galerie Wagner, Le Touquet-Paris-Plage, France
Off Course Bruxelles Art Fair, avec la Galerie Wagner, Le Touquet-Paris-Plage, Bruxelles, Belgique
Lille Art Up, Foire d'Art Contemporain, avec la Galerie Wagner, Le Touquet-Paris-Plage, Lille, France
2014: « Affinités abstraites II », exposition collective, Galerie Wagner, Le Touquet-Paris-Plage, France
« Affinités abstraites », exposition collective, Galerie Wagner, Le Touquet-Paris-Plage, France
2009/2010 : Exposition collective, ART Karlsruhe, Allemagne
2009 : Galerie Gimpel fils, Londres, Angleterre
« Parole à voir. Dialogue en noir blanc gris », Musée des Ursulines, Mâcon, France
2008 : Galerie Gimpel & Muller, Paris, France
« Carte Blanche – André Le Bozec », Lieu d'Art et d'Action Contemporaine, Dunkerque, France
2007 : Galerie Gimpel et Muller, Paris, France
2005 : Donation André Le Bozec, Musée Matisse, Le Cateau-Cambrésis, France
« L'Ithaque d'André Le Bozec », Musée Matisse, Le Cateau-Cambrésis, France
« Art construit – art concret », Donation Eva-Maria Fruhtrunk, Cambrai, France
2004 : « Cabinet d'amateur '45-'04-Abstraction géométrique », International Art Gallery, Lasne, Belgique
« L'abstraction géométrique vécue. Rencontre entre un peintre et un collectionneur », Musée des Beaux-Arts, Cambrai, France
2003 : Galerie Ars in fine, Paris au Château du Karreveld, Molenbeek-Sant-Jean, Belgique
Galerie Ars in fine, Paris, France
« 25 Jahre Treffpunkt Kunst », Museum Hans Ludwig, Saarlouis, Allemagne
2002/2003 : « Rétrospective », des œuvres les plus intéressantes exposées durant ces dernières années, International Art Gallery, Lasne, Belgique
2002 : « Hommage », Salon « Comparaisons », Paris, France
« Hommage », Salon « Réalités nouvelles », Paris, France
« Hommage », Salon « Grands et Jeunes d'aujourd'hui », Paris, France
Salon « Grands et Jeunes d'aujourd'hui », Avallon, France
Salon des Peintres de Grimaud, invité d'honneur, France
« Des œuvres, des artistes…, dernières nouvelles » : Présentation des dernières acquisitions et donation des artistes de la donation Repères, Musée des Ursulines, Mâcon, France
2001 : Art Fair, Art contemporain, Strasbourg, Galerie Victor Sfez, France
2000 : Art Fair, Art Contemporain, Strasbourg, Galerie Victor Sfez, France
Salon « Réalités nouvelles », Paris, France
Salon « Grands et Jeunes d'aujourd'hui », Espace Branly, Paris, France
Salon « Art Paris », Galerie Victor Sfez, Paris, France
Espace culturel de Bruxelles, Belgique
Participation à l'exposition inaugurale du Mondriananhuis, Amersfoort, Pays-Bas
Salon « Grands et Jeunes d'aujourd'hui », Exposition itinérante 2000/2002. France
(Paris), Luxembourg (Luxembourg), Venezuela (Caracas et Maracaïbo), République dominicaine (Santo Domingo), Togo (Lomé), Croatie (Zagreb), Taïwan (Taï Pei et Kaoshiung), Corée du Sud (Séoul), Japon (Tokyo et Yokohama), Pologne (Varsovie et Cracovie)
1999 : Art Fair Strasbourg, Galerie Victor Sfez, France
Salon « Grands et Jeunes d'aujourd'hui », Espace Branly, Paris, France
Salon « Réalités nouvelles », Espace Branly, Paris, France
« Concrete Art Und Abstraktion », Goethe Institute, Cracovie, Pologne
« Concrete Art Und Abstraktion », Dresde, Allemagne
1998 : « Petits formats et collages », Galerie Claude Dorval, Paris, France
Salon « Comparaisons », Espace Branly, Paris, France
Salon « Grands et Jeunes d'aujourd'hui », Espace Branly, Paris, France
Exposition « Drei Master » : Andreas Brandt, Guy de Lussigny, Hans Steinbrenner, Galerie Ostertag, Francfort-sur-le-Main, Allemagne
« Am Tunnel », Galerie Art Contemporain, Luxembourg
« Noir et blanc », Galerie Victor Sfez, Paris, France
1997 : Galerie Horizon, Marseille, France
Salon « Réalités nouvelles », Paris, France
Salon « Grands et Jeunes d'aujourd'hui », Espace Tour Eiffel, Paris, France
Salon « Grands et Jeunes d'aujourd'hui », Luxembourg
Foire d'Art de Madrid, Galerie Claude Dorval, Madrid, Espagne
Commande de carte de vœux pour l'I.N.S.E.E.
Musée Ludwig, Saarlouis, Allemagne
Donation « Repères », au Musée des Ursulines de Mâcon, France
1996 : Salon « Réalités nouvelles », Paris, France
Salon « Grands et Jeunes d'aujourd'hui », Espace Tour Eiffel, Paris, France
« Arte Struktura », Sala del Carrobio, Omegna, Italie
« Arte Struktura », Palazzo Economo Soprintenza ai Beni Culturali, Trieste, Italie
« Petits formats », Galerie Claude Dorval, Paris, France
1995 : Salon « Comparaisons », Espace Tour Eiffel, Paris, France
Salon « Réalités nouvelles », Espace Tour Eiffel, Paris, France
Salon « Grands et Jeunes d'aujourd'hui », Espace Tour Eiffel, Paris, France
Galerie Grewenig, Heidelberg, Allemagne
« Très petits formats », Galerie Claude Dorval, Paris, France
1994 : « Repères », Centre d'Art Contemporain, Saint-Priest, France
« Arte Struktura », Museo delle Colezioni, Bucarest, Roumanie
« Arte Struktura », Palazzo delle Corgna, Citta della Pieve, Italie
M.D.A.C., Galerie Horizon, Marseille, France
Association France-Japon, Espace Montaigne, Paris, France
Salon d'Art Construit, Saint-Martin-du-Lac, France
Salon « Grands et Jeunes d'aujourd'hui », Grand Palais, Paris, France
« Sourires et lumières d'enfants », UNICEF, Rond-Point des Champs-Elysées, Paris, France
« Petits formats », Galerie Claude Dorval, Paris, France
1993 : « L'art en changement », Galerie Horizon, Marseille, France
« Dialogues européens », Maison des Arts Georges Pompidou, Cajarc, France
Exposition itinérante « Arte Struktura », Italie : Montechiari, Rondottanta, Sesto
San Giovanni et Citta della Pieve ; Suisse : Zürich et Roumanie
Salon « Réalités nouvelles », Grand Palais, Paris, France
Salon « Grands et Jeunes d'aujourd'hui », Grand Palais, Paris, France
« Petits formats », Galerie Keller, Paris, France
1992 : Salon « Comparaisons », Paris, France
Salon « Grands et Jeunes d'aujourd'hui », Grand Palais, Paris, France
Salon « Réalités nouvelles », Grand Palais, Paris, France
« Repères » au château de Courtry, France
« Schiftung für Concrete Kunst », Reutlingen, Allemagne
1991 : Salon « Réalités nouvelles », Grand Palais, Paris, France
Salon « Grands et Jeunes d'aujourd'hui », Grand Palais, Paris, France
R.A.C Ile-de-France, Melun, France
Arte struktura, Instituto di Studi Italiani, Zurich, Suisse
Arte struktura, Galerie Litjia Jametti, Bochembulach, Suisse
Arte struktura, Rodottanta, Centro Culturale, Sestos an Giovanni, Italie
1990 : Salon « Comparaisons », Grand Palais, Paris, France
Arte struktura, Mila, Italie
« Transit », Galerie Horizon, Marseille, France
Salon « Réalités nouvelles », Grand Palais, Paris, France
Salon d'art de l'Isle-Adam, France
Salon « Grands et Jeunes d'aujourd'hui », Paris, France
1989 : Exposition-vente au profit de l'Arménie, Espace Cardin, Paris, France
« Arte sustematico y constructivo », Actual, Madrid, Espagne
« Nul dimension » n°1, Gmunden, Autriche
Galerie Horizon, Marseille, France
Salon de l'Isle-Adam, France
1988 : Salon « Comparaisons », Grand Palais, Paris, France
Fondation Jeanne et Otto Freudlich, Pontoise, France
Salon « Grands et Jeunes d'aujourd'hui », Paris, France
Salon « Réalités nouvelles », Grand Palais, Paris, France
« Nul dimension », Galerie New-space, Fulda, Allemagne
Xème anniversaire de la Fondation Calderara, Vaciago, Italie
Salon d'art de l'Isle-Adam, France
Préfecture du Val d'Oise (F.R.A.C Ile-de-France), France
1987 : Exposition du F.R.A.C Ile-de-France, « Regard sur l'art contemporain », Etampes, France
Exposition de l'association des « Amis du Centre Pompidou », « Cartes blanches », Centre Georges Pompidou, Paris, France
« Autour de Luc Peire », galerie Convergences, Paris, France
Exposition du F.R.A.C Ile-de-France : Grigny, Le Perreux, Provins, Versailles, France
Salon « Grands et Jeunes d'aujourd'hui », Paris, France
Salon « Réalités nouvelles », Grand Palais, Paris, France
« Œuvres sur papier », Musée de Pontoise, France
1986 : Association « Repères », Paris, France
Salon « Comparaisons », Grand Palais, Paris, France
« Essor de la géométrie de 1950 à nos jours » organisé par Gérard Xuriguera, Espace Belleville, Paris, France
« Un regard sur l'art d'aujourd'hui », Musée de Marly-le-Roi, Louveciennes, France
Salon « Réalités nouvelles », Grand Palais, Paris, France
Salon « Grands et Jeunes d'aujourd'hui », Paris, France
« 65 x 50 », Galerie 30, Paris, France
« L'art abstrait à soixante-dix ans », Centre culturel de Malakoff, France
« Lumière du noir et du blanc », Galerie Grare, Paris, France
Salon de l'Isle Adam, France
1985 : C.A.F., Londres, ANgleterre
« Konstructief », Galerie Bettini Maggi, Pays-Bas
Exposition collective pour l'A.I.C.F (association internationale contre la faim) au Trianon de Bagatelle, Paris, France
Galerie d'art de l'Hôtel Astra, Paris, France
Galerie K., Tokyo, Japon
Galerie Seijo, Sensai, Japon
Salon « Grands et Jeunes d'aujourd'hui », Paris, France
Salon « Comparaisons », La Baule, France
Salon « Comparaisons », Luxembourg
Art Fair d'Amsterdam, Pays-Bas
Art Fair de Bâle, Suisse
Exposition du F.R.A.C Ile-de-France, Musée du Luxembourg, Paris, France
« Noir et blanc », Musée de Pontoise, France
« Art Cologne 85 », Galerie De Sluis, Allemagne
1984 : Salon « Comparaisons », Grand Palais, Paris, France
Salon « Grands et Jeunes d'aujourd'hui », Paris, France
Salon « Réalités nouvelles », Grand palais, Paris, France
« Œuvres sur papier des années 50/60 », Galerie Olivier Nouvellet, Paris, France
Art Fair de Bâle, Galerie De Sluis, Suisse
« Art Cologne 84 », Kunst, Allemagne
Art Fair d'Amsterdam (Neuwkirk on the Dam), Pays-Bas
I.C.A.F (International Contemporary Art Fair), Londres, Angleterre
« International Constructivism », Erasmus Universiteit, Rotterdam, Pays-Bas
1983 : Salon « Grands et Jeunes d'aujourd'hui », Paris, France
Salon « Réalités nouvelles », Paris, France
Foire internationale d'art « Cologne 83 », Allemagne
Salon « Comparaisons », Bourdeilles, France
Art Fair de Bâle, Suisse
1982 : Foire internationale d'art graphique, Bilbao, Espagne
Salon « Réalités Nouvelles », Paris, France
Salon « Comparaisons », Paris, France
Foires d'art d'Utrecht, de Chicago et de Düsseldorf, Galerie De Sluis, Pays-Bas
Art Fair de Bâle, Suisse
Salon « Grands et Jeunes d'aujourd'hui », Paris, France
Galerie K., Tokyo, Japon
Original I.D. avenue Foch, Paris, France
« Tendances de l'art abstrait contemporain », Centre culturel de la Villedieu,Elancourt, France
« Neue Werke », Galerie Lopez, Zurich, Suisse
1981 : Foire d'art d'Utrecht, Pays-Bas
Art Fair de Bâle, « One man show », Galerie De Sluis, Suisse
Association « Repères », Place des Vosges, Paris, France
Salon « Grands et Jeunes d'aujourd'hui », Paris, France
« Œuvres constructives », Musée Swaensteyn, Voorburg, Pays-Bas
1980 : Salon « Comparaisons », Paris, France
Salon « Eclaté », Paris, France
Sélection du salon « Comparaisons », Reims, France
« Grands et Jeunes d'aujourd'hui en miniatures », Galerie De Sluis, La Haye, Pays-Bas
1979 : Salon « Grands et Jeunes d'aujourd'hui », Paris, France
Salon d'automne, Paris, France
« Sensibilités plastiques d'aujourd'hui », Mairie du IVème arrondissement, Paris, France
« Géométries », Centre Pierre Bayle, Besançon, France
1978 : Accrochage collectif, Galerie Anton Meier, Genève, Suisse
Salon « Comparaisons », Paris, France
Salon « Grands et Jeunes d'aujourd'hui », Paris, France
Fondation Calderara, Vaciago, Italie
1977 : « Hommage à Mondrian », Maison du Canada, Paris, France
Salon « Grands et Jeunes d'aujourd'hui », Paris, France1976 : Salon « Comparaisons », Paris, France
Salon « Grands et Jeunes d'aujourd'hui », Paris, France
1974 : Salon « Comparaisons », Paris, France
1973 : Salon « Grands et Jeunes d'aujourd'hui », Paris, France
1972 : Salon « Grands et Jeunes d'aujourd'hui », Paris, France
1960 : « Petits formats », Galerie Colette Allendy, France
Personal exhibitions:
2021 : Art Paris Art Faire, Exposition rétrospective par la Galerie Wagner, Paris, France
2014 : « Les Carrées de Lussigny », Galerie Wagner, Le Touquet, France
2010/2011 : « Guy de Lussigny. Rétrospective 1952-2001. La couleur à travers le temps », Musée de Cambrai, France
Galerie Gimpel & Muller, Paris, France
2009 : « Guy de Lussigny. Un peintre visiblement inspiré par la musique », dans le cadre du Festival Juventus, Chapelle du théâtre, Cambrai, France
2008 : « Couleur pour la lumière », Galerie Gudrun Spielvogel, Munich, Allemagne
2007 : « ST'ART », Strasbourg, France
2002/2003 : « Sculptures et peintures » avec Hans Steinbrenner, Galerie Gudrun Spielvogel, Munich, Allemagne
2001 : « Peintures 1977-2000 », Musée des Beaux-arts, Cambrai, France
International Art Gallery, Lasne, Belgique
2000 : Galerie Victor Sfez, Paris, France
« Vingt ans de peinture », Musée des Ursulines », Mâcon, France
1995 : Treffpunkt Kunst, Saarlouis, Allemagne
1994 : Galerie Claude Dorval, Paris, France
1993 : Galerie Olivier Nouvellet, Paris, France
1992 : Galerie d'Art de l'Hôtel Astra, Paris, France
1989:  « Repères », Galerie Lahumière, Paris, France
1988 : Galerie Ec-Centric, Liège, Belgique
1986 : Galerie Ec-Centric, Liège, Belgique
Musée de Pontoise, France
1985 : Galerie Olivier Nouvellet, Paris, France
Galerie De Sluis, Leidschendam, la Haye, Pays-Bas
1983 : Galerie Art Stable, Amsterdam, Pays-Bas
Galerie Moris, Tokyo, Japon
Galerie Arcadia, Paris, France
1981 : Galerie De Sluis, Leidschendam, la Haye, Pays-Bas
Exposition avec Marino di Teana (sculpteur), Galerie Moris, Tokyo, Japon
1980 : Institut français de Florence, Italie
Galerie Primaver, Verviers, Belgique
1979 : La Galerie, Charleroi, Belgique
1977 : Galerie Contini, Rome
Galerie Christiane Colin, Paris, France
1975 : Galerie Annick Gendron, Paris, France
1974 : Studio Vigevano, Italie
1959 : Galerie Colette Allendy, Paris, France